As Filipinos wonder when the pandemic will end, an alliance of the nation's health workers provides insights into something more crucial – how to continue living with a lingering virus
Six months since the novel coronavirus spread across the world, the Philippines has become one of the hardest hit countries in Southeast Asia. A virus a thousand times smaller than a dust mite has plunged a burgeoning economy into technical recession, exposed the dire effects of a neglected health system, and taken the lives of at least 3,000 Filipinos.
Despite implementing one of the world's longest lockdowns, the Philippines has recorded an upsurge of positive cases from 140 cases in mid-March (when strict social distancing measures were first put in place) to over 213,000 cases near the end of August. 
Only 8 months spell the difference between life as many Filipinos knew it, to one now centered on protecting against an infectious disease. Early inaction coupled with a lack of quick, decisive leadership cost the country precious lead time that could have cushioned the blow of the health crisis. A patchwork of responses allowed the virus to insert itself into communities still struggling to contain its spread. 
In between the daily updates on cases, one question continues to swirl in everyone's mind: When will the pandemic end?
What will September bring? Or October after that? What might a Filipino Christmas look like?
Taking off from the start of August, health workers who witnessed the gaps and failures of the government's pandemic response knew that unless officials reassessed their approach, the Philippines would lose its battle against the coronavirus. 
In an unprecedented move, this prompted the nation's medical community to unite and sound off a warning. They urged government to declare stricter community quarantine for two weeks in several provinces and Metro Manila – the epicenter of the outbreak.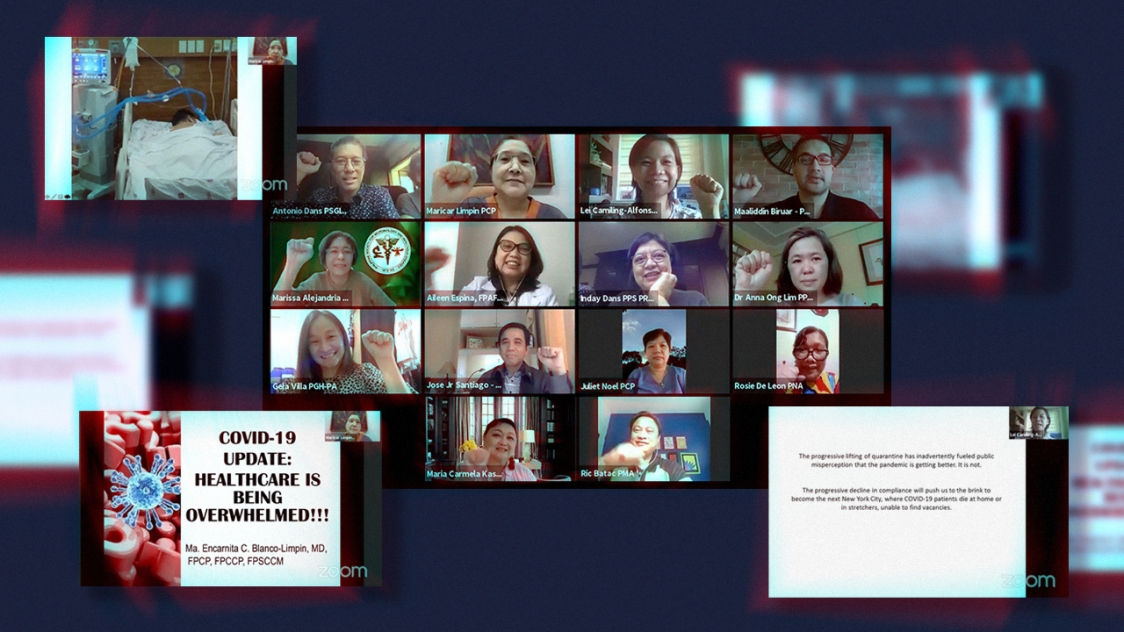 The call had initially angered President Rodrigo Duterte, but it worked.
As Mega Manila reverted to a modified lockdown, a coalition of health workers sat down with officials from national agencies and the business community to re-strategize and improve the country's pandemic response.
The outcome of these discussions offer some room for hope.
Though Filipinos should neither expect a quick decrease in cases nor a swift return to normalcy, targets put together by officials and the country's healthcare community provide a plan that, if implemented effectively, can finally bring the nation to recovery. 
"Life as we know it, before COVID, will never be the same," said Dr Aileen Espina, a public health and family medicine specialist. "So consider it a reboot. How would my life be from here on?"
"We need the entire Filipino people to be with us," she said.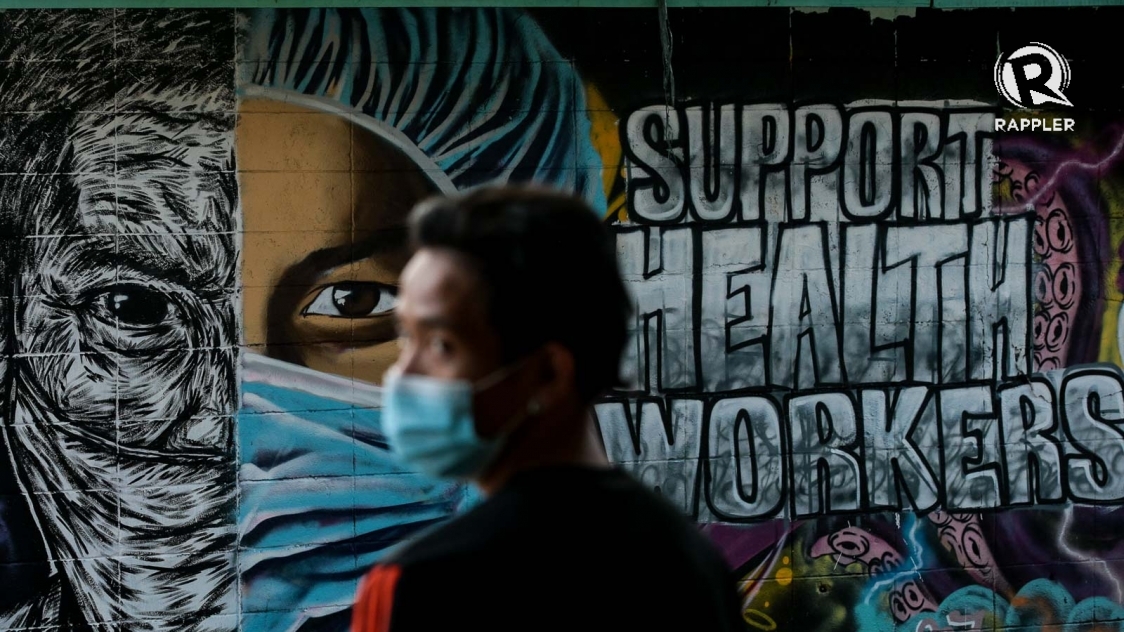 Defending the last line
The Healthcare Professionals Alliance Against COVID-19 (HPAAC), a coalition of over 170 medical groups, believes there is no dichotomy between saving lives and saving the economy.
This means that rather than making "trade-offs" between keeping infections low through lockdowns or rebooting the economy and risking further spread of the disease, an effective response hinges on being able to implement a plan that makes it possible for Filipinos to both stay safe and make a living. 
In a recent webinar, HPAAC's representatives provided recommendations to make this possible by presenting clear objectives, ways to achieve these, and metrics to measure success. Five particular targets that were crafted after discussions with government officials and private sector were the following: 
Effectively contain and manage COVID-19 transmission
Ensure health care for both COVID-19 and non COVID-19 cases
Sustain business operations
Assist local governments in strengthening their response down to the barangay level
Create a "patient-centered" approach where communities can provide care and Filipinos know how to properly protect themselves and respond to the virus
Setting these targets addresses problems in the government's pandemic response earlier raised by the medical community. It also reformulates the government's earlier recovery framework. (Read more about that here).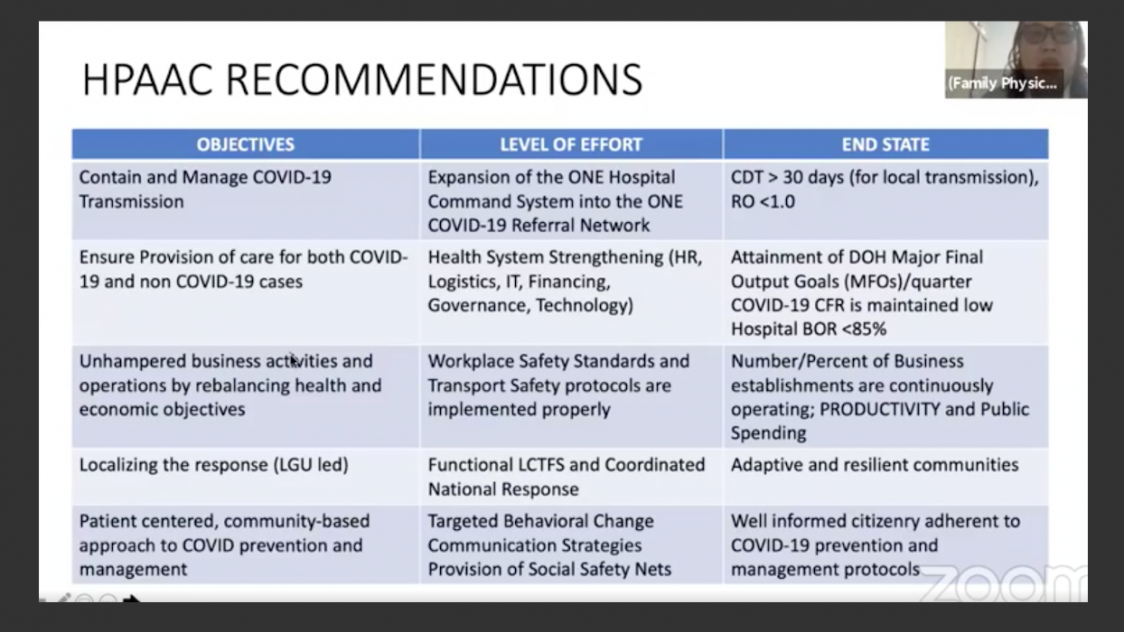 To achieve these objectives, HPAAC advised building on programs already in place.
First among these was the Department of Health's "One Hospital Command" that focused on increasing COVID-19-dedicated hospital beds and facilities and implementing a robust referral system.
Health workers recommended it be developed into a "One COVID-19 referral network" to cover other health facilities aside from hospitals, such as barangay health centers, clinics, laboratories, and even pharmacies. Doing so, they said, will provide care in communities and prevent Filipinos from flooding hospitals.
The response in this area is especially crucial as hospitals being overwhelmed was what prompted medical workers to issue their call for an urgent review of strategies. Having already crowded hospitals was also indicative of failure to mitigate the spread of the virus in communities and workplaces. 
Moreover, the risks of further crippling hospitals still remains high. As of August 28, 66 out of 180 health facilities in the capital region remained in the above 70% critical "danger" threshold that had been established by the DOH.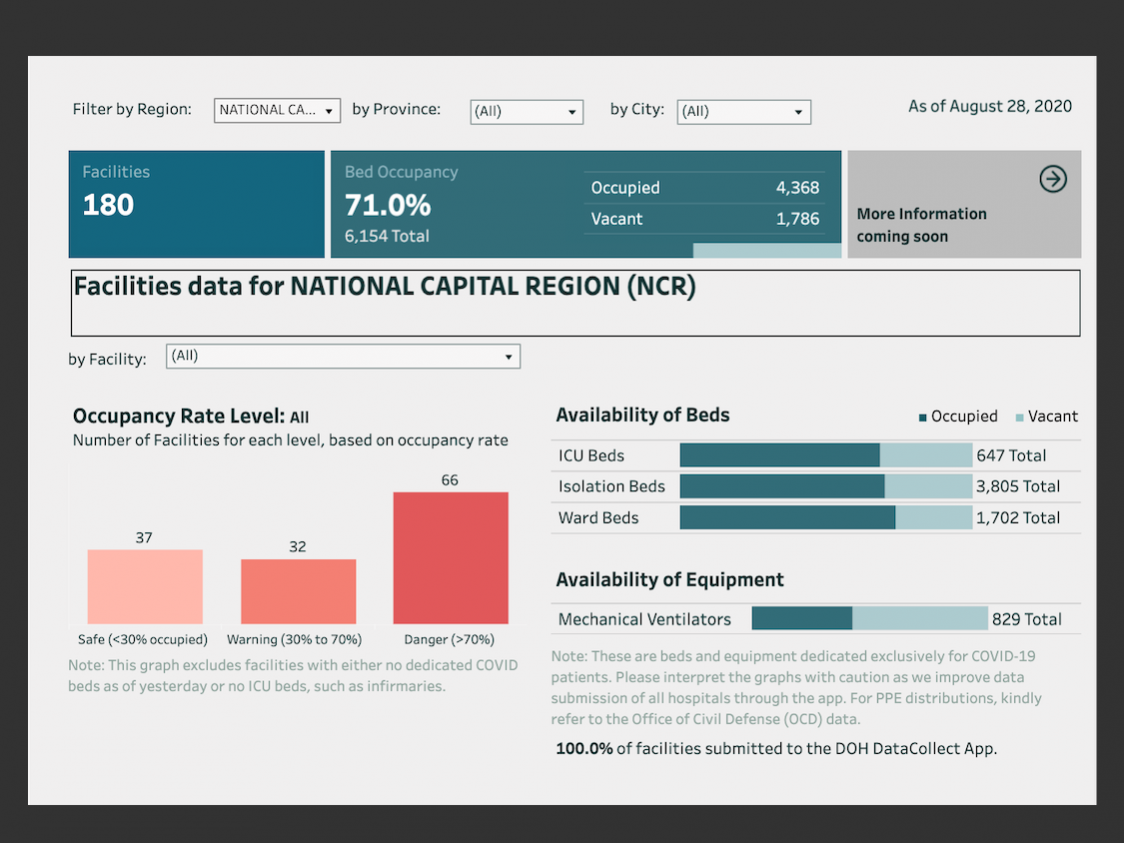 But what might an expanded health referral network look like?
"Who should I call if I get sick? Where should I go? Where can I get tested? What do I do? ….You have to put all of these components down to the primary healthcare structure and put that into place so that your hospitals become reserved for the critically ill which is the whole point in the first place," said Dr Anna Ong-Lim during a Rappler Talk interview. Ong-Lim is chief of the infection and tropical disease division at the University of the Philippines College of Medicine pediatrics department. 
"The healthcare infrastructure – you can't really expect it to change significantly overnight. You have a finite number of healthcare workers you can tap, your hospital beds are (only) so many," Ong-Lim said.
She added, "What we really need to do is…reemphasize the fact that hospitals are the last line of defense, and move our coordination into the communities so that patients don't even end up in a hospital." 
While restructuring the country's health system won't happen quickly, Ong-Lim said the group emphasized to government the benefits of doing so. "We're hoping that was shown and demonstrated to the authorities so they will put more energy into setting that up."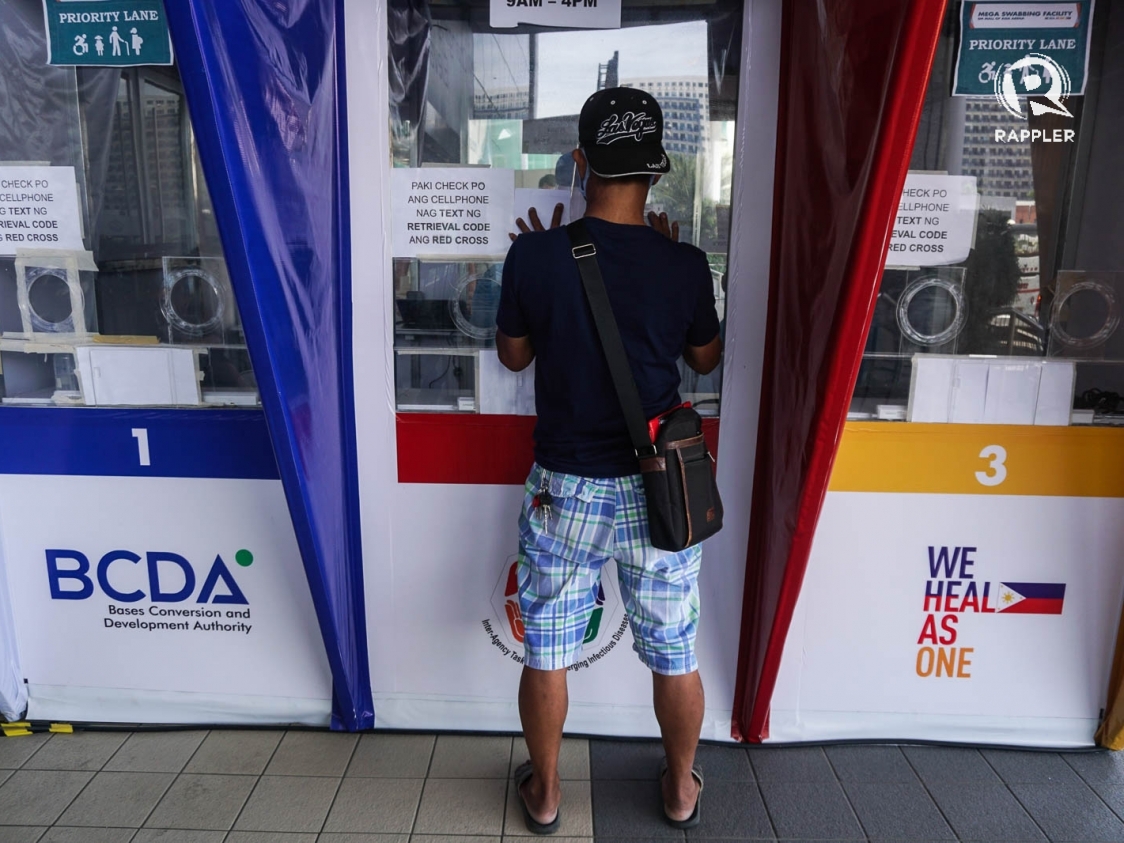 Meanwhile, health workers stress that a pandemic response that protects Filipinos must also take into account people with other illnesses aside from COVID-19.
With only a fixed number of health workers and facilities, dedicating more resources for COVID-19 means some hospitals will be forced to scale down operations for non-COVID conditions. And as the pandemic drags on, medical professionals have repeatedly expressed worry over how – and if – non-COVID-19 patients could still access health care they need.
Health workers reiterated that one way to address the difficulty of seeking care while social distancing measures are in place is beefing up telemedicine services. So far, tele-consultation lines have been set up by various hospitals, medical groups, and the DOH. 
Patched plans
To avoid crippling health facilities during the pandemic and beyond, health professionals also stressed the need to sufficiently invest in healthcare. This means ensuring better working conditions for health workers and includes providing enough funds so sick Filipinos are able to afford medical care.
Having a health system that can withstand crisis, the group said, likewise necessitates strong and stable internet connections so that people living far from health centers can still see medical professionals. This is also needed for efforts like the government's "One Hospital Command" to function efficiently. 
On top of this, the group stressed reliable internet connectivity is also needed for contact tracing efforts, business, and education. 
Meanwhile, early and prolonged misuse of devices like rapid tests that had been purchased despite the lack of a DOH recommendation, showed the need for real experts' advice. The group called for strengthening the role of science and experts in making decisions, specifically by tapping the Health Technology and Assessment Council (HTAC) created by the Universal Health Care Law. 
With the country's scientists and top health experts in the HTAC, Dr Antonio Dans (a key proponent of the health care law) said officials crafting policy could be kept up to date on the latest developments on the disease.
"How will they (officials) choose the correct medicines and tests? The cure to that has already been there, but hasn't been maximized – the HTAC…. Their role is to sift through studies. That is their specialty and they are the ones who should be consulted for what the correct medicine, vaccine, test should be used," Dans said in an earlier webinar.
As the Duterte administration seeks to continue relaxing quarantine restrictions, it becomes even more crucial for proper safeguards to be in place in workplaces and for safe transport options to be available to avoid congestion in public places. This would allow transmission to slow down and keep business from closing due to rising cases and lockdown restrictions.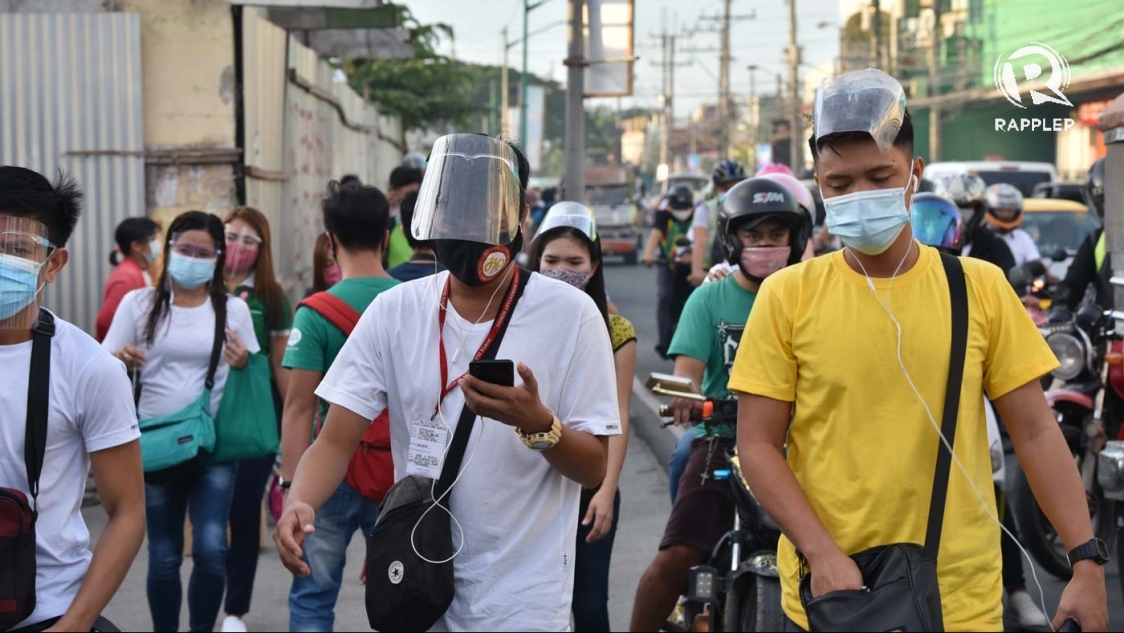 With unemployment reaching a record-high of 45.5%, translating to 27.3 million Filipinos jobless in July, healthcare workers strongly urged the public and government to continue assisting the poor. 
"Those who cannot afford to have no work and get sick are the ones struggling the most to survive. For them, we need to solve the patchwork of problems due to COVID-19…. It is difficult to get sick and die of COVID, more so to die of hunger, especially if your children are affected," Dans said.
Seeking reinforcements
In presenting these possible solutions, health workers stressed that addressing the spread of COVID-19 requires a coordinated response that is not limited to the health sector. 
"As medical professionals we…can answer for those who show up in hospitals. We can cater to those who come to clinics but if it's the same cycle over and over, I'm hitting my head with the same rock over and over because there's no end in sight," Ong-Lim said.
She added, "We've identified the problems – so if you're doing things like riding risky transportation or aren't careful about protecting yourself against infection then we'll involve that too, right?"
Dans said the two-week return to stricter quarantine protocols was recommended to come up with a recalibrated pandemic response that would allow the country to gradually move towards recovery. 
"The question isn't whether or not the two-week lockdown brought the pandemic under control because that won't happen even if we lock down for a long time. The question is, are we ready to go back to our way of operating, knowing what we need to do to suppress the pandemic?" he said.
With a road map paved with necessary areas of response, the crucial task of implementation now lies with government.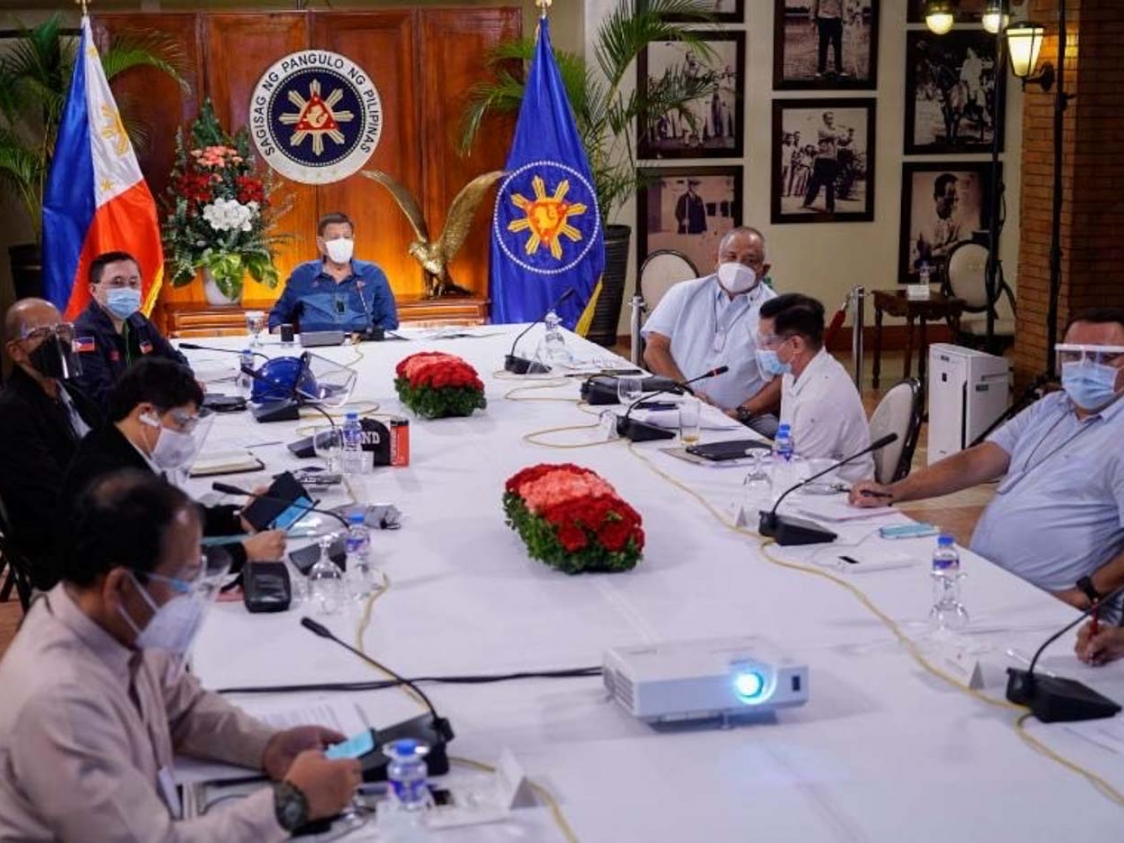 The two-week return to a modified enhanced community quarantine saw representatives from HPAAC meet with several national agencies. The group's recommendations were also shared. Among the national bodies health experts held discussions with are the following:  
The government's inter-agency coronavirus task force (IATF)
National Task Force COVID-19
Department of Health
Department of Transportation
Department of Finance
Department of Information and Communication Technology
Department of Labor and Employment (DOLE)
Department of Trade and Industry (DTI)
Metro Manila Development Authority
Besides government, health workers also held discussions with representatives from the business sector.
So far, representatives of HPAAC whom Rappler spoke with said both government officials and business groups were open to proposals presented by the group. 
"We were asked to give our inputs on it but as to how it will be implemented in the future, what we can do is monitor its implementation and give feedback to government using our connections to the ground," Dr Espina said. 
After shifting back to a general community quarantine (GCQ), some small signs of progress were seen.
The coronavirus task force walked back on an earlier decision to let high-risk ares like gyms, internet cafes, personal grooming and aesthetic services reopen under GCQ. Agencies also issued stricter return-to-work guidelines.
Testing czar Vince Dizon likewise agreed to review the government's use of rapid tests. (However, Malacañang still wants to use these despite medical workers' pleas.)
Meanwhile, while the HTAC was reviewing other types of tests that could be used aside from RT-PCR, HPAAC said they also continue to work closely with the DOH to strengthen the agency's response, holding at least 3 meetings so far.
Spelling survival
The importance of ensuring that the government implements health workers' suggestions concretely isn't difficult to see.
Dans earlier spelled it out: "If we use the lockdown to bring down the rise in cases and return to the same situation where we are unable to protect ourselves, hospitals are still uncoordinated, things will be more difficult because cases will surge again." 
On the ground, consequences of a failure to improve the country's response mean hospitals may run out of space for patients, workers risk their lives for livelihood, and keep hopes for an economic recovery elusive.
On the other hand, improving it can jumpstart recovery and set the foundation for a strengthened health system that can withstand the next emergency, whether it be a disaster or another pandemic.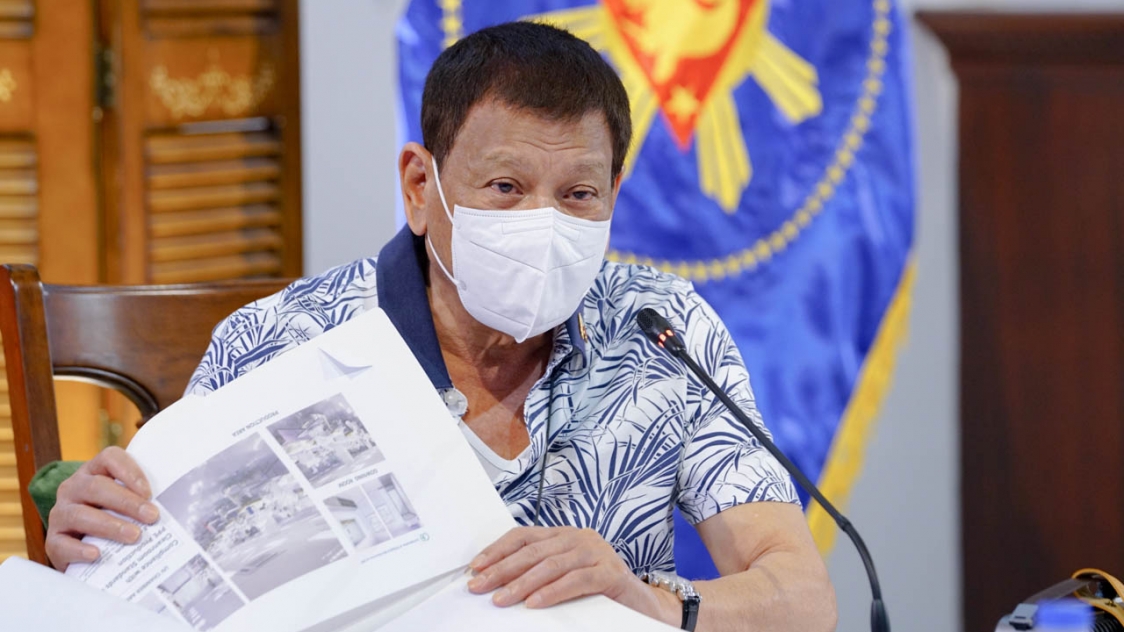 Still, the buck stops with Duterte – who alone has the power to approve or reject any major decision that will affect the Philippines' pandemic response.
All government needs to do is ask, and it can easily get access to the nation's best scientists and doctors, health workers said.  
"We're not making any claims to be the only experts but what I feel has happened as this group has taken off the ground, is really to show the different government agencies that we are available, that they can feel free to touch base with us. We're very willing to share our expertise and our inputs and we can access the rest of the professional medical community to be able to provide the expertise that they need," Ong-Lim said.
And if need be, the nation's health workers will continue to raise concerns with the public's safety in mind.
"HPAAC has that duty because there are so many frontliners in the group, more than a million workers. They are our ears to listen to what problems may arise. They are our eyes to see if plans implemented from the top are successful on the frontlines," Dans said.
"And HPAAC is also our voice so that if there are problems raised, these will reach authorities. That is our role." – with research by Isaiah Suguitan and Graciela Chico/Rappler.com
Editor's note: Quotes in Filipinos have been translated to English.