Rappler is able to confirm 7 names of high-profile inmates who are recorded by BuCor as having died from coronavirus. The 8th name appears in a dead master list, but not in the 21 COVID deaths list
High-profile inmates housed in the infamous Building 14 of the New Bilibid Prison (NBP) died within days of each other, documents obtained by Rappler show.
Rappler obtained a Bureau of Corrections (BuCor) master list of all convicts in Bilibid who died from March 4 to July 21, and from that list was able to extract 8 names from Building 14, a separate building inside Bilibid for high-profile inmates.
Zhang Zhu Li, 41 years old, died 8:11 pm on May 30 while in isolation in Site Harry. His cause of death in the master list is "dead on arrival (DOA) to consider COVID."
Zhang's death is confirmed by a list of the 21 coronavirus related-deaths in Bilibid announced earlier, as provided to Rappler by a ranking source.
Two days after, on June 1, Jimmy Kinsing Hung, 66 years old, died at an unspecified time at the Ospital ng Muntinlupa, with cause of death in the master list as "DOA to consider COVID."
Hung is the only one among the 8 dead high-profile inmates whose name does not appear in BuCor's 21 COVID deaths list.
The next day, June 2, two more Building 14 inmates died – Eugene Ho Chua, 52 years old; and Benjamin Marcelo, 53 years old.
Chua died 8 pm at an unspecified location, only saying he was dead on arrival, and due to "cardio pulmonary arrest, COVID-19 disease."
Marcelo died 2:57 pm at the Ospital ng Muntinlupa due to "COVID-19 confirmed case, age with moderate dehydration."
Two days later, on June 4, Sherwin Sanchez, 41 years old, was dead on arrival at 8:10 pm due to "cardio respiratory arrest, acute gastroenteritis, COVID-19."
A day later, on June 5, shabu tiangge operator Amin Imam Boratong, 47 years old, died on arrival at 9:55 am due to "cardio respiratory arrest, acute myocardial infarction, confirmed COVID-19."
A week passed without a death in Building 14, until 9:10 pm on June 17 when Willy Yang died on arrival due to "acute respiratory distress syndrome, COVID-19 severe."
The next death in Building 14 came a month later, on July 18, when Jaybee Sebastian was stated dead on arrival at 10:15 am due to "acute myocardial infarction, COVID-19."
Chua, Marcelo, Sanchez, Boratong, Yang, and Sebastian also appear on BuCor's 21 COVID deaths list.
The 9th inmate was supposedly Francis Go, whom BuCor said died of hypoxia and severe pneumonia on May 28, but there is no Francis Go in the master list.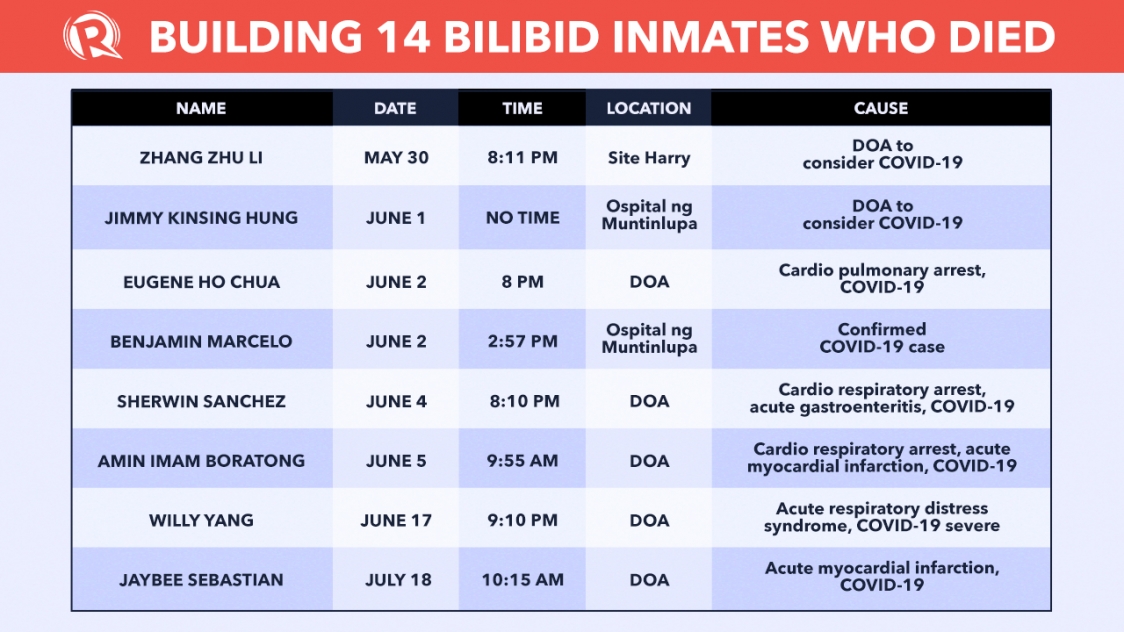 "Paano nakapasok ang virus sa Building 14? May mga matataas na officials na pampered and yet they had COVID, sa local government may mga nag COVID din po, may prime minister, ibig sabihin po ang COVID walang pinipili," said BuCor chief doctor Henry Fabro.
(How did the virus enter Building 14? There were top officials who were pampered and yet had COVID, local government officials had COVID, a prime minister had COVID, it means COVID prioritizes no one.)
Fabro said personnel who go inside Bilibid are rapid-tested "regularly."
He then said that one personnel who went inside Building 14 eventually tested positive in a rapid test, but was immediately quarantined.
"Ni-rapid test namin ngayon ang mga Persons Deprived of Liberty (PDL), at 'yung mga nag-positive sinwab. Talagang tinitingnan din natin kung ano ba talaga ang nangyari," said Fabro.
(We rapid-tested PDLs and those who tested positive were swabbed. We're really investigating what happened.)
Fabro said there remain 5 high profile inmates under quarantine, but they are mild cases. Fabro said severe cases are automatically referred to hospitals.
Rappler found in earlier investigations that dozens of prisoners died without ever being tested, raising questions about limited testing in prison facilities, and concerns about not getting a full picture of the state of infection in prison.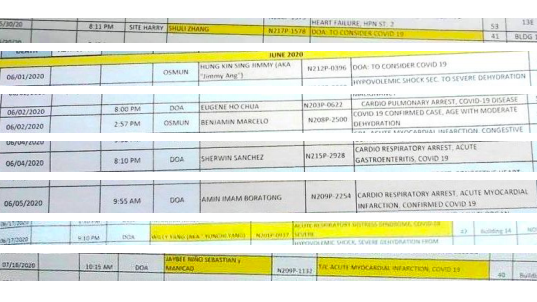 Investigations
The National Bureau of Investigation (NBI) has been ordered by Justice Secretary Menardo Guevarra to look into these deaths.
Guevarra said he found BuCor's protocol for dying inmates "inadequate."
A total of 476 convicts have died in BuCor custody in 7 months, or from January to July 19.
BuCor Spokesperson Gabriel Chaclag said that as of July 19, there are 258 convicts confirmed to have had coronavirus, but 230 have already recovered.
Chaclag said that for the Bilibid population of 29,185, the number of cases and deaths shows an effective "intervention."
The Senate also has an investigation underway.
Asked to comment on speculations that the deaths may have been faked, Fabro said he's saddened for the "exhausted" staff of BuCor who are now burdened with such doubts.
"Yun pong mga nagdadala ng (those who handle) remains, they are risking their own lives," Fabro said.
Chaclag said all the deaths are documented. – Rappler.com