This is AI generated summarization, which may have errors. For context, always refer to the full article.
(UPDATED) Some 30 legislators are set to file a joint resolution moving to defer the premium contributions hike until 2022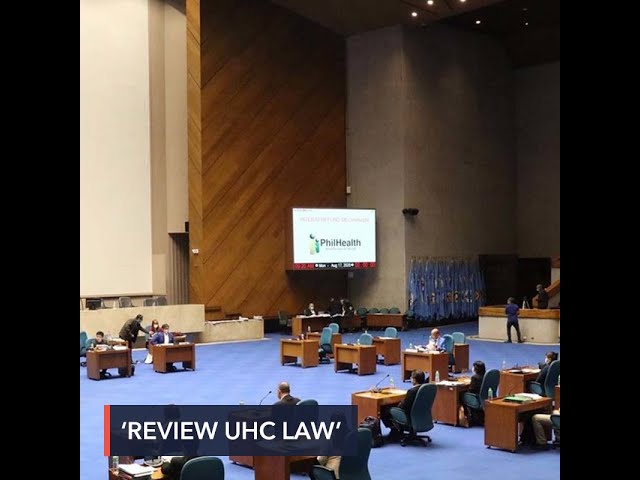 The House of Representatives said on Tuesday, January 5, that it is "ready to review" provisions of the Universal Health Care (UHC) law and its implementing rules and regulations related to the scheduled increase in Philippine Health Insurance Corporation (PhilHealth) contributions this year.
Speaker Lord Allan Velasco made the statement a day after President Rodrigo Duterte told his Cabinet to defer the scheduled hike in PhilHealth premiums this year.
"The House of Representatives is ready to review the Universal Health Care Act and its Implementing Rules and Regulations, particularly the provisions on incremental premium rate hike for direct PhilHealth contributors," Velasco said.
While Duterte had ordered the deferment of the insurance contribution increase in the wake of criticism against the policy, the President's verbal order is not enough to stop PhilHealth from hiking contributions this year.
Congress would have to amend Republic Act No. 11223 or the UHC Act to make this possible, since the law provides a schedule on the contribution hikes.
This year, the scheduled increase is equal to 3.5% of a person's salary, higher than last year's 3% increase.
Those earning below P10,000 per month is fixed at P350, while those earning P70,000 or higher per month is fixed at P2,450, said PhilHealth.
In his statement, Velasco asked PhilHealth and the Department of Health to "work closely" with Congress to ensure that Filipinos do not have to bear the "unnecessary burden" in the middle of a pandemic.
Duterte signed the UHC Act in February 2019, nearly a year before COVID-19 reared its ugly head. The law seeks to provide health care for all Filipinos.
Lawmakers eye hike deferment until 2022
House members are already moving to defer increases in PhilHealth's collections until 2022 – the last year of Duterte's term and when the next presidential election is set to be conducted.
Anakalusugan Representative Mike Defensor told reporters via Zoom thaat some 30 legislators across different political parties have committed to become co-authors of a joint resolution deferring the PhilHealth contributions hike until 2022.
They plan to file the joint resolution on Tuesday afternoon.
"Immediately. may mga 30 authors na coming from different political parties, different political influences, na nagsasama-sama kami in filing a joint resolution to defer it to 2022. Ibig sabihin, nitong 2021 wala na talagang increase, magsisimula ng 2022," Defensor said.
(Immediately, around 30 authors coming from different political parties, different political influences came together in filing the joint resolution to defer it to 2022. That means there would be no increase this 2021, and it would only start in 2022.)
"'Yung reso, tatapusin. Kahapon, inayos na namin lahat ng nakapirma. By today siguro, after lunch, nakafile na 'yun," he added. (We're still finishing the resolution. Yesterday, we fixed the names of those who want to sign. Perhaps by today, after lunch, we would have already filed it.)
Defensor used to chair the House committee on public accounts that initiated a probe into the multiple corruption scandals that rocked PhilHealth last year.
At the end of the investigation, legislators recommended the filing of criminal and administrative complaints against Health Secretary Francisco Duque III, former PhilHealth chief Ricardo Morales, and other PhilHealth executives for the alleged rampant corruption in the state health insurer.
Marikina City 2nd District Representative Stella Quimbo on Tuesday filed House Bill No. 8300, which would give the President the power to suspend the scheduled increases in PhilHealth premium contributions "when public interest so requires," including times of national emergencies like the COVID-19 pandemic.
Under Quimbo's bill, the President may suspend the hike in consultation with the PhilHealth board of directors and the secretary of the Department of Finance.
If Quimbo's bill becomes law, the deferred scheduled increase in insurance payments would be imposed the following year instead. – Rappler.com