Seven other local governments see occupancy levels of their intensive care units at 'critical risk' with at least 85% of beds filled, data from the Octa Research group show
Experts studying the coronavirus pandemic in the Philippines flagged three local government units whose intensive care units were currently full, as the country faces an increase in infections in recent weeks.
The Octa Research group, in a report published Sunday, June 20, said that intensive care utilization rates (ICUR) were at 100% in Iloilo City, Iloilo; Koronadal City, South Cotabato; and Bacoor City, Cavite from June 13 to 19. 
This means that all ICU beds in these localities were currently filled, signaling health systems in their area were under intense strain.
Another seven local governments saw their ICUs at "critical" risk, with at least 85% of beds occupied. These were:
Davao City (95%)
General Santos (86%)
Tagum (85%)
San Pablo, Laguna (86%)
Tuguegarao (98%)
Cotabato City (94%)
Naga City (85%)
Aside from these areas, Cagayan de Oro, Baguio City, and Tagbiliran also had their ICUs under "high risk" in the recent week, with at least 70% to 84% of beds occupied. Data from Octa showed, specifically, that 83% of ICU beds in Cagayan de Oro were filled, 77% in Baguio City, and 81% in Tagbiliran.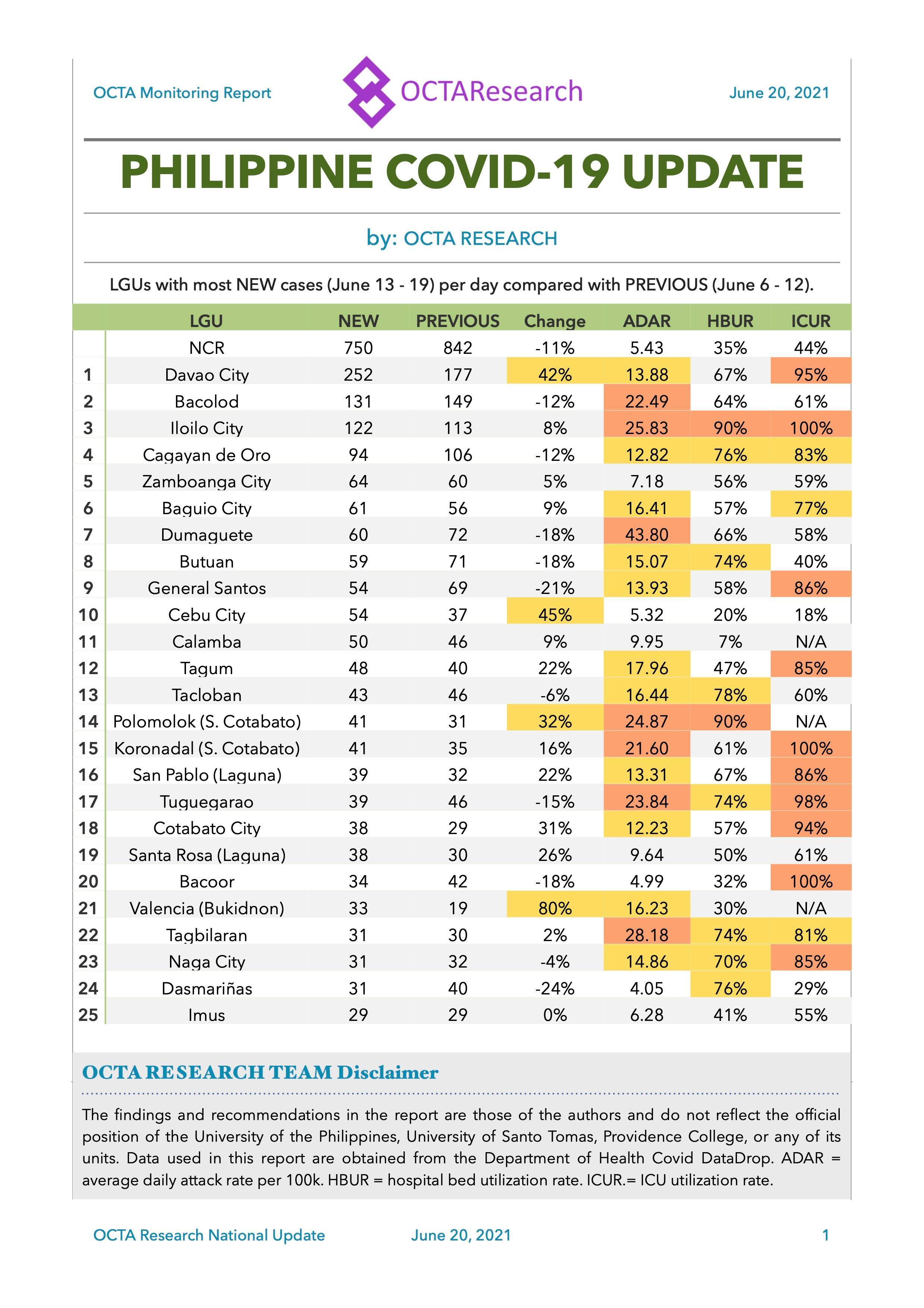 Why it matters
ICU capacities in different LGUs are a "most critical" factor health officials keep track of when assessing the pandemic situation in the Philippines.
While occupancy of ward and isolation beds are also important in determining whether the health system is overwhelmed, experts watch out for the occupancy of intensive care units as this measures the health system's capacity to manage critically ill patients and prevent deaths. 
When an ICU is at full capacity, patients who need this type of specialized care may end up waiting elsewhere, such as at the emergency room, while hospitals may also need to scale back elective procedures or surgeries for non-COVID patients to free up more resources. 
Health system status
On Sunday, Octa said the following areas also saw a rise in their hospitalization bed utilization rates, or the number of hospital beds occupied at "high risk" to "critical" levels with at least 70% of isolation, ward, and ICU beds filled:
Cagayan de Oro (90%)
Zamboanga City (76%)
Butuan (74%)
Tacloban (78%)
Polomolok (South Cotabato) (90%)
Tuguegarao (74%)
Tagbiliran (74%)
Naga City (70%)
Dasmariñas (76%)
The Department of Health earlier flagged an increase in cases seen nationwide in areas outside of Metro Manila.
The department urged local government units to take measures to ensure COVID-19 cases are detected and isolated within five days, citing experts' estimates that meeting the target of 5.5 days could reduce at least one-third of cases.
While Metro Manila and nearby provinces Bulacan, Rizal, Laguna, and Cavite have seen a decline in COVID-19 cases, a health official warned that this trend remains "fragile," which means that any super-spreader event could trigger a spike in cases. – Rappler.com