This is AI generated summarization, which may have errors. For context, always refer to the full article.
Ambassador Shambhu Kumaran says the behavior of large states is 'very crucial' in keeping the region stable
MANILA, Philippines – New Delhi's top envoy to Manila on Friday, September 1, said India is keen on building its defense and security partnership with the Philippines, amid China's acts of aggression in the South China Sea, including its "cartographic expansionism" through a new standard map that claims Indian land as its own.
"Without attributing it to any one motivation, we obviously would like the region to have an evolution that is rules-based, that does not sidestep the interests of smaller states, and that coercion and, shall we say, resort to aggressive maneuvers are avoided because we all have a common stake in this region and we should conduct ourselves," Ambassador Shambhu Kumaran said in a media briefing.
"The behavior of large states in particular is very, very crucial in ensuring that this region remains stable as we go ahead," he added.
There have been tensions in China's relations with both India and the Philippines. In August Chinese vessels harassed and pointed water cannons at Philippine vessels that were on a resupply mission to Ayungin Shoal.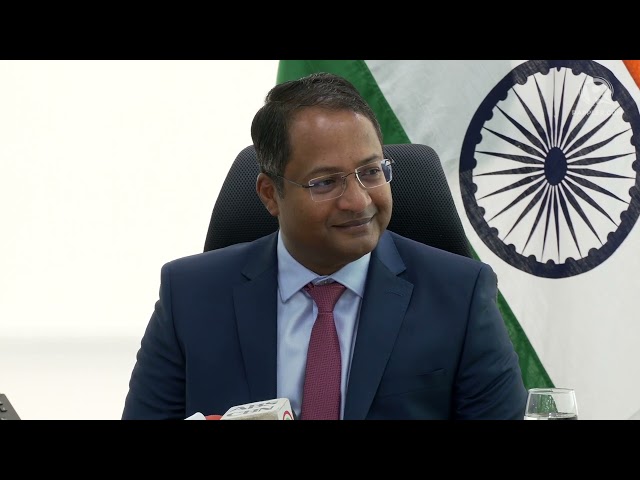 India, meanwhile, was among the countries that rejected and protested China's 2023 national map, in which China claimed Indian land, as well as territory being disputed by the two countries.
Interactions between China and India in disputed borders have been more violent, especially between 2020 and 2021, following clashes along the Sino-Indian border that resulted in casualties.
China's moves are nothing new. Amid supposed closer ties with the Philippines during then-president Rodrigo Duterte's "pivot" to China, it continued harassing Filipino vessels and fishermen sailing in the West Philippine Sea, or parts of the South China Sea within the Philippines' exclusive economic zone.
India in the Indo-Pacific
India had, in the past, made it a point to keep its distance from the great power competition between the United States and China. In 2016, when the Philippines won an arbitral ruling that declared China's over-encompassing 9-dash line in the South China Sea invalid, India's immediate response was that of caution.
New Delhi now sings a different tune. During the 7th anniversary of the Hague ruling, Kumaran himself emphasized the importance of adhering to international law. Speaking before a crowd of security and diplomacy experts, Kumaran recalled how India accepted and respected a 2014 arbitral ruling that favored Bangladesh, giving over four-fifths of the Bay of Bengal to Dhaka.
China has refused to acknowledge the 2016 award.
"We definitely do subscribe to the view that there has to be an adherence to a rules-based order, that there cannot be coercion, that any disputes that exist should be solved peacefully through means of dialogue. And anything that deviates from this, I think, unites all of us, especially like-minded countries, democracies such as India and the Philippines, and our partners," said Kumaran, when asked how China's actions would affect how India interacts with the region.
India is eyeing even closer ties with the Philippines. During the recent visit of Philippine Coast Guard Commandant Admiral Artemio Abu to India, the two countries inked a deal "enhancing maritime cooperation." Abu also signed a deal with the Indian Navy to determine how to operationalize a 2019 deal on White Shipping Information, or the exchange of information on commercial, non-military vessels.
"This [Memorandum of Understanding] that we got to sign recently has been in the works for several years," explained Abu.
Does this mean that the deal with the Coast Guard has nothing to do with China's actions in the West Philippine Sea?
Kumaran barely skips a beat. "I think recent developments have helped to focus more attention on the issue, but definitely it's not something that, as I said, I would hesitate to describe our relationship as purely responding or reacting to some developments that have been happening," he said.
"We see each other's partnership as responding to the broader national security and developmental requirements of each other," he added. – Rappler.com