Expectations also have to be managed, even in the aspect of potential reparations for drug war victims
The International Criminal Court (ICC) has officially begun its victim representation process ahead of a decision by the pre-trial chamber on whether or not it will approve the request to investigate drug war killings under President Rodrigo Duterte.
"Victims of the alleged crimes have the right to submit representations as per the ICC legal framework; this means that victims may provide their views, concerns and expectations regarding the Prosecutor's request to the ICC Judges for their consideration," the ICC said in its callout posted on the website.
Victims may either fill out forms, send video, audio, or other text files to the ICC.
The ICC makes it clear this process is just to express views, concerns, and expectations, and not an application process to officially participate in a court proceeding.
All of these, while significant in the fight for justice in the drug war, come with risks of further intimidation and harassment for victims and witnesses
Take for example Kenya, where witnesses either died or "were too terrified" to continue on. Others backtracked from their stories and told the ICC they lied. All these forced now-retired prosecutor Fatou Bensouda to withdraw the charges, saying that the obstruction of justice makes the prospect of conviction dim.
"The prosecutor at that time said in Kenya there has been a steady and relentless stream of false media reports, campaign on social media to expose the identity of protected witnesses, and efforts to harass, intimidate and threaten individuals who would wish to be witnesses," said Filipino international human rights lawyer Ruben Carranza at a forum organized by the University of the Philippines College of Law on Friday, June 25.
"So it's a be-careful-what-you-wish-for situation, you might end up participating, the state might end up going to ICC but there's also that possibility," said Carranza, currently a senior expert at the International Center for Transitional Justice.
Kristina Conti, lawyer for Rise Up, said this had been discussed with the drug war mothers, widows, and orphans who form part of their group. Rise Up is one of those who filed communications with the ICC, including one that asked the prosecutor to charge Duterte for impeding justice based on the President's statements maligning the ICC.
"They've lived through palit-ulo, tokhang drop boxes, always conscious that they could always be singled out in their communities as targets themselves," said Conti.
Palit-ulo is an alleged scheme where drug suspects spill the beans on another suspect, presumably a higher value target, so police can spare them in exchange. The drop box is an early Duterte government mechanism allowing neighbors to report on other neighbors, accusing them of being drug addicts.
"They might have been a little bit shaken, but on the whole, undeterred," said Conti.
Expectations
At this point, there is no respondent yet, even though Bensouda's request to open an investigation makes strong claims that Philippine officials planned and ordered extrajudicial killings in the drug war as part of apparent state policy under Duterte.
If the investigation is approved, a respondent will be named only when the new prosecutor, Karim Khan, requests for warrants and those warrants are issued by the court. Whether or not this will involve Duterte or lower ranking police officials is hard to say.
"It's complicated to start off the bat with the head of state…it depends on the strategy and the available evidence, there are a lot of different factors, there is sometimes merit in going after the smaller fish first in order to build up to the big fish, sometimes that makes the most sense," Param-Preet Singh, Human Rights Watch associate director for international justice program, told Rappler in an earlier interview.
Carranza also said it's worth noting the ICC's conviction rate – only three convicted and four acquitted for war crimes, genocide, and crimes against humanity.
"There are limits to justice at the ICC. Justice at the ICC is a drop of water on a hot stone and the Central African Republic (CAR) is an example," said Carranza.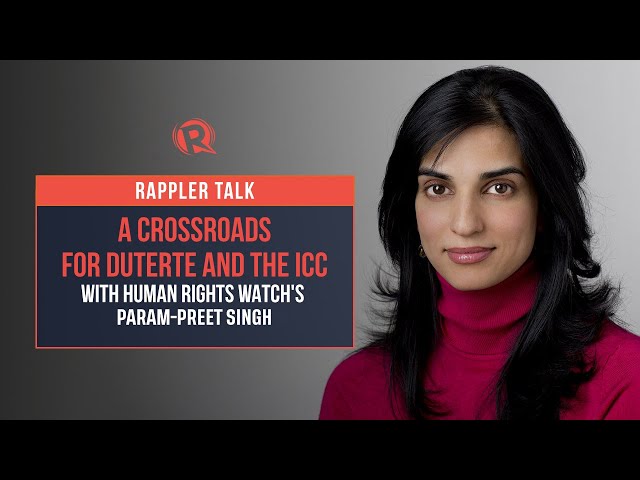 Reparations
Carranza was referring to disappointments on the part of victims hoping to get reparation after the ICC acquitted former Congo Vice President Jean-Pierre Bemba on appeal.
If there is a conviction, the ICC may order the person to pay reparations and set up a trust fund.
"Just as expectations have come up that reparations are in the offing, Bemba was acquitted on appeal, and an acquittal means there will no longer be an entitlement for victims to reparations," said Carranza.
Still speaking about the Bemba case, newly-retired ICC judge Raul Pangalangan said that the ICC can still fulfill its assistance mandate and help victims through a trust fund, but it's still a complicated issue.
There's the tall task of establishing the nexus or the link between the specific act and the person convicted. This means not all victims of the drug war may be entitled to reparation if there is no link to the person who was tried and convicted.
On the Bemba case, Pangalangan said during the UP Law forum: "Reparations can be given only to those victims actually hurt by those specific accused. In other words, there has to be the nexus to the accused himself."
"That's difficult to explain to victims who say, 'Well, we have suffered from this situation that you are investigating,' and courts have to explain that you have to show that the harm you suffered was caused by the accused," said Pangalangan.
Conti said all these considered, the ICC is still one of the most viable avenues for justice.
"Remember these are mothers who have outlived children, and they see nothing else left of their motherly duties but to make sure their children truly rest in peace," said Conti.
– Rappler.com