(UPDATED) Janet Lim Napoles is convicted of graft and malversation, adding to her convictions over the pork barrel scam that will further hinder her bid for freedom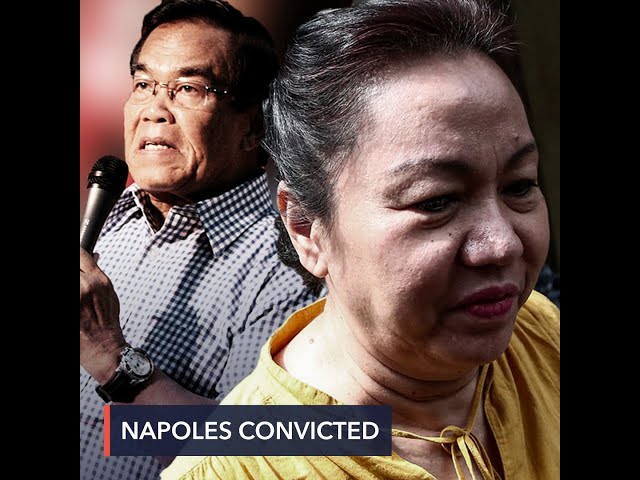 The anti-graft court Sandiganbayan has convicted of graft and malversation Janet Lim Napoles, the alleged mastermind of the pork barrel scam, and former Cagayan de Oro representative Constantino Jaraula.
In a decision released by the Sandiganbayan First Division on Friday, February 5, Napoles and Jaraula were found guilty of graft and malversation over allegedly earning at least P20.8 million in kickbacks from the lawmaker's pork barrel funneled through spurious non-governmental organizations.
Jaraula was also convicted of 3 counts of direct bribery.
The decision was penned by Associate Justice Edgardo Caldona, with concurrences from Associate Justices Efren dela Cruz and Geraldine Faith Econg. This was the same division that split 3-2 in acquitting Senator Bong Revilla in his plunder case.
Jaraula and Napoles were convicted of 3 counts of graft and 3 counts of malversation, the sentence for 1 count of each crime ranging from 6 years to 18 years. The sentences will be served successively, although the two can appeal their conviction.
Napoles has been in jail and is serving sentence over her conviction for plunder in the Revilla case. She is also jailed over pending plunder trials in the Jinggoy Estrada and Juan Ponce Enrile cases, among others in the pork barrel scam.
Ma Rosalinda Masongsong Lacsamana, Belina Concepcion, and Marlene Encarnacion were also convicted of 3 counts each of graft and malversation.
Francisco Figura, Marivic Jover, and Maurine Dimaranan were acquitted of all charges.
Whistleblower Benhur Luy also served as witness to this case. During trial, Napoles tried to undermine Luy's credibility after they got the Court of Appeals (CA) to acquit her of serious illegal detention.
The CA acquitted Napoles in 2017 following a manifestation of Solicitor General Jose Calida favoring the businesswoman.
The Napoles camp said on Saturday, February 6, that they are preparing administrative charges of gross ignorance of the law, manifest partiality, and  extreme bias against the 3 Sandiganbayan justices over what they alleged to be a "haphazard ruling."
They claimed that the justices rendered their decision based on "inadmissible evidence" under the cybercrime law. – Rappler.com