'No member of the armed forces in the active service shall, at any time, be appointed or designated in any capacity to a civilian position,' says the Philippine Constitution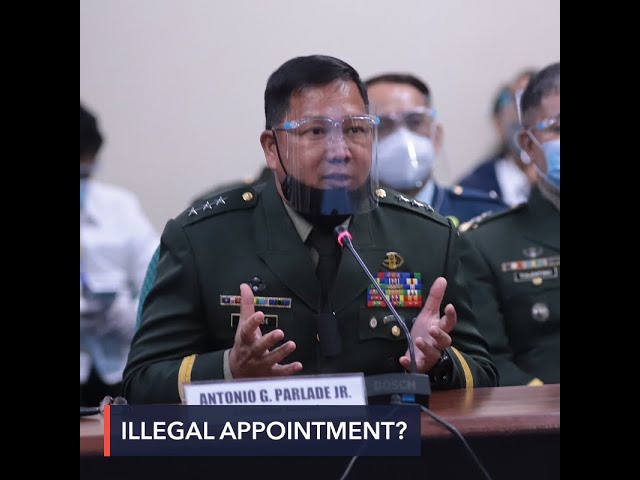 The appointment of Lieutenant General Antonio Parlade Jr as the spokesperson of the National Task Force to End Local Communist Armed Conflict (NTF-ELCAC) may be illegal, Senator Panfilo Lacson said on Wednesday, March 10.
Lacson raised this during the Commission on Appointments hearing on the appointment of Lieutenant General Cirilito Sobejana as Armed Forces of the Philippines chief.
During the hearing, Lacson read out Article 16, Section 5, Paragraph 4 of the Philippine Constitution, that states: "No member of the armed forces in the active service shall, at any time, be appointed or designated in any capacity to a civilian position in the Government, including government-owned or controlled corporations or any of their subsidiaries."
"NTF-ELCAC is a civilian entity," the senator added.
Senate Minority Leader Franklin Drilon had raised the same question during a Senate hearing on March 4.
Why does this matter?
Parlade's position has become the source of confusion and controversy for both the military and the NTF-ELCAC.
As the spokesperson of the NTF-ELCAC, Parlade has been airing political and inflammatory statements – usually lacking evidence – in both official and unofficial channels, like his personal Facebook page. These statements have earned the ire of the public.
The pronouncements of Parlade, chief of the Southern Luzon Command, go against the AFP's own guidelines, which prohibit soldiers from issuing their gripes and political statements.
The PNP's provost marshal recently launched a probe into Parlade for red-tagging journalist Tetch Torres-Tupas of INQUIRER.net. Sobejana said the investigation was still ongoing.
When asked at an earlier press conference about the how the AFP sees Parlade's unique position that can compromise the military, Sobejana had said that Parlade was "above" them.
How is the task force structured?
Duterte created the NTF-ELCAC through Executive Order No. 70. It was structured to include the Armed Forces, particularly the chief.
The AFP chief, in turn, can designate an "alternate" to sit in the task force which in this case is Parlade.
Appointing uniformed personnel to task forces is not new. Then-president Gloria Macapagal Arroyo gave police officers leading roles in the now-defunct National Anti-Kidnapping Task Force and the National Anti-Crime Task Force.
It was only recently at the Senate, however, that it was questioned openly.
Sobejana said the AFP believes the appointment is legitimate, reasoning that Duterte, the commander-in-chief, can sit as the task force chairman.
Lacson argued that the task force was still civilian, given that the President and his vice chairman, National Security Adviser Hermogenes Esperon Jr, are both civilians. – Rappler.com