(UPDATED) Manila Mayor Isko Moreno padlocks the business establishment that manufactured the product
Puwersa ng Bayaning Atleta Representative Jericho Nograles wants a Chinese hair product "blacklisted" in the Philippines after its box identified its address in the Binondo district in Manila as a "province" of China.
On Thursday, August 20, Nograles shared photos of the packaging of Ashley Shine Keratin Treatment Deep Repair, where its complete manufacturing address was listed as "1st floor, 707 Sto Cristo Street, San Nicolas, Manila Province, P.R. (People's Republic of) China."
"It is hard to dismiss this insult as a simple error. The label clearly shows Manila, as a province of China," Nograles said in a statement.
"This incident must be investigated at the very least, and the manufacturer and importer should be blacklisted, as soon as legally permitted," he added.
The lawmaker said Ashley Shine was manufactured in 2018 and is still being distributed around the Philippines.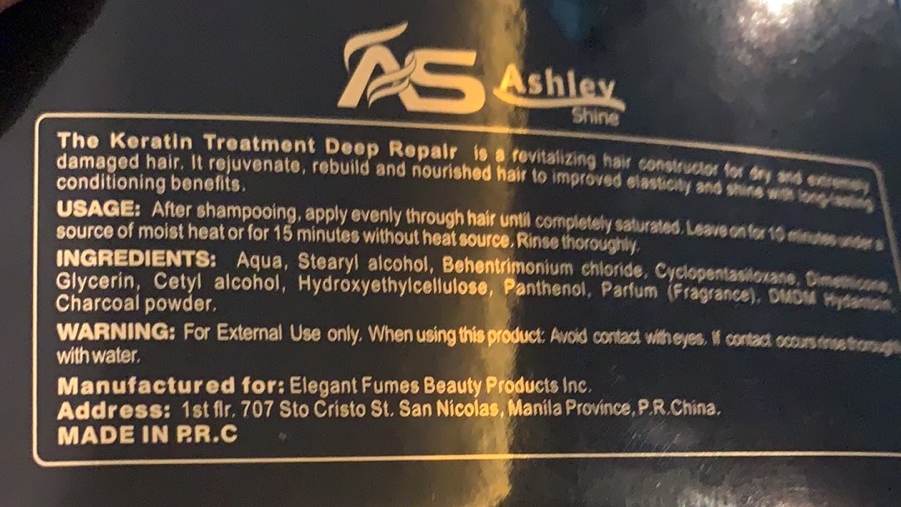 Nograles is a nephew of Philippine President Rodrigo Duterte, who has long held a pacifist view on the increased Chinese militarization of the West Philippine Sea, a part of the South China Sea that belongs to the Philippines but is claimed by China.
Duterte is a third cousin of Nograles' mother Rhodora Bendigo.
Duterte has been downplaying the Philippines' 2016 tribunal victory against China on the latter's false claim over the West Philippine Sea in favor of getting grants and loans from the Asian economic giant. (READ: Philippines loses to China 3 years after Hague ruling)
In 2018, Duterte even joked to make the Philippines a province of China. Nograles apparently doesn't share his uncle's sense of humor.
The administration-allied congressman wrote separate letters to Trade Secretary Ramon Lopez, and Food and Drug Administration Director-General Eric Domingo seeking for an investigation into Ashley Shine.
"Any act to undermine our sovereignty must be taken seriously. It is in this light that we respectfully ask your Office to immediately investigate this detestable and repulsive offense against our nation, and, if legally justified, prohibit the continued distribution of these products in our country," Nograles said in both letters.
Manila Mayor Isko Moreno ordered the closure of the business establishment on Thursday afternoon.
A video posted on the mayor's Facebook page showed a team from city hall heading to the address indicated in the packaging, to carry out Moreno's order.
Nograles thanks Moreno for his speedy action. "I'm happy that Manila Mayor Isko Moreno has taken this matter very seriously and has acted very swiftly to protect the integrity not only of the City of Manila but the entire sovereign Republic of the Philippines," he said. – Rappler.com