House plenary deliberations on the PCOO's 2021 budget are also deferred for the second time
The House Minority bloc is demanding for the head of Presidential Communications Undersecretary Lorraine Badoy over her "relentless" and "malicious" red-tagging of progressive Makabayan lawmakers.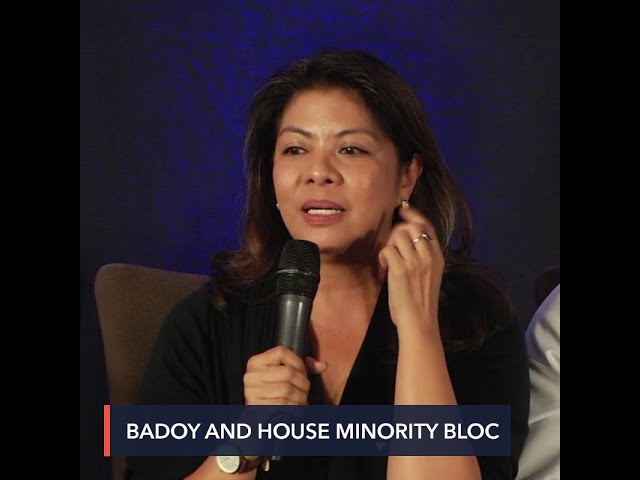 Also on Tuesday, September 29, the House for the second time deferred plenary debates on the proposed budget of the Presidential Communications Operations Office (PCOO).
Instead, a total of 21 Minority legislators led by Minority Leader Bienvenido Abante Jr signed a manifesto urging the PCOO to fire Badoy for claiming on social media that the Makabayan lawmakers are terrorists.
The 6 legislators from Makabayan are also part of the Minority bloc:
Deputy Minority Leader Carlos Zarate, Eufemia Cullamat, and Ferdinand Gaite of Bayan Muna
Arlene Brosas of Gabriela Women's Party
France Castro of ACT Teachers
Sarah Elago of Kabataan
The Minority's manifesto was released on the same day the PCOO's proposed P1.59 billion budget for 2021 was brought to the House plenary for deliberations.
The House Minority did not mince words in criticizing Badoy, saying she is at the "forefront" of PCOO using taxpayers' money to "peddle fake news, disinformation, and attacks on critics and the opposition, in an attempt to curtail dissent." (READ: [OPINION]: Lorraine Badoy's world)
"Her actions as an appointment government official does not uphold the basic Filipino core values and deliberately disrespects elected public officials who were mandated to serve their constituencies," the Minority bloc said.
"These relentless attacks of Usec. Badoy through her social media platforms, which even incited her followers to issue threats of harm against sitting members of the House, are not acceptable to the Minority, and we will not take it in stride or sitting down," they added.
The lawmakers demanded that PCOO and its officials remove all their social media posts that "disrespect and slander" House members. They also want the agency to issue a public apology for this "grave misconduct."
The House Minority's final demand was for Badoy to be fired from PCOO.
Plenary debates deferred
It all came to a head in the House plenary hall on Tuesday afternoon, when Abante moved to defer the plenary debates on PCOO's 2021 budget.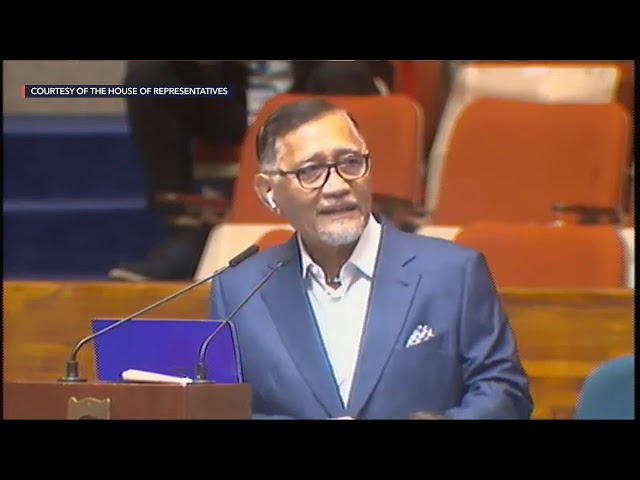 The House adopted the Minority Leader's motion without any objections.
This is the second time that proceedings on the PCOO's proposed 2021 budget were delayed in the House due to Badoy's red-tagging of Makabayan. (READ: Lorraine Badoy's red-tagging causes suspension of PCOO 2021 budget hearing)
At the plenary, the Minority Leader read parts of his bloc's manifesto and asked questions directed at Badoy, who was present in the hall.
Abante's questions, however, were answered by House committee on appropriations vice chair Jose Enrique Garcia III as sponsor of the PCOO's budget. Garcia was the only one authorized to relay the agency's responses to questions on the floor.
Abante once again demanded Badoy to take down her posts attacking the Makabayan bloc.
The Minority Leader challenged the PCOO undersecretary to take her accusations to court if they were true, instead of subjecting the Makabayan lawmakers to a trial by publicity.
"If indeed, in a very honest way, there is truth to the statements of Usec Badoy, I would like to request of her not to use the court of public opinion and make it a trial of publicity. If indeed what she said is true and she has documents to speak of the Makabayan bloc being a terrorist group and terrorist congressmen and those that believe in armed violence, then I would like to challenge Usec Badoy to go to court against them," Abante said.
Garcia said Badoy was willing to remove her posts – but only if all members of the House would sign a document saying they are against all forms of armed conflict.
Badoy also stood by her posts against the Makabayan bloc as she argued they reflect the official stand of the National Task Force to End Local Communist Armed Conflict, of which she is also spokesperson.
Not satisfied with Badoy's remarks, Abante formally moved to defer the plenary proceedings on the 2021 budget.
Abante was seen approaching Badoy after his motion was adopted.
No new schedule for PCOO's budget deliberations in the House plenary has been released as of posting time. – Rappler.com