This is AI generated summarization, which may have errors. For context, always refer to the full article.
'I have the electric fan on. I've done three loads of laundry... Hopefully, we can sleep peacefully tonight,' says Leah Halago Lacibar, a resident of San Jose, Occidental Mindoro, enjoying a rare day with no power interruptions
MANILA, Philippines – Leah Halago Lacibar posed in front of white laundry drying in the sun.
"Ngiting tagumpay nakapaglaba na si Nanay," the advocate of power consumer activist told Rappler on Friday, April 28. (That's the victorious smile of a mother who is finally able to do laundry.)
In a telephone interview, Lacibar said her community in San Jose, Occidental Mindoro was enjoying a rare day with no interruptions in their power supply.
"I have the electric fan on. I've done three loads of laundry," Lacibar said. "Hopefully, we can sleep peacefully tonight."
Only a few weeks ago, Lacibar was detailing the daily miseries of household chores left hanging and children's education interrupted with power outages running up to 20 hours.
Rolando Ilustre, the public relations officer of the Occidental Mindoro Consolidated Power Corporation (OMCPC), confirmed the improvement of the power supply.
In a telephone interview with Rappler past 5 pm Friday, Illustre said the flow of electricity from power plants started around 8 am and continued throughout the day.
By afternoon, the power capacity was at 27 megawatts from three plants, he said.
Raising his voice above the din of mighty power genarators, Illustre said, "Do you hear the videoke?"
Residents were celebrating, he added. "A woman just hugged me today. That's how happy everyone is."
Asked what caused the return of power, Ilustre said, "I think it was discussed in Manila."
There were negotiations between OMCPC owner Luis Manuel Banson and National Electrification Administration (NEA) chief Antonio Mariano "Nani" C. Almeda, Ilustre said.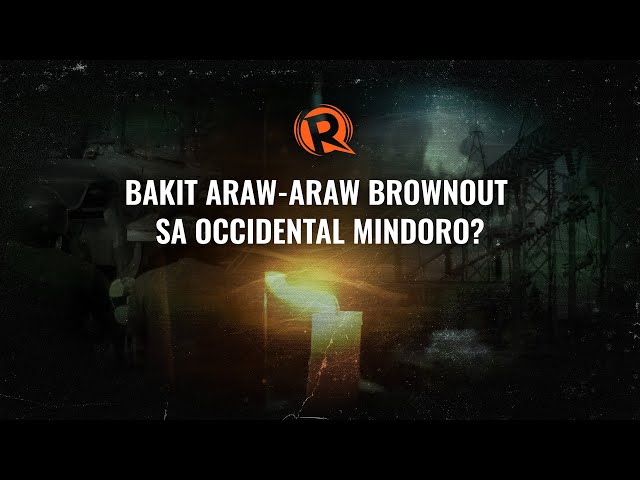 Campaign vow
As Occidental Mindoro residents ramped up their protests to call attention to a long-term problem that had reached crisis point, they openly called on President Ferdinand Marcos Jr. to address the emergency.
Senator Sherwin Gatchalian also filed a resolution seeking an inquiry into province's power crisis.
Occidental Mindoro folk delivered for Marcos in 2022, providing him with nearly 50% of the votes cast there.
During the elections campaign, Marcos pledged to resolve the brownouts that have plagued the province.
The ongoing El Nino and the lack of electricity caused a crisis in Occidental Mindoro schools, where at least ten students have fainted, prompting Governor Eduardo B. Gadiano to cancel classes.
Hospital budgets soared because of the need for alternative power sources, often using pricey diesel fuel.
Fisherfolk complained that their production cost doubled due to importing ice from Manila or other areas in the Luzon mainland.
Palace moves

The NEA on April 28 confirmed that Almeda met with Banzon, on April 27 to discuss the possible measures to remedy the current power crisis.
"During the meeting, the two parties agreed to run the three power stations of OMCPC to address the current power supply concerns of the province," its report to Malacanang said, citing its Sablayan facility with 5 megawatts (MW) capacity; Mamburao, Paluan, Sta. Cruz, and Abra de Ilog (MAPSA), with a 7MW capacity; and San Jose, Magsaysay, Rizal, Calitaan (SAMARICA), which has 20MW capacity.
There facilities "will be running 24-hours to provide electricity in the areas," NEA said.
A day before the return of power, the Presidential Communications Office acknowledged that power distributor Occidental Mindoro Electric Cooperative, Inc. (OMECO) is facing a power shortage of about 22.5 MWs, causing the prolonged outages.
It said Power Systems, Incorporated (PSI), which has an existing diesel power plant in San Jose, can supply OMECO with 6 MWs.
The Palace statement also said the Department of Energy has issued a Certificate of Exemption to allow OMECO to enter into a negotiated procurement for an emergency power supply agreement (EPSA) for 17 MWs.
"NEA and OMECO solicited possible suppliers for the EPSA, and DMCI Power Corporation (DPC) appears to be the only power company that can provide immediate power supply in the shortest amount of time," the statement said.
"DPC committed to supply 10 MWs within one month and the remaining 7 MWs in two months," Malacanang added.
OMECO notice
Omeco said the contract between PSI and NEA would start supplying power on Saturday, April 29, 12 noon.
Quoting the NEA, it said the funds would not burden consumers as it would come from the President's calamity fund.
It also said that the NEA would send to the province generator sets that it used for the 2013 Mindanao power crisis, although the Palace statement said it would need to evaluate the state of the equipment, including some from Eastern Visayas.
Lacibar was bemused by the turn of events.
"We'd like to know the real transactions behind all this. It's so abrupt," she said, noting that the power went on as the Sangguniang Panlalawigan was discussing how to tap mixed sources of power.
"Sa isang kumpas pala, pwede naman," she said. (So, it can happen after all with just a wave of a hand.)
"While relieved that consumers do not have to shoulder the costs of the emergency moves," Lacibar said the best solution remains giving the subsidies owed to power firms.
"We're happy, of course, but there are lessons here," said Lacibar.
Residents don't know how long the improved power situation will last, she pointed out.
"What we know is, if we don't make noise, nothing happens. And we need to be vigilant next time they conduct hearings and proceedings on power."
Ilustre said the upturn is the result of the Occidental Mindoro "people's struggle. Don't let any local politician tell you otherwise," he added.
Farmer organizer and one of the key movers in the protests Den-den Aguilar, had similar sentiments.
– Rappler.com