But Presidential Spokesperson Harry Roque is unable to explain why President Rodrigo Duterte called Michael Yang a 'pagador' or 'paymaster' of Chinese businessmen
Malacañang and COVID-19 plan chief implementer Carlito Galvez Jr. denied that ex-Duterte adviser Michael Yang's influence led to billions worth of contracts with Pharmally Pharmaceutical Corporation, a medical supply company he has links to.
Presidential Spokesperson Harry Roque insisted that the government only gave the deals to Pharmally because it had offered them at good prices and promised to deliver within a certain timeframe.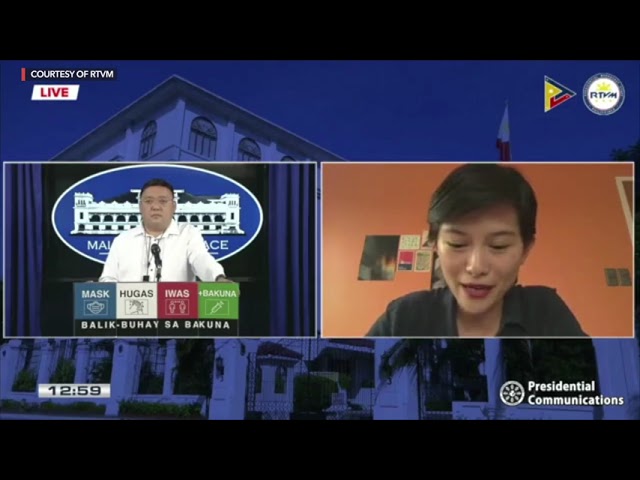 However, Roque could not explain why Yang was described by President Rodrigo Duterte himself as pagador – a Bisaya word which means "paymaster" or "financial sponsor" – of Chinese businessmen seeking business opportunities in the Philippines.
"Wala pong kinalaman ang mga personalidad. Ang tiningnan, presyo at tsaka 'yung kalidad," said Roque on Wednesday, September 1, during a press briefing.
(It had nothing to do with personalities. The criteria were price and quality.)
"The price is what matters, whoever you are. Unfortunately, no other company can give at that price, P1,700 [for personal protective equipment]," continued Roque.
However, there were several other suppliers that provided personal protective equipment at that price point. In fact, a look at government contracts and purchase orders show Pharmally's PPE sets cost higher – P1,910 per set.
This price is based on their May 6, 2020 contract worth P3.8 billion, the biggest PPE contract awarded by the government.
Pharmally also supplied the biggest single amount of PPE sets – 2 million. Other contracts were for only hundreds of thousands of PPE sets. Despite being a small firm with no track record as a government supplier, it was able to deliver, said Roque.
Due diligence
But Roque admitted that, were it not for the emergency procurement process the deals were under, the company's background might have been flagged by the government.
"This was procured under Bayanihan 1 (Bayanihan to Heal as One law). Maybe if it was regular bidding there would be disqualification on the basis of requirements on how big the company has to be, but here the basis was the quality, the specification from government, the price, and when they can deliver," said the Duterte spokesman.
Despite the questions surrounding Pharmally, Roque said the government sees no reason to suspend or halt its orders from the firm in the meantime, to make way for an investigation.
Lao under pressure from Duterte
Galvez, meanwhile, narrated the series of events that led to the government going with Pharmally Pharmaceutical.
In those early months of the pandemic, the President ordered the government to buy PPE in two to three days, a directive that shocked the officials of the budget department's Procurement Service headed by Lloyd Christopher Lao.
"So we asked Lloyd, 'Lloyd, who can produce this much, at 3 million sets, at this price, and they have to be delivered now?' He said, 'Sir, I'll check,'" said Galvez in Filipino.
Their cluster, the Task Group Resource Management Cluster under the COVID-19 National Task Force, asked the Chinese embassy for help.
This plea led to PPE sets which were then picked up from China using two C-130 planes and even a Philippine Navy ship. The ship was necessary to bring the 2 million PPE sets from Pharmally as the planes could carry only up to 20,000 sets each.
"We dictated how to procure and how to get PPEs that time. Our objective was to save lives, not to make money. That's very callous, that accusation," said Galvez.
Duterte himself described Yang as "paymaster" of Chinese businessmen who got pandemic-time contracts from the national government in a speech last Monday, August 30.
Despite concerns raised by senators about Pharmally and Yang, Duterte cleared Yang of any wrongdoing outright. Duterte has previously also publicly dismissed intelligence findings that Yang was allegedly involved in the illegal drug trade. – Rappler.com