Foreign Secretary Teodoro Locsin Jr says he will file a diplomatic protest 'only if the generals tell me'
The Duterte government voiced concern after it spotted around 220 Chinese vessels, believed to be Chinese maritime militia, swarming a reef west of Palawan in the West Philippine Sea.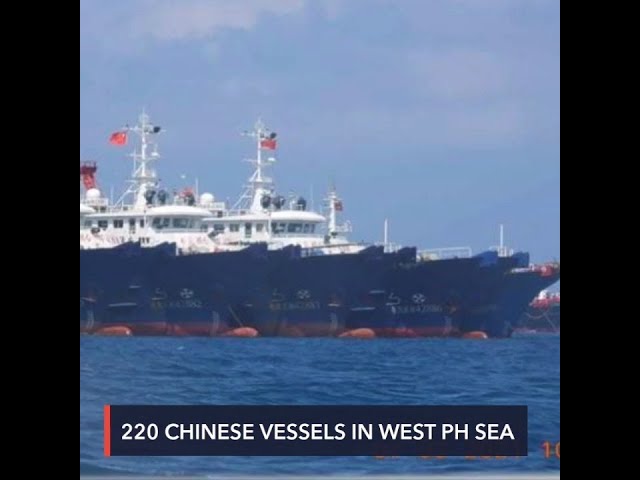 The National Task Force for the West Philippine Sea (NTF-WPS) – a usually quiet body monitoring the strategic waters – said it received verified reports from the Philippine Coast Guard that about 220 Chinese fishing vessels were sighted near the Julian Felipe Reef (Whitsun Reef) on March 7.
"The NTF-WPS notes this circumstance as a concern due to the possible overfishing and destruction of the marine environment, as well as risks to safety of navigation," the task force said in a rare statement.
The NTF-WPS said the ships, moored in line formation, were "believed to be manned by Chinese maritime militia personnel."
The Chinese fishing vessels spotted in the West Philippine Sea likewise appeared to show no signs of "actual fishing activities," and had been spotted with lights turned on at night despite clear weather.
Philippine Foreign Secretary Teodoro Locsin Jr, in a tweet on Sunday morning, March 21, said he is "still waiting for the order to fire," in reference to a diplomatic protest. Saying he takes orders only from generals, Locsin said he can "fire even on a Sunday."
Why this matters
Julian Felipe Reef, a boomerang-shaped shallow coral reef, is located northeast of Pagkakaisa Banks and Reefs (Union Reefs), about 175 nautical miles west of Bataraza, Palawan.
This puts Julian Felipe Reef within the exclusive economic zone of the Philippines, where Filipinos enjoy sovereign rights over resources.
The amassing of hundreds of Chinese vessels near Julian Felipe Reef is similar to China's tactic of swarming of vessels near Pag-asa Island in the West Philippine Sea.
Chinese fishing vessels spotted near Pag-asa were likewise suspected to be militias or a paramilitary force of the Chinese government, according to a report by the Department of National Defense (DND) submitted to Congress in September 2019. Experts from the Washington-based think tank Center for Strategic and International Studies have expressed the same view.
In its 2019 report, the DND noted that the presence of large numbers of Chinese fishing vessels – or militias – in the West Philippine Sea could be an asymmetric warfare strategy that in effect wields China's control over Philippine waters.
On Twitter, Locsin said he would file a diplomatic protest against China over the issue "only if the generals tell me."
"Generals, I haven't gotten the order to fire. Firing from a media outlet doesn't score. In fact it's sissy to turn to media outlets," he said.
Locsin continued: "I listen only to generals; never media or an NTF press release which amounts to nothing. Only a shot from DFA counts. Waiting for the coordinates and the order to fire, Generals Esperon and Lorenzana. I fire even on a Sunday."
Since 2020, Locsin had doubled down on the Philippines' position in the West Philippine Sea, as he and President Rodrigo Duterte cited the historic 2016 Hague ruling as a "nonnegotiable" and filed several protest against Beijing's aggressive behavior in the West Philippine Sea, unimpeded by the pandemic. – Rappler.com
Editor's Note: An earlier version of this story said the Chinese ships were spotted near "Juan Felipe Reef." We have corrected the reef's name to Julian Felipe.