The Department of Health says the situation is still manageable and the health system is not yet overwhelmed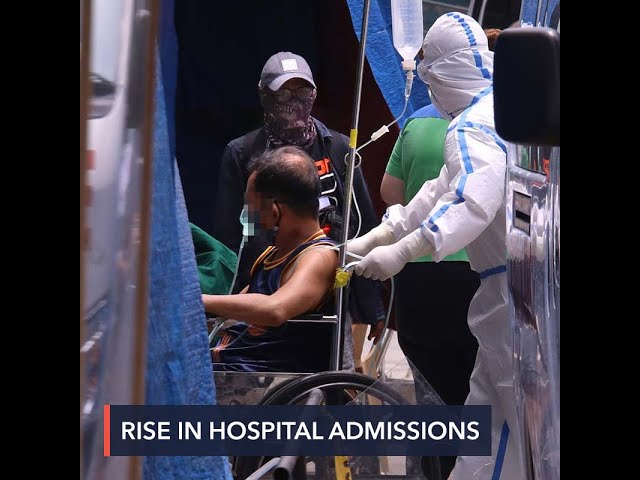 Data from the Department of Health monitored by Rappler showed the number of hospital admissions quickly increased in the last two weeks from February 21 to March 6, after remaining steady throughout the start of the year to about late-February.
The rise in hospital admissions illustrates the impact of fast-rising coronavirus cases in Metro Manila, the center of the Philippines' pandemic, where experts watching the outbreak warned of a new and potentially worse COVID-19 surge than the previous peak in cases last July to August 2020.
Rappler based its monitoring on the Department of Health's (DOH) data drop, where data on the capacity of health facilities are also included.
Latest figures as of Saturday, March 6, showed that of the 149 hospitals catering to COVID-19 patients in Metro Manila, 115 were still considered to be in the "safe" zone, with less than 60% occupancy, while 11 other hospitals were under a "moderate" classification (60% to 70% occupancy), and 19 "high-risk" (70% to 85% occupancy).
The majority of hospitals, though still in the safe zone, is smaller than the number of hospitals that were under this category over two weeks ago. Back then, on February 21, 135 of 150 were still in the "safe" classification, while 2 were considered to be under "moderate," and 8 "high-risk."
The quick increase in admissions in just recent weeks comes as the DOH reported a "marked" rise in cases. From about 1,100 to 1,200 new cases counted weekly from December 29 to January 2, the health department said average cases last week rose to 2,400.
Based on a study released by Octa Research on Sunday, March 8, Metro Manila in particular saw an average of 1,025 new cases per day in the past week, translating to a 42% increase in new cases from the previous week. Compared to two weeks ago, the average number of new infections increased by 130%.
While hospital admissions were climbing, the Department of Health said the country's health system was not overwhelmed and was still able to cater to patients. Several hospital chiefs in Metro Manila had also issued the same clarification, saying they were not severely strained by the rise and case and were still able to manage patients.
Managing cases
On the ground, Health Undersecretary Maria Rosario Vergeire said more people seeking treatment in hospitals was noticeable in the increased number of patients heading to emergency rooms after showing symptoms of COVID-19.
"When we checked and when we went around, nakita natin na dumadami talaga qng mga tao sa ER, yung mga suspects or may mga sintomas ng COVID. (We saw there were really more people in the ER, those suspected [to have] or were showing symptoms of COVID-19.) But to say that the system is overwhelmed? No (it is not)," Vergeire said in a virtual briefing on Monday, March 8.
She added, "Kapag tiningnan natin ang ating (If we're to check our) healthcare utilization, we're still at that manageable level na mayroon pa tayong almost 50% na puwede i-provide (we still have almost 50% which we can provide)."
"Although hindi po namin ikakaila na dumadami talaga at nagsasabi talaga ng ating mga hospital directors, yung mga medical center chiefs na talagang dumadami yung numero ng kaso," Vergeire said.
(Although we cannot deny that cases are really increasing and our hospital directors, our medical center chiefs are saying that the number of cases are really going up.)
While cases at the moment were still manageable, Octa Research warned that, if the rise in cases is not managed, the Philippines may see 6,000 new coronavirus cases daily by March 31. Unlike the big increase in cases seen last July to August, Octa said the current rate of increase in new cases seen in recent weeks was faster, with the infections spreading "more quickly."
How DOH, hospitals are preparing
Vergeire said that due to marked increase in cases, the DOH had gathered and met with medical chiefs, regional health directors, and local chief executives over the weekend to prepare for a continued rise in cases.
On March 5, the DOH mobilized its "One Hospital Command" system, a more robust referral system between hospitals to avoid overwhelming critical care facilities. The command system had first been put in place during in July 2020, when the Philippines saw a deadly surge in cases that nearly crippled the country's health system.
Aside from this, it activated its "Oplan Kalinga" strategy again where patients needing mild care were transferred to temporary treatment and monitoring facilities to keep critical hospital resources reserved for severe cases.
Meanwhile, hospital and health officials were also closely coordinating to redistribute patients across hospitals to avoid overwhelming any one hospital while cases remained manageable.
Vergeire this included tapping East Avenue Medical Center, the Lung Center of the Philippines, and Jose M Rodriguez Memorial Mecial Center to form part of a referral network for patients seeking care at the Philippine General Hospital where COVID-19 increased form 68 on February 21 to 105 as of March 6.
Meanwhile, on Monday, the DOH implored the public to continue observing minimum health standards such as proper wearing of face masks and face shields and observing physical distancing, at the very least.
Vergeire said the rise in COVID-19 cases "cannot be solely attributed" to the presence of the more infectious variants in the country. At the end of the day, with prevention strategies remaining the same, she said transmission and increase in infections can be cut by following health protocols.
"As long as our public would not be able to comply with the minimum health protocols that are there, andiyan na po yung posibilidad na dadami at dadami ang kaso (the possibility of rising cases remains)," she said. – Rappler.com