Saying he didn't receive the two subpoenas issued by the Senate, President Rodrigo Duterte's former adviser says he will attend the next hearing on anomalous pandemic contracts
Hours after Philippine senators agreed to issue an arrest warrant against former presidential adviser Michael Yang, the Chinese businessman promised his "full cooperation" in the ongoing probe into anomalous pandemic deals believed to have been bagged due to his influence.
In a letter coursed through his lawyer Raymond Fortun on Tuesday afternoon, September 7, Yang assured Senate blue ribbon committee chairman Richard Gordon that he would finally be attending the next hearing, which has been set for Friday, September 10.
He also apologized for failing to attend Tuesday's hearing, adding he had yet to receive a copy of the two subpoenas issued by the committee.
"Although he has not received a copy of the subpoena, he has expressed his full and complete cooperation to provide information that your Honorable Committee may need from him in aid of legislation," Yang's lawyer Fortun said.
"Mr. Yang apologizes for his absence at today's hearing, but gives his assurance to be present at the next scheduled hearing," Fortun added.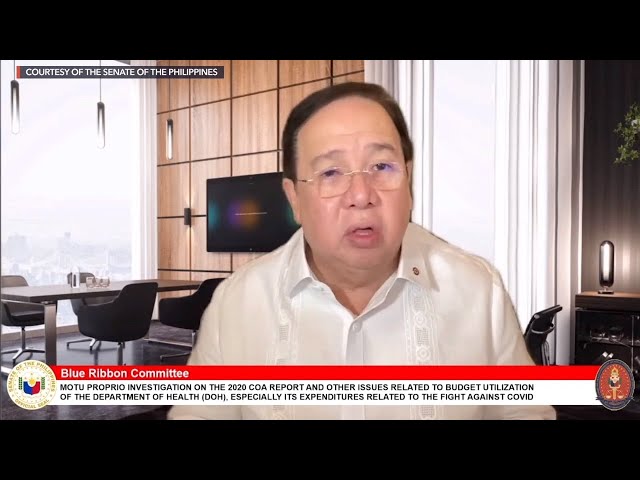 Yang's lawyer then told the blue ribbon committee that it could serve the subpoenas for the business at his lawyer's firm, Fortun and Santos Law Offices, in Las Piñas City.
Senators cited Yang in contempt and sought his arrest after he failed to show up in the ongoing investigation into the anomalous pandemic funds spending of President Rodrigo Duterte's government.
A Rappler investigation showed that Yang, through a network of companies, has links to the Philippines' biggest supplier of pandemic contracts, Pharmally Pharmaceutical Corporation.
Pharmally was awarded over P8 billion worth of COVID-19 contracts even if the small firm lacked the track record and credibility to engage in big ticket government procurement.
Pharmally's chairman and president Huang Tzu Yen finally faced the blue ribbon committee on Tuesday. The panel earlier tried to issue a subpoena against Huang too, but the addresses in the firm's registration documents were allegedly non-existent.
Duterte has repeatedly tried to exonerate Yang from any wrongdoing in relation to Pharmally. He described his former adviser as the "paymaster" or "financial sponsor" of Chinese businessmen who wanted to do business in the Philippines.
Malacañang also denied that Pharmally was able to bag the pandemic contracts because of Yang's influence and closeness to Duterte.
At Tuesday's hearing, COVID-19 plan chief implementer Secretary Carlito Galvez Jr. confirmed the Philippine government gave free use of military ships and planes to Chinese suppliers to deliver personal protective equipment here. – Rappler.com
Read the other stories from the September 7, 2021, Senate blue ribbon committee hearing: