[EXCLUSIVE] (2nd UPDATE) Securities and Exchange Commission documents show how Yang is connected to the embattled Pharmally Pharmaceutical Corporation, supplier of pandemic supplies flagged by auditors to be overpriced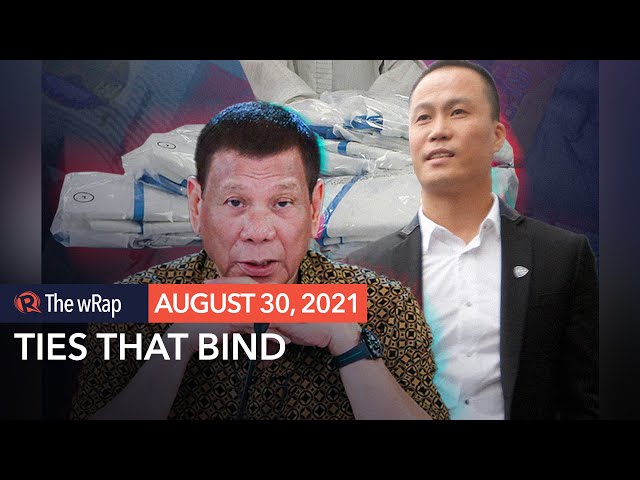 (Done in partnership with the Organized Crime and Corruption Reporting Project)
The Philippine government's biggest supplier of medical goods during the COVID-19 pandemic has links to President Rodrigo Duterte's former economic adviser Michael Yang, government documents obtained by Rappler show.
The local firm Pharmally Pharmaceutical Corporation bagged a total of P8.68 billion worth of deals – the biggest among suppliers awarded contracts under the Bayanihan procurement, or procurement for pandemic response, in 2020.
The data comes from the Government Procurement Policy Board (GPPB) website, where agencies are required to upload all awarded pandemic-time contracts.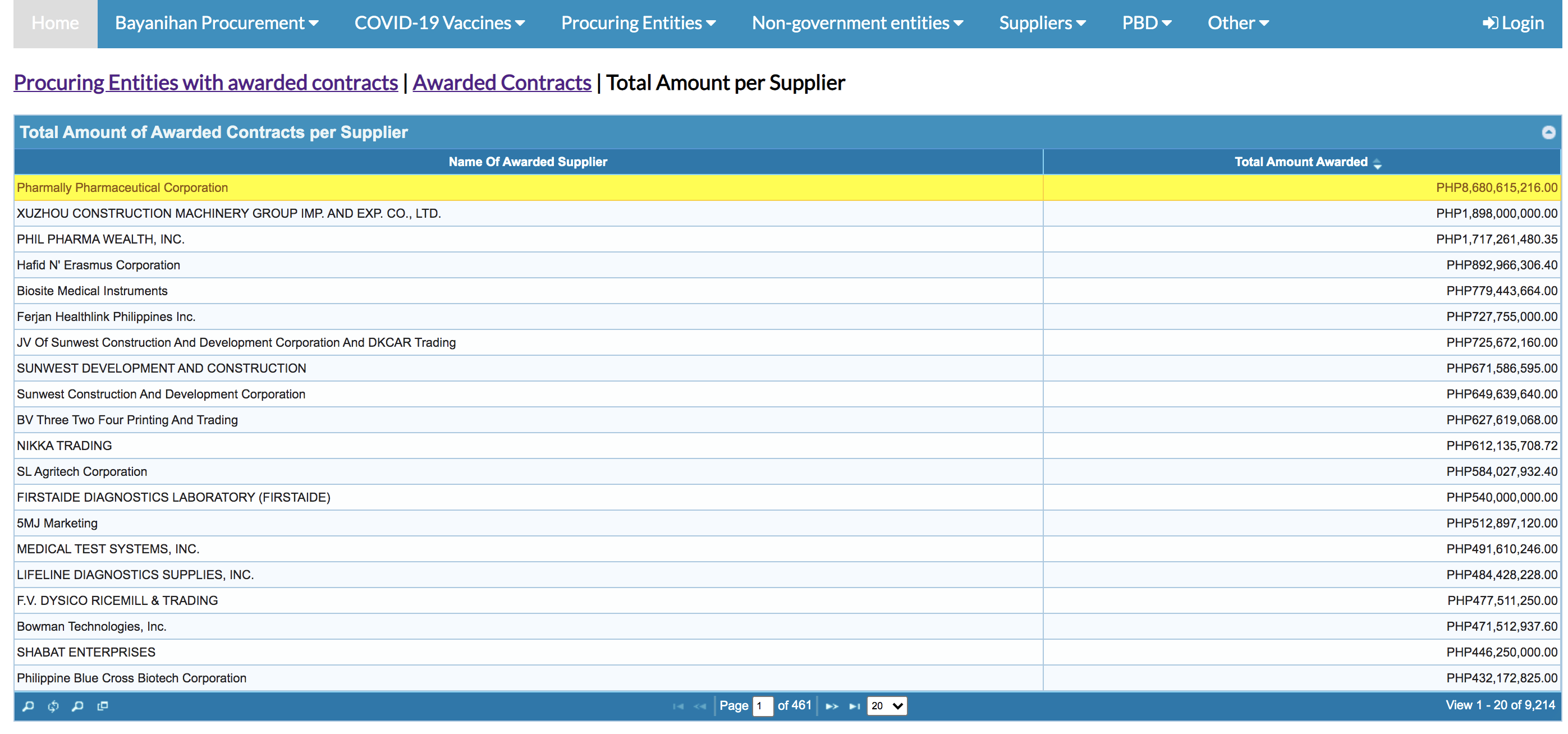 Pharmally Pharmaceutical Corporation leads by a huge margin, with the second top supplier, XuZhou Construction Machinery Group, securing only P1.9 billion worth of contracts.
The Commission on Audit has, however, flagged the Procurement Service of the Department of Budget and Management for failing to post all awarded contracts on the GPPB portal. The data used here represents only the contracts uploaded to the portal.
Pharmally Pharmaceutical Corporation is linked to Yang's network through one of its owners, Singaporean Huang Tzu Yen, who sits as a director in another company, along with two other associates of Yang.
On March 17, 2017, Yang was in a meeting between Duterte and executives of a related company, Pharmally International Holdings. Publicly-available Malacañang video footage of the gathering – which was also aired at the Senate hearing on Friday, August 27 – confirm Yang's attendance in that meeting, which included Pharmally International Holdings chairman Huang Wen Lie. He is said to be the father of the Singaporean part-owner of Pharmally Pharmaceutical Corporation, which bagged the PPE contract.
Yang was also among those served a subpoena by the Senate for the Friday hearing, according to Blue Ribbon Oversight Office Management Director-General Rodolfo Quimbo.
The biggest of Pharmally Pharmaceutical's contracts was worth P3.82 billion for personal protective equipment (PPE) that was eventually flagged by opposition Senator Risa Hontiveros for being overpriced.
According to a copy of the contract from the GPPB portal, Pharmally Pharmaceutical Corporation charged P1,910 per unit of two million PPE sets, for a total contract worth P3.82 billion. This was the biggest supply contract out of the 11 contracts Hontiveros scrutinized in September 2020. Of the 11, only four had Filipino suppliers and the rest had Chinese ones.
The Pharmally Pharmaceutical contract was signed on May 6, 2020, just a few months into the pandemic. It was signed three weeks after the period of March 23 to April 13, when the government imposed a price ceiling of P945 per PPE set. The P1,910-per-unit price of Pharmally Pharmaceutical was more than double the price cap.
The same company also won a P480-million contract to provide test kits, which Senator Franklin Drilon claimed in September 2020 to be overpriced by P208 million.
Below is a summary of all 10 contracts obtained by Rappler, followed by copies of the contracts themselves. The most recent purchase order was signed only in June 2021, with the government paying P774 million for 17,000 RT-PCR test kits. Senator Imee Marcos said an even more recent contract was signed in late June.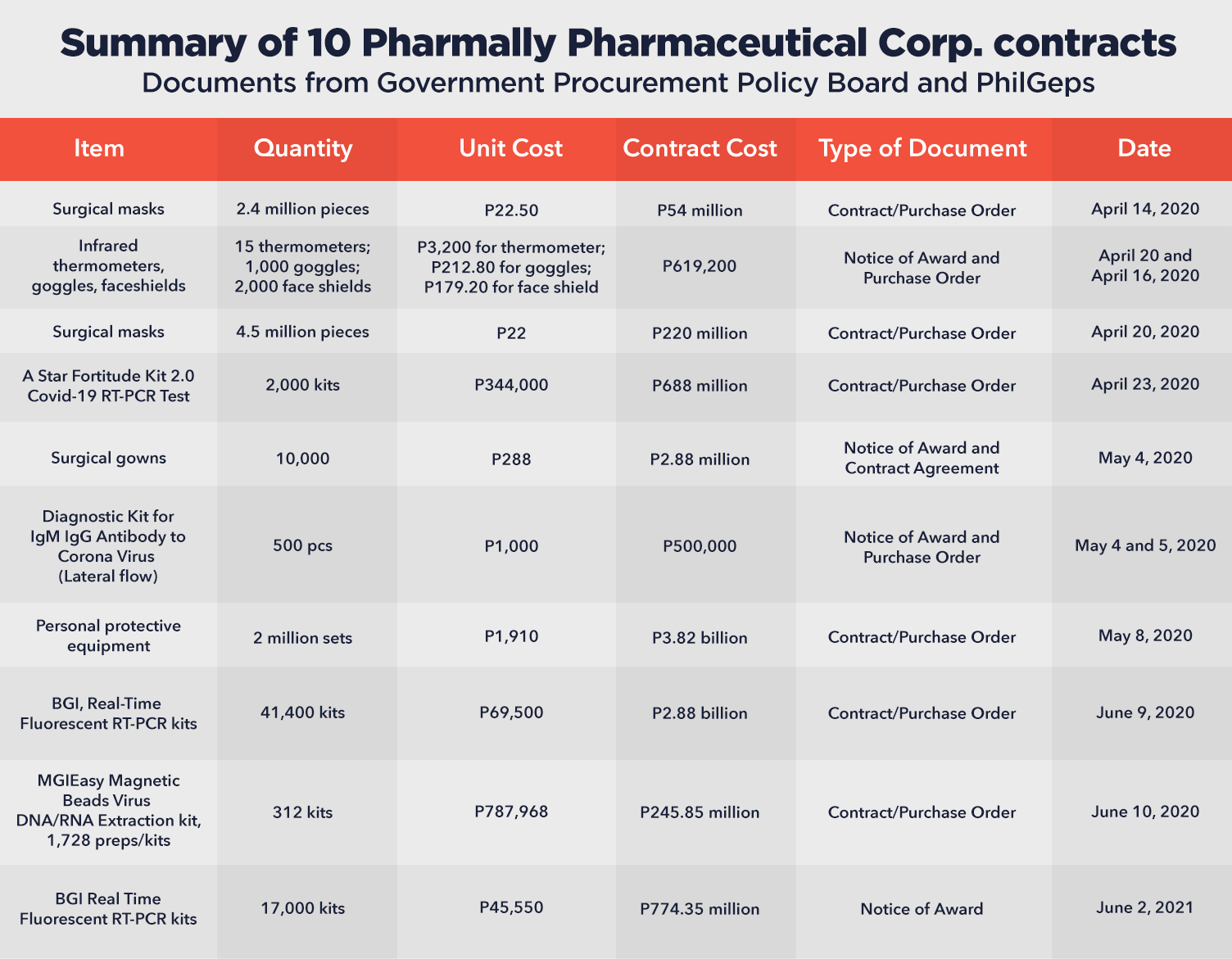 Pharmally Pharmaceutical contracts with the Philippine government
Pharmally Pharmaceutical Co… by Rappler
Six purchase orders and one notice of award for goods procured from Pharmally Pharmaceutical were signed by the embattled former budget undersecretary and Bong Go aide Lloyd Christopher Lao, as seen in the documents themselves.
Huang and Yang's associates
Pharmally Pharmaceutical Corporation's general information sheet, obtained by Rappler from the Securities and Exchange Commission (SEC), shows that the Singaporean Huang owns 40% of the company.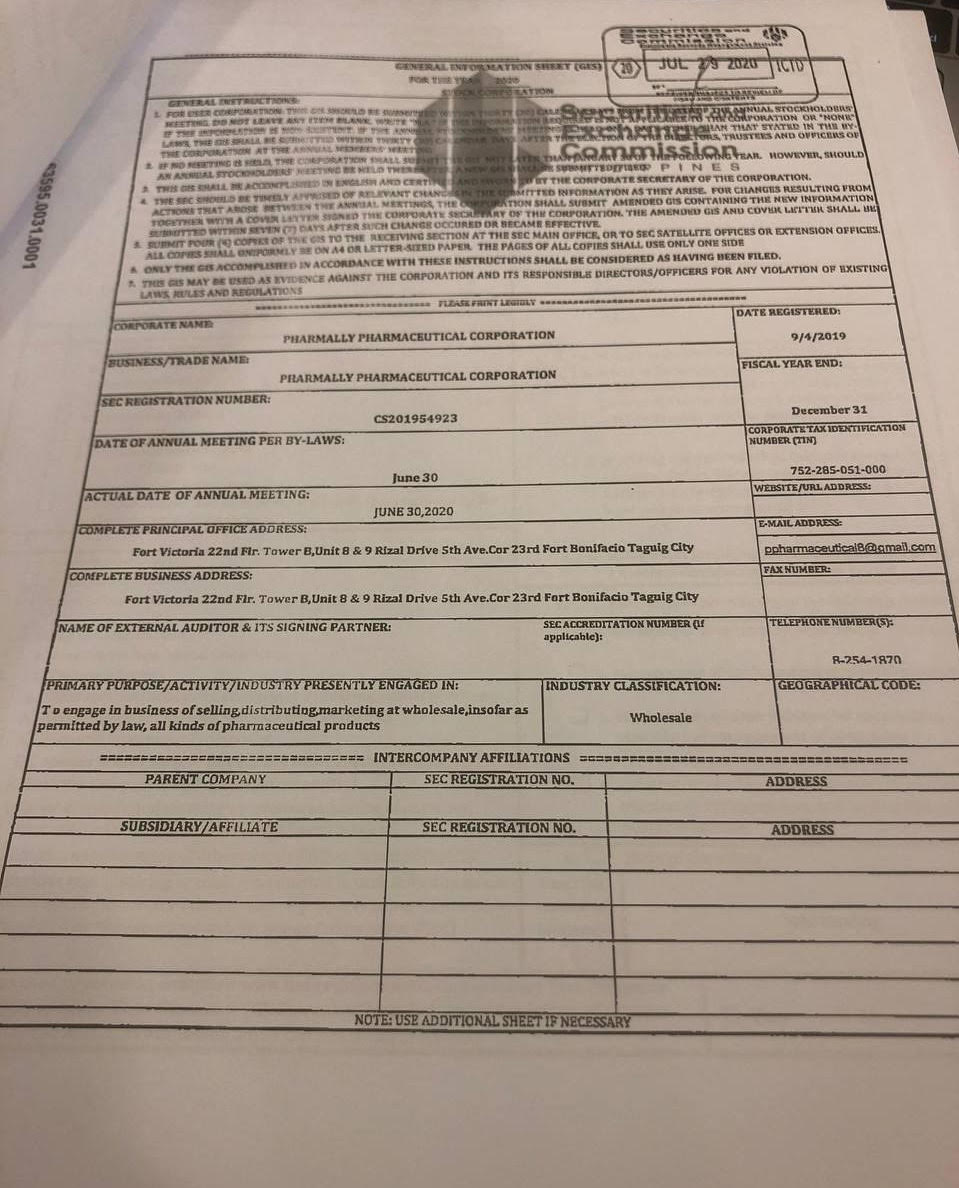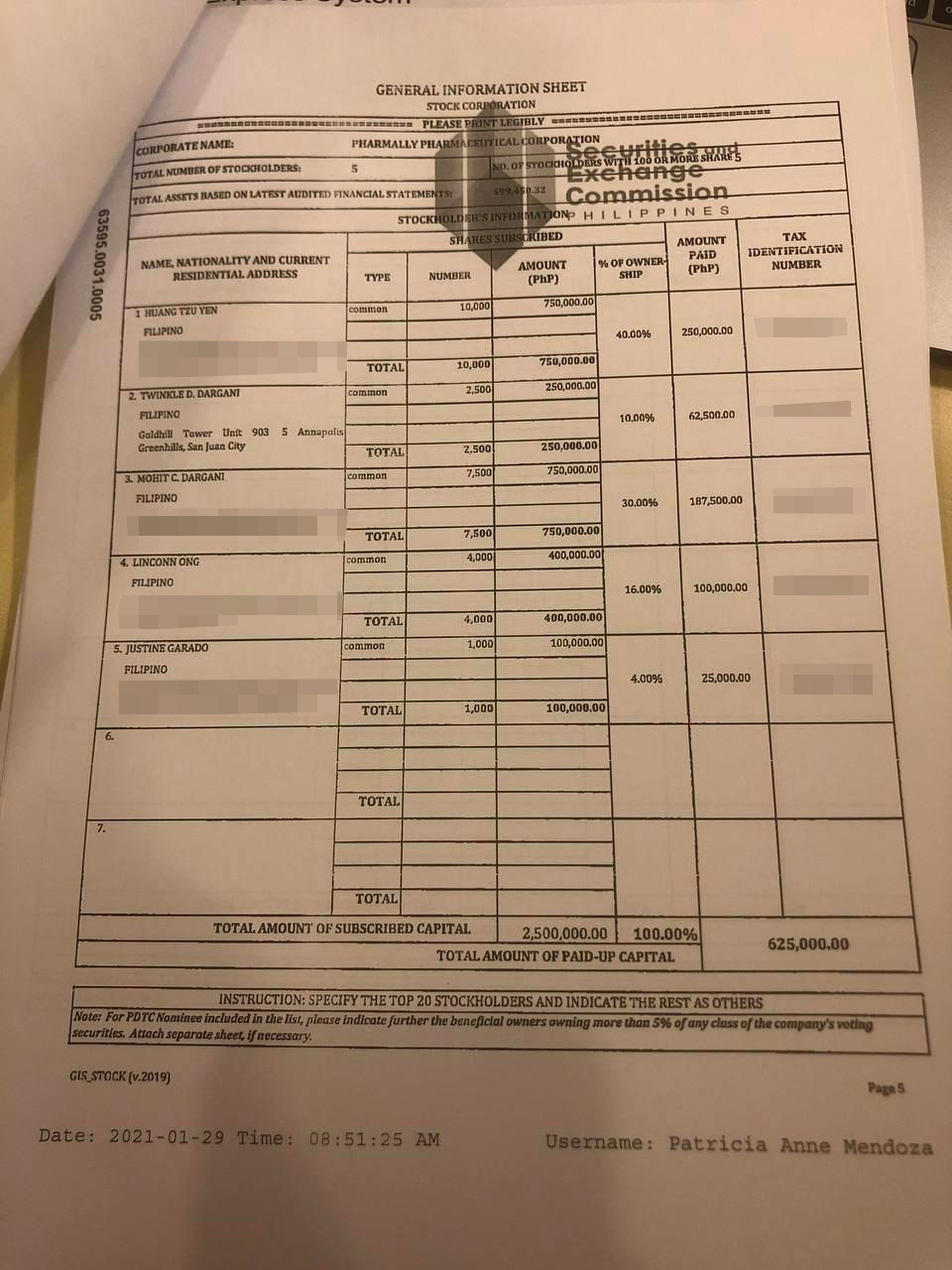 Rappler found out, too, that Huang is also a director in a different firm, Pharmally Biological Company Inc. Huang's co-directors in this firm are close associates of Yang – they sit as incorporators in several companies led by Yang himself.
Pharmally Biological's SEC records show that Huang is president and an incorporator, along with two Filipinos – a certain Rose Nono Lin and Gerald Cruz. The two Filipinos are also involved in at least one other company of Yang.
Yang – in a September 13 statement sent to media – said he was "never involved" in the incorporation, operation, and activities of Pharmally Biological "other than to introduce the potential investors" to Duterte in their March 2017 meeting.
He, however, admitted helping Pharmally Pharmaceutical find suppliers of medical goods urgently needed by the health department and lenders so the firm could pay for the purchase of these items. He said he was "personally approached" by firm director Linconn Ong on May 10, 2020 for help.
"I agreed to help him to the extent of referring Pharmally Pharmaceutical to my friends in China who are either suppliers of the items in the contract, as well as referring him to other friends who could help on the financial side of the supply contracts," said Yang.
He claimed he was involved in only three procurement contracts which involved PPE sets, RT-PCR test kits, and RNA extraction kits.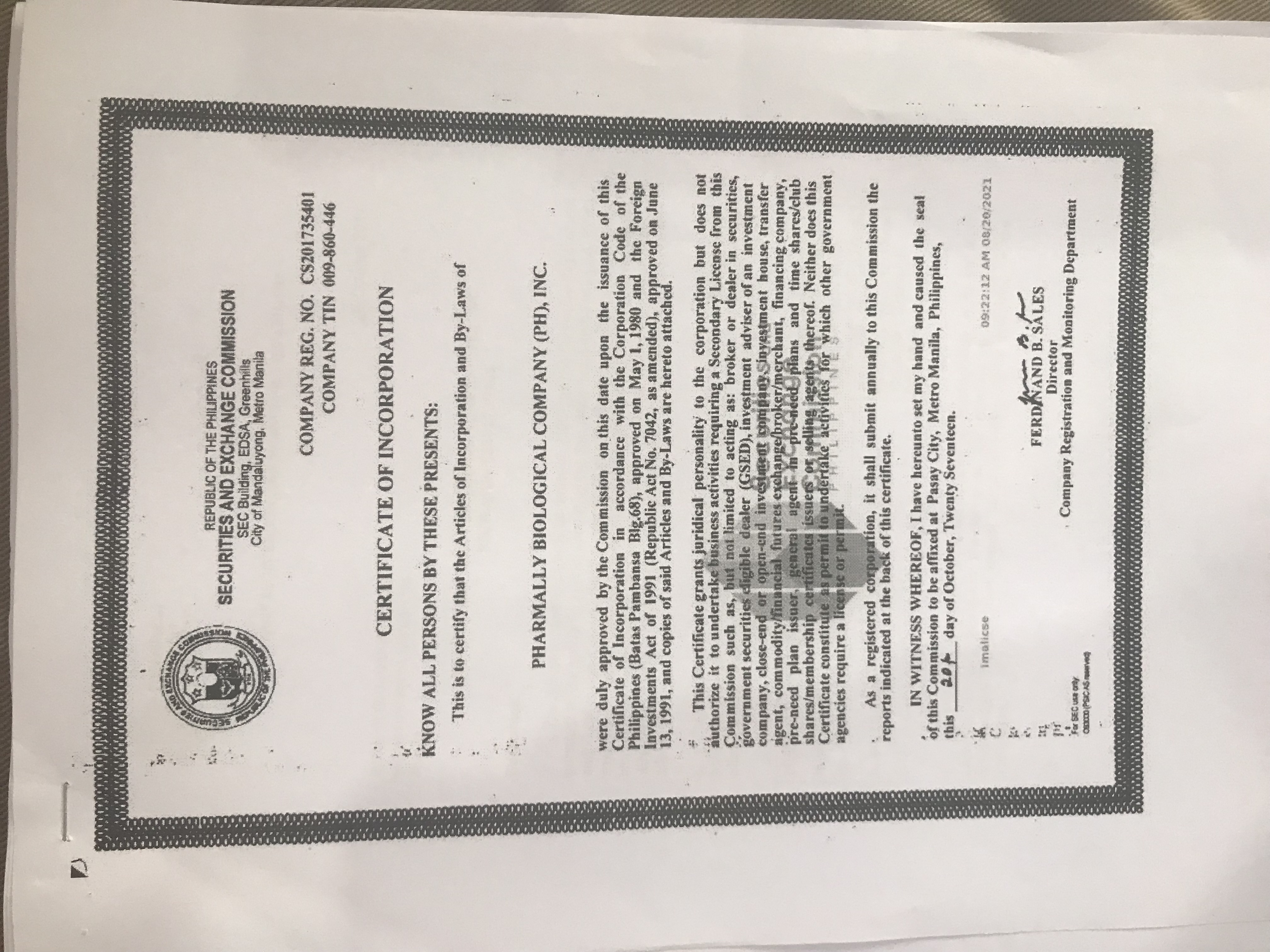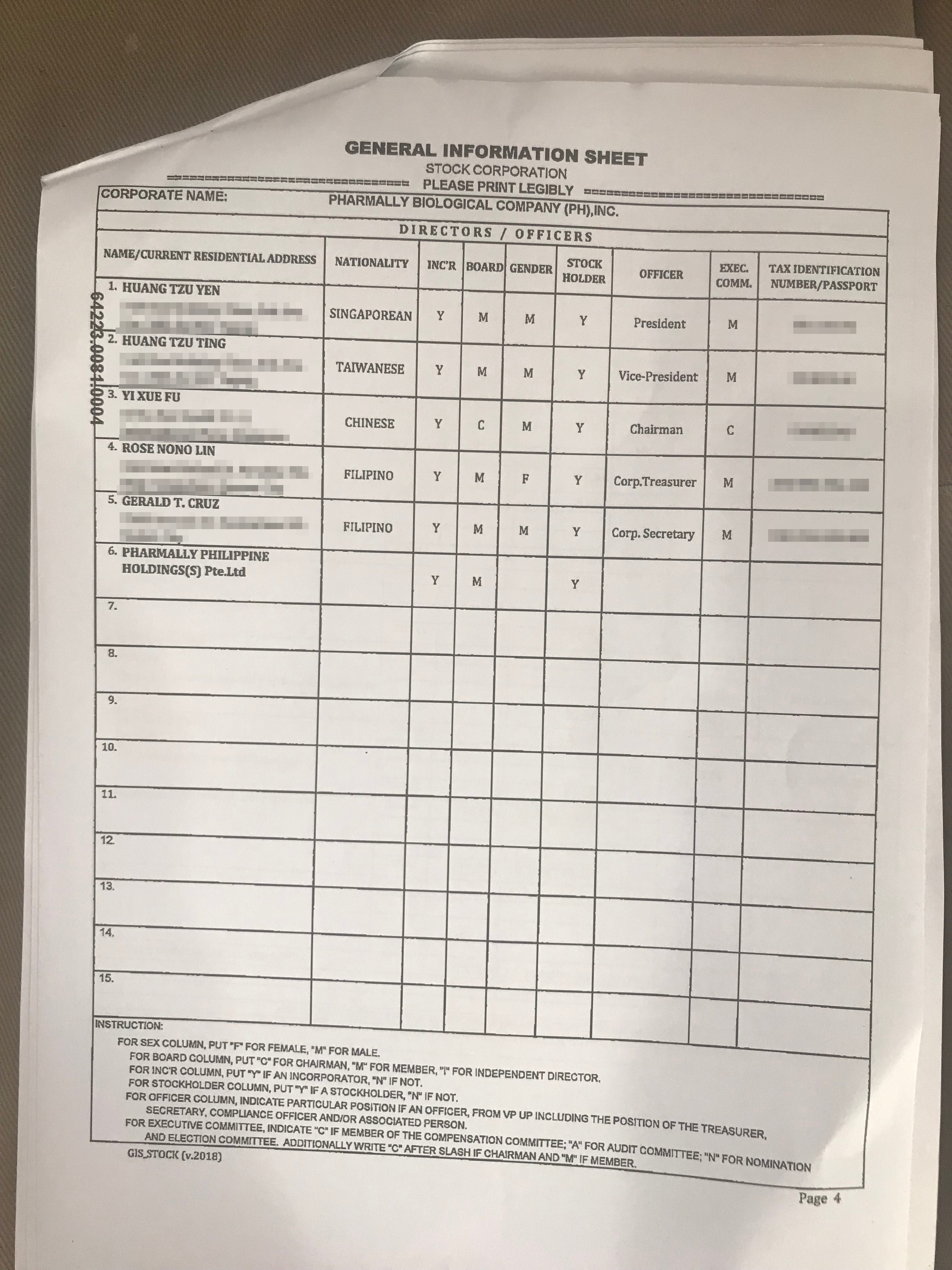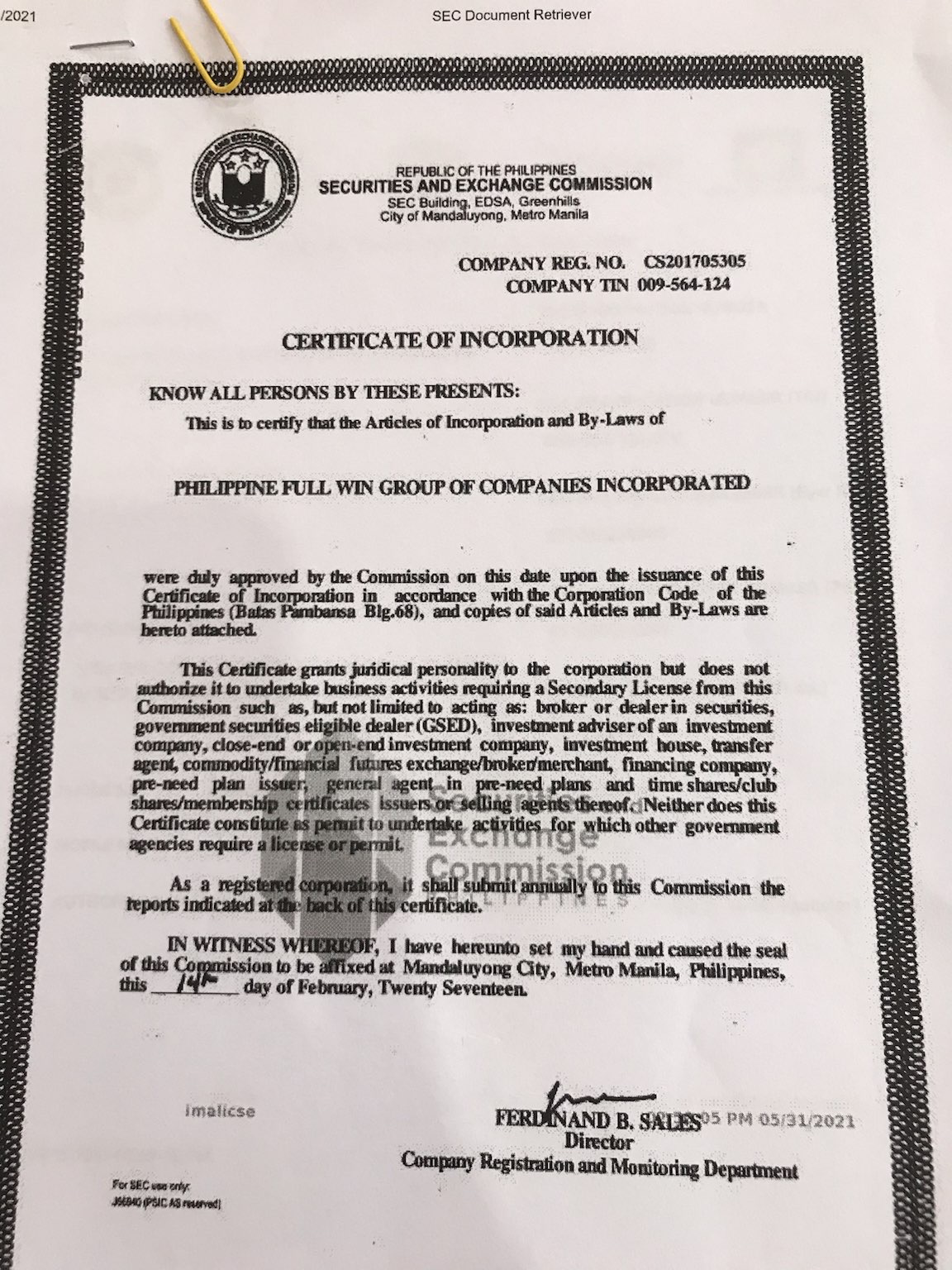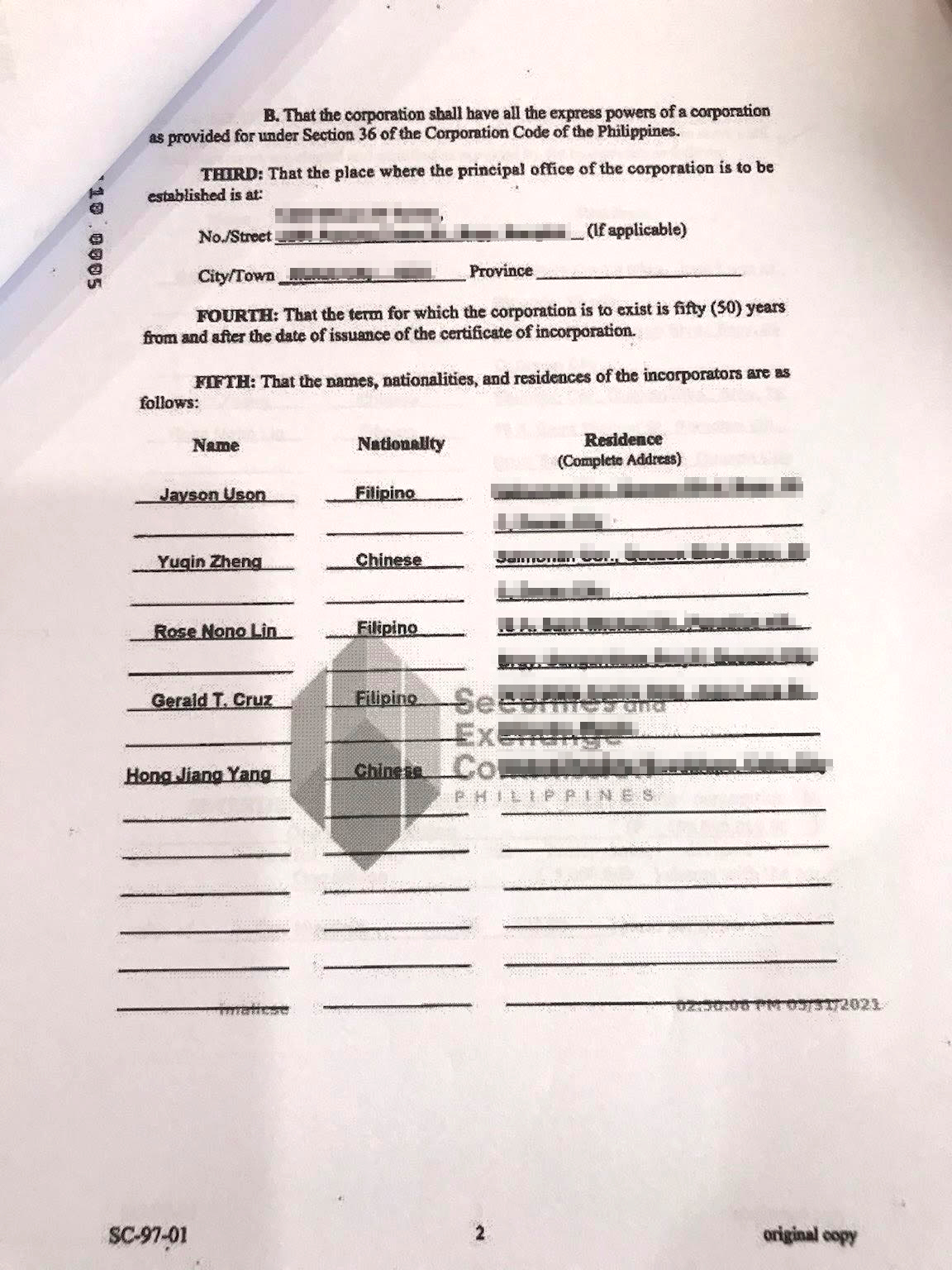 Lin and Cruz are incorporators, too, of a company chaired by Yang, Philippine Full Win Group of Companies Inc., according to the firm's SEC documents. Yang had previously identified himself as chairman of Philippine Full Win, both in the company's website and in his business cards.
Yang had even toured Duterte in Full Win's Xiamen office in 2015. Philippine Full Win is the local counterpart of Xiamen Full Win (Fu De Sheng in Chinese), a Chinese company.
Two incorporators in Philippine Full Win (Rose Lin and Gerald Cruz) are also directors of Pharmally Biological.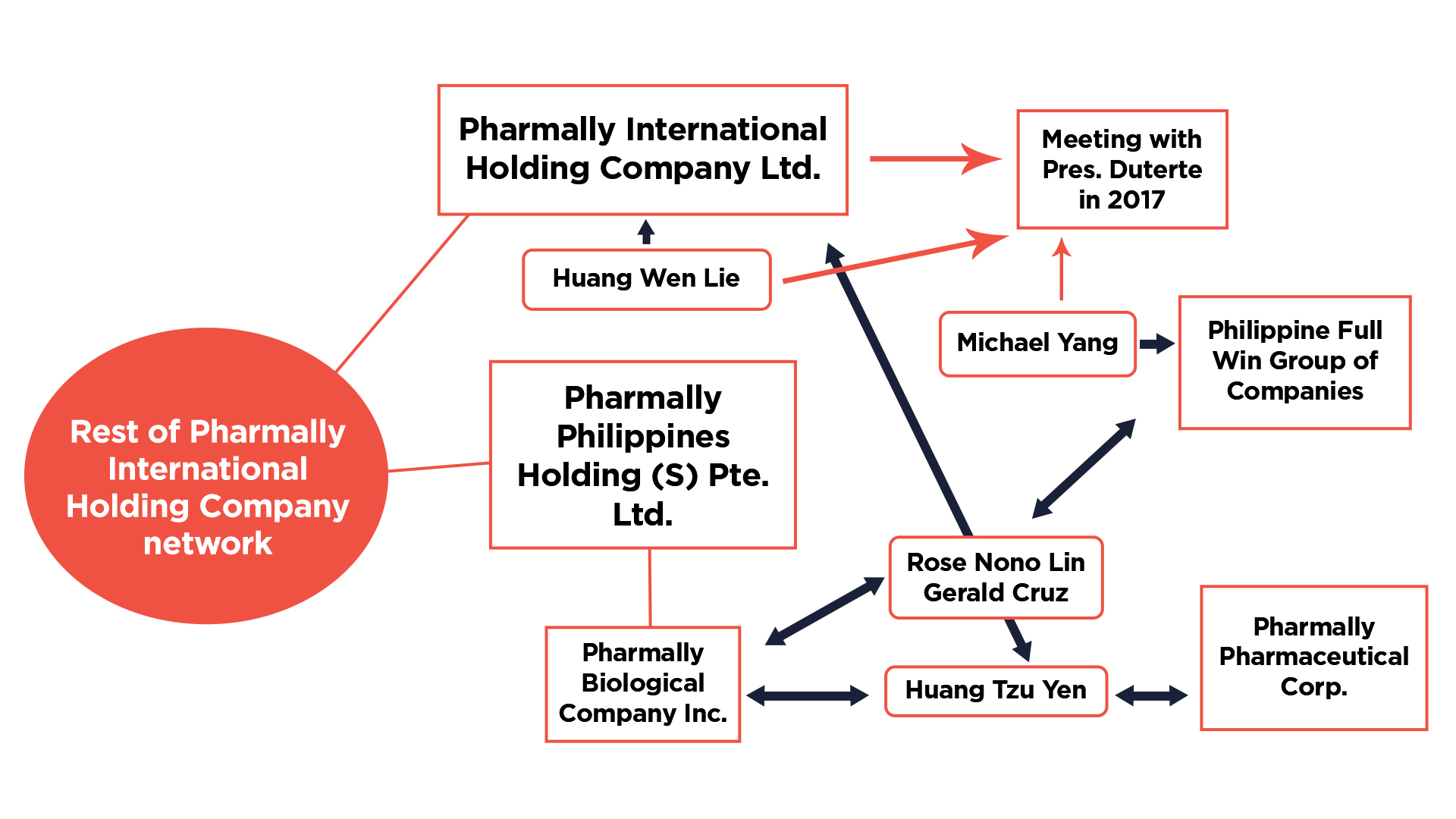 Philippine Full Win Group of Companies was registered with the SEC in February 2017. Eight months later, Pharmally Biological also registered with the SEC. Pharmally Pharmaceuticals, the firm with the government pandemic-time contracts, was registered even more recently, in September 2019, or just six months before the start of the pandemic.
Senators on Friday said this should have been a red flag for the Procurement Service of the DBM, which opted to award in May 2020 a multi-billion contract to a newly-incorporated company.
Michael Yang's meeting with Duterte, Pharmally executives
In the video of the March 2017 meeting at Panacan, Davao City, Yang – all smiles – appears to introduce the executives of Pharmally International Holding to President Duterte.
Huang Tzu Yen, aside from being Pharmally International Holding chairman Huang Wen Lie's son, is also a director of the company, according to its profile on Orbis, a database on private companies.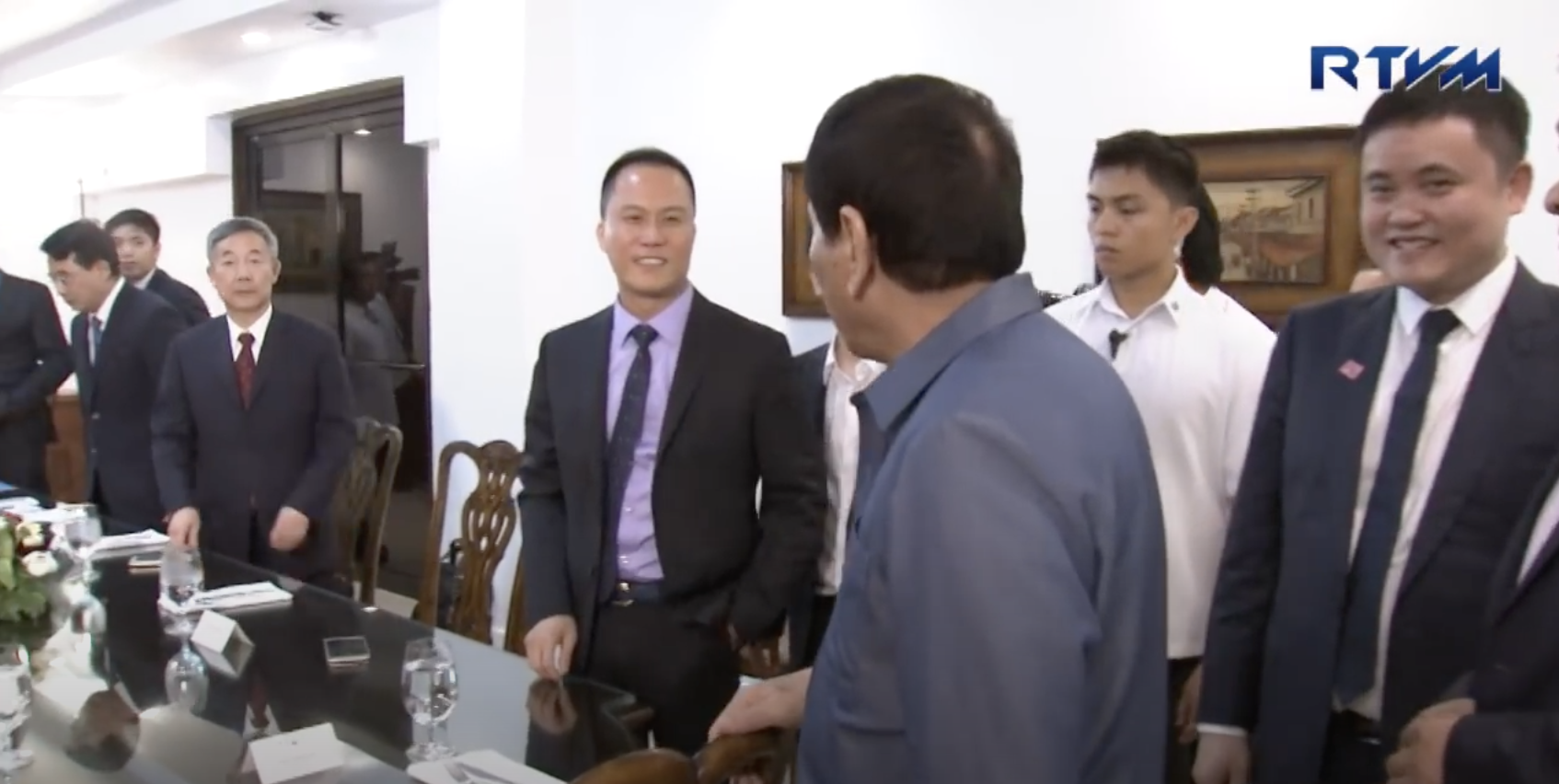 Further bolstering a likely connection between the Pharmally network and Yang's company was the presence at that meeting of Zheng Bingqiang, who was Full Win president and another close business associate of Yang. Zheng was with Duterte and Yang in 2015 when they visited Full Win's Xiamen headquarters.
Yang was Duterte's economic adviser for at least the entire 2018, according to Malacañang contracts exclusively reported by Rappler. After public scrutiny following Rappler's report, Yang's term as adviser was allowed to lapse.
Yang, in a September 9 email to Rappler through his lawyer Raymond Fortun, had denied that his influence led to Pharmally Pharmaceutical Corporation getting big government contracts.
"Never. President Duterte would never have allowed it even if I even attempted to approach him about getting government contracts," he said.
Yang has been chummy with Duterte for most of his term. Yang has twice hosted Duterte and top government officials in private gatherings in Hong Kong and China. He was among those given coveted invitations to the Malacañang state banquet held for visiting Chinese president Xi Jinping in 2018.
But perhaps the strongest indicator of Yang's clout with the Philippines' most powerful man is how Duterte, in 2018, publicly defended him against intelligence findings that he was involved in the illegal drug trade. – with reports from Lian Buan/Rappler.com