Eumir Marcial is perhaps the country's best hope for its elusive first Olympic gold medal
This story is published in partnership with SoJannelleTV, a magazine show about Filipinos in North America.
The Philippines has had its share of boxing success throughout the decades, but it's rare to find a notable boxer the size of Eumir Marcial.
As a solid middleweight, Marcial is the first notable 160-pounder from the Philippines since Ceferino Garcia was the world's middleweight champion in the 1930s. The 25-year-old from Zamboanga City has made a name for himself, growing from the 114-pound amateur who first won gold at the Junior World Championships, to the fighter who flirted with winning the country's first male gold at the AIBA World Championships in 2019, settling for silver.
As impressive as his 2019 campaign had been, Marcial made an even louder statement in 2020, tearing through the competition at the Asia/Oceania boxing qualifiers to finish with the gold.
Marcial is perhaps the country's best hope for its elusive first Olympic gold medal, having shown already he can compete against and defeat some of the best talent. Winning a gold would fulfill the dream of his father, Eulalio, who first started training him at the age of 6.
But after falling just one win short of qualifying in 2016, Marcial was ready to hang up his gloves for good. He has a career in the Air Force to fall back on if he chose to, but one of his fellow airmen wouldn't allow him to give up, and reminded him of his immense talents and potential.
"Then I realized that my father always told me, thinking about our sacrifice when I was young," said Marcial. "I said I'm not gonna give up, I'm still gonna reach my dream," Marcial said to SoJannelleTV correspondent Ryan Songalia in its new sports segment, So Game.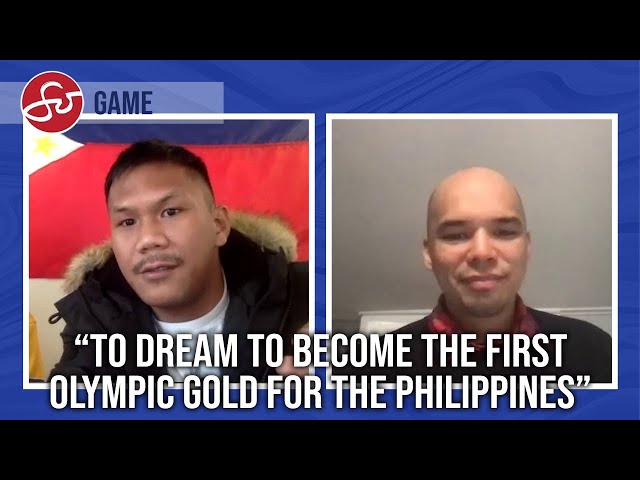 Marcial is one of two Filipino boxers who have qualified for the Tokyo Games so far, joining Filipina flyweight Irish Magno. When the COVID-19 pandemic caused the Tokyo Olympics to be pushed back to 2021, Marcial decided to begin his professional career while waiting for the Games to be rescheduled. He signed a promotional deal with MP Promotions, the company founded by Manny Pacquiao, and then flew to Los Angeles to begin training with Pacquiao's mentor Freddie Roach at the Wild Card Gym.
Marcial first met Pacquiao at the amateur World Championships in 2015 and still remembers the words of advice he first imparted on him. "He said, 'No matter what you achieve, no matter what you become, stay humble,'" remembers Marcial. They spoke again when discussing a promotional deal. Once again, Pacquiao had something memorable to tell the young fighter. "He said to me, 'You come to me with MP Promotions and I will make you a world champion,'" said Marcial.
That process began on December 16 of last year, when Marcial hammered out a hard fought unanimous decision over Andrew Whitfield in Los Angeles to move to 1-0 as a professional. The fight was exciting, though much more spirited than most expected of Marcial's first pro bout. Marcial is expected to have his second pro fight announced shortly, and then rejoin the Philippine national team to begin preparations for Tokyo.
Sean Gibbons, President of MP Promotions, is the person whose job it is to make Marcial's pro dreams come true. He says he feels good about Marcial succeeding at the Olympics because he has beaten fighters from the dominant countries in Olympic style boxing.
"When you beat the guys from Kazakhstan and you compete with the Ukrainians, with the Russians and the Cubans at his weight, it gets you excited. That's why we have a lot of hope with him really doing well at the Olympics," said Gibbons.
Marcial doesn't just want to win the first gold for the Philippines. He wants to pave the way to making sure other boxers follow in his path.
"I also want my dream after that if I become Olympic gold medalist, I want also to help other amateur boxers to also become Olympians and world champions," said Marcial. – Jannelle So Productions | Rappler.com
Check out So Jannelle TV daily for stories that make you pause, reflect, and appreciate who we are and what we are as a people.
Fridays, 5 PM on KSCITV-LA18
Saturdays, 7:30 PM PT on ANC
Sundays, 3:55 PM PT / 6:55PM ET on TFCOr anytime on YouTube.com/SoJannelleTV