'I hope you think of the hardships we riders go through just to deliver your parcels,' says one of the riders Rappler spoke with
For Exequiel Busa Jr., being a delivery rider was what fed him and his family for the past year and four months of the pandemic.
It was never an easy ride.
Busa has been a delivery rider for four online platform companies in the past year, two of which he was fired from without any proper warning or investigation.
"Sabi ko nga ganon, bakit termination agad? Hindi ba pwedeng suspension muna, o warning? (I said why would they terminate me so easily? Couldn't they suspend me first or give me a warning?)" the delivery rider lamented.
Despite being an essential worker who delivers items from one household to another amid the pandemic, delivery riders like Busa are left underpaid with no employee benefits.
No work, no pay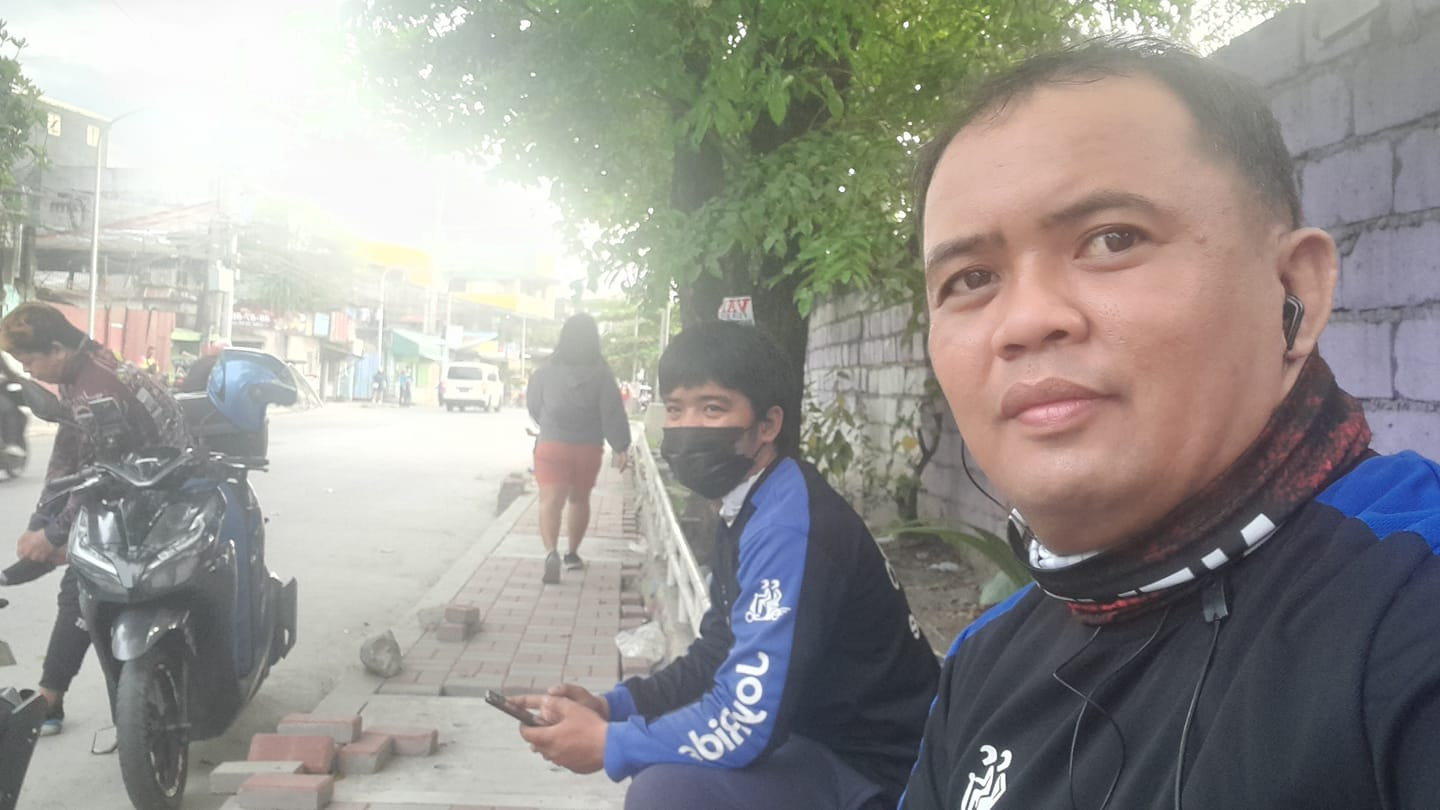 With two children to care for, a motorcycle monthly amortization to remit, and a house rent to pay, Busa says his daily average pay of P600 to P800 was barely enough to get them by.
Aside from their monthly house rent of P 4,000 and their water and electricity bills of P 1,100 every month, Busa said he also coughs up P 4,000 a month for the motorcycle which he uses to deliver items and food.
For riders like Busa who work from 5 am to 7 pm, a daily P800 earning is equivalent to about P57 per hour​​ – lower than the hourly minimum wage rate of the National Capital Region (NCR).
"Yung mga needs medyo nakukuha namin, nakukuha ko through sa work ko, pero yung mga wants malabo (In terms of our needs, we somehow afford them, I can get these through my work. But in terms of our wants, it seems vague)," said Busa.
Busa also added that not showing up for work when they are sick would also mean that they would have no money to bring home to their families.
"Yes. No work, no pay. Ilang beses na po ako nagka trangkaso, tatlong araw, apat na araw po akong walang trabaho, (Yes. No work, no pay. I have had the flu a few times before, and I was not able to work three or four days.)" Busa said.
Busa shared the plight of thousands of other delivery riders across the Philippines who receive little pay and live under harsh worker policies. And there have been times where the riders call for better work policies and fair pay.
In July 2021, Foodpanda gave a 10-year suspension to all its delivery riders who were planning to conduct a "silent protest" against its payment system.
Busa himself, along with some of his co-workers, has also tried protesting against online delivery company Lalamove.
Together with his co-workers, they staged a protest in Luneta in Manila and rode their motorcycles all the way to the Senate in Pasay City to continue their protest.
But instead of hearing out their complaint, Lalamove fired Busa and his colleagues who protested.
Busa said that they were notified in the delivery application that they can no longer accept orders and cannot work for the company anymore.
"Isa ako sa mga nanguna para tuligsain yung patakaran niya kasi sobrang baba ng rate… Pero yon unfortunately, binan kami. Na-terminate kami sa platform kasi nag protesta kami against them, (I was one of the people who led the protest to condemn the company's policies because the rate was so low. But unfortunately, they banned us. We got terminated on the platform because we protested against them.)" Busa told.
Are riders freelancers?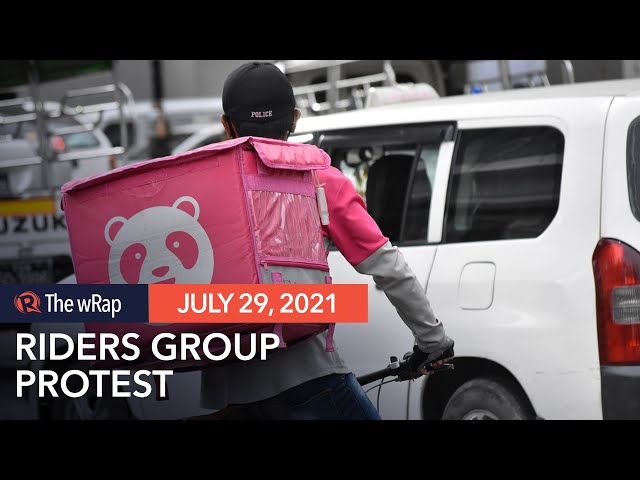 The Labor Code of the Philippines ensures that workers receive rightful pay and benefits under their respective companies, provided that they are deemed as regular employees of the company.
But for contractual workers or freelancers like Busa, these provisions do not apply, and they are left with unfair pay and no benefits.
"Sa totoo lang kasi ma'am, ang trabaho kasi namin ay para kaming mga freelancer. Nag aapply kami dyan, pero wala kaming benefits like SSS, Pag-Ibig, PhilHealth, (To be honest ma'am, our job is like we are freelancers. We apply, but we don't get benefits like SSS, Pag-Ibig, PhilHealth.)" Busa said.
Being a freelance employee would also mean that their company could easily lay them off even without prior warning.
In an interview with Rappler, Department of Labor and Employment (DOLE) Undersecretary Benjo Santos Benavidez said that in situations as such, the riders could report to the department and they would investigate the case and determine whether or not there was an employer-employee relationship in the company.
Having an employer-employee relationship means that the company views the worker as an employee and is therefore eligible for the minimum benefits as prescribed by law.
Included in these minimum benefits are the minimum wage, holiday pay, overtime pay, night shift differential, separation pay, and social benefits in agencies such as PhilHealth (Philippine Health Insurance Corporation), Social Security System (SSS), and Pag-IBIG.
Taken together, these benefits can already spell fewer days of hunger for Busa and his family.
"Regardless of whether may employer-employee relationship, there are minimum protections that the digital platform companies are obliged to provide," Benavidez said.
In a labor advisory by DOLE on July 28, it explained the three tests that the DOLE uses to determine the employment relationship present in the company.
These tests have been formed and derived from previous labor cases that were decided by the Supreme Court.
Such tests aim to determine the employment relationship of the worker and the company involved based on certain aspects.
"If there are complaints or grievances, they can come to the DOLE. We will not automatically rule out employer-employee relationship, our purpose is for them to talk or resolve their issue," the undersecretary explained.
However, if the company involved does not want to cooperate in resolving the issue, Benavidez said that the DOLE can conduct an inspection.
"We can inspect but there is another option on the part of the workers or the riders who are claiming to be employees, they can file a complaint. Illegal suspension or illegal dismissal. And there we can test what is really the relationship: one of employment or independent contractor?" said Benavidez.
'Independent service providers'
In an interview with Rappler, Senior Vice President for Corporate Affairs of JoyRide Philippines Noli Eala said that for their company, they consider delivery riders as independent service providers.
Being an independent service provider means that they are not considered as employees, therefore they cannot enjoy the rights and privileges of employees as stated in the Labor Code.
According to Eala, riders are not employees because the company does not have a specific time and schedule for their riders' to work.
"If the rider wants to go out and find work they will do that. In fact, the more industrious they are, the bigger their income is. So, if they frequently go out and accept orders, they will have a bigger amount to bring home to their families," Eala explained.
The company also does not have control over the way of driving and delivering goods to customers of the riders, Eala added.
Eala added that the riders also provide their own equipment for work such as their motorcycles, helmet, and delivery bags.
Not alone
Just like Busa, there are also other delivery riders who experience difficulties in their work amid the pandemic.
Delivery rider Jhun Gimeno shared in a Facebook post his struggles of being a rider especially when his customers cancel their delivery upon purchasing.
"I hope you think of the hardships we riders go through just to deliver your parcels," Gimeno lamented. – Luisa Sandoval/Rappler.com 
This article was written by Luisa Sandoval, an intern for Rappler. The article went through a reporter and editors before publication.