Mayor Sara Duterte says surges in COVID-19 cases seen in Davao are basically the problem of hospitals, but city hall will continue its campaign to make residents follow public health rules
For the third straight week, Davao City remained the city with the most number of documented daily COVID-19 cases in a week's time, data from OCTA Research showed, as of Tuesday, July 20.
OCTA Research's monitoring from July 13 to 19 showed Davao City lowering its COVID-19 cases to 219 from the previous week's 226. However, those gains did not change its ranking. It was still on top of the OCTA Research list of high-risk cities, which included Cebu, Bacolod, Iloilo, Makati, Cagayan de Oro, Baguio, General Santos, Laoag, Lapu-Lapu, and Butuan.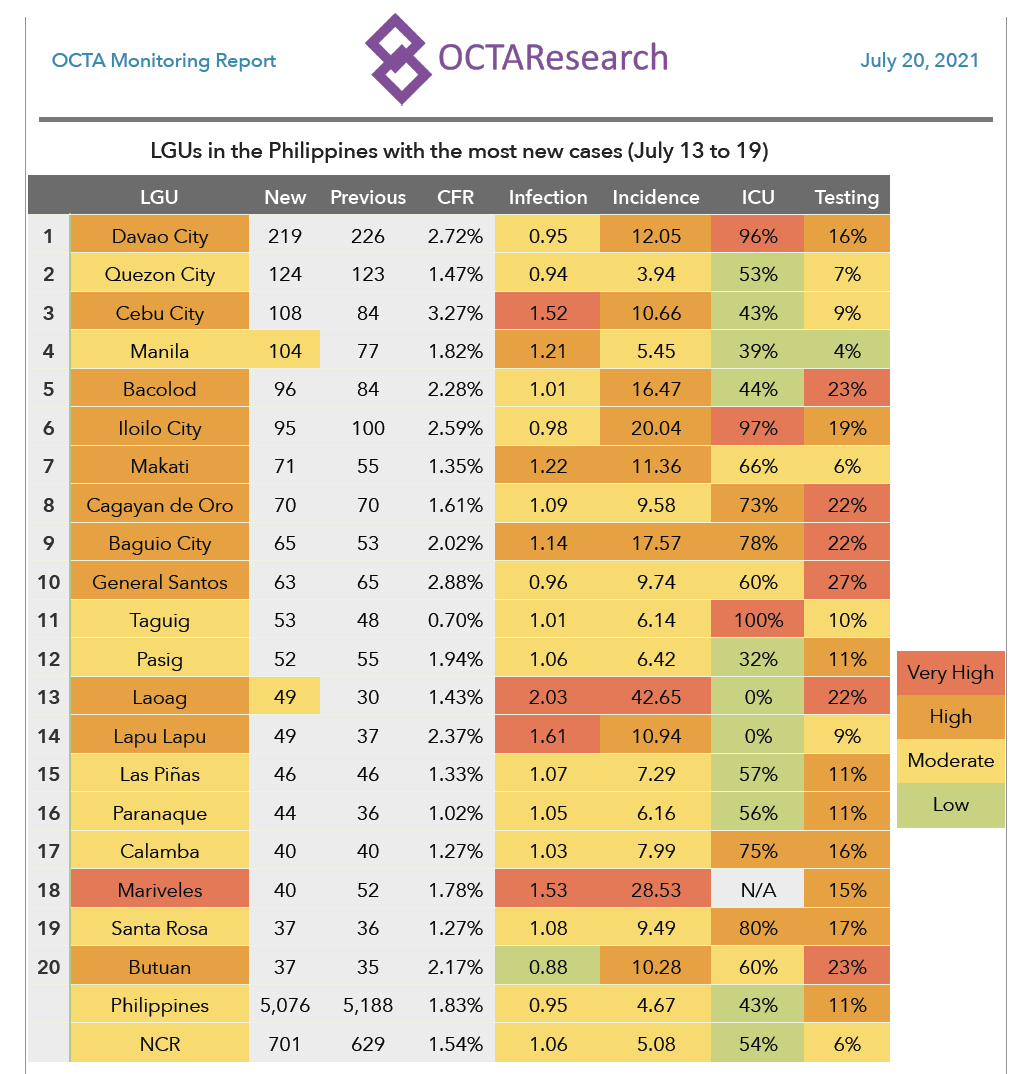 OCTA Research first started assessing risk levels of local government units in its July 6 bulletin, using data for the week ending July 5.
Meanwhile, according to data from the Department of Health as of July 19, Davao City has the highest average daily cases among all cities and towns for the 7th straight week, or since the first week of June.
The Davao city government has yet to comment on the latest OCTA Research monitoring report, but Mayor Sara Duterte told local radio on Monday afternoon that city hall would continue its campaign to make residents follow public health rules.
During the City Disaster Radio Special Hour program over 87.5 FM in Davao, Duterte said the surges in COVID-19 cases seen in Davao were basically the problem of hospitals, and what city hall could do would be to make people aware of the need to adhere to public minimum health standards and step up the local vaccination rollout.
Duterte also said the threat posed by the more infectious Delta variant was the same COVID-19 threat that could be kept from spreading if people wore face masks, observe other health rules, and submit themselves to vaccination.
"Ang mask ug bakuna dako na kaayo na siya og tabang sa atong mga ospital," Duterte said. (Wearing face mask and vaccination will greatly help our hospitals.)
Also in OCTA Research's list of cities that logged the highest number of daily COVID-19 cases the past week were Quezon City, Manila, Taguig, Pasig, Las Piñas, Parañaque, Calamba, and Santa Rosa.
Davao's number of COVID-19-related deaths during the period was at 2.72%, higher than Quezon City's 1.47%.
Data also showed that Davao's incidence rate – the number of new daily cases per 100,000 – reached 12.05, which OCTA Research considered as high.
Laoag emerged as a city to watch as OCTA Research noted that it registered a very high rate of infections at 2.03% and a 42.65% incidence rate.
Lapu-Lapu City, registered an infection rate of 1.61%, which was seen by OCTA Research as very high.
Octa Research categorized the rate of infections in Davao City as moderate at 0.95%, but the city's intensive care unit utilization capacity reached a very high rate of 96%.
There were only three cities on the list with intensive care unit (ICU) utilization capacities considered very high. The others were Iloilo with a utilization capacity reaching 97% or just 1 percentage points higher than Davao's, and Taguig, with 100%.
Four other cities with high ICU utilization capacities were Cagayan de Oro with 73%, Baguio with 78%, and Laguna's Santa Rosa with 80% and Calamba with 75%.
The rest of the cities had utilization rates seen as low to moderate. – with additional research by Michael Bueza/Rappler.com