(UPDATED) Aside from alleged corruption, Thorrsson Montes Keith gives 3 other reasons for leaving the agency. PhilHealth asks him to 'substantiate' his accusations.
Two sources confirmed to Rappler on Thursday night, July 23, that Philippine Health Insurance Corporation (PhilHealth) Anti-Fraud Legal Officer Thorrsson Montes Keith resigned because of "widespread corruption" in the agency.
In a letter obtained by Rappler Thursday, Keith wrote to PhilHealth President and CEO Ricardo Morales that he was resigning effective August 31.
Aside from corruption, Keith said that the other reasons for this quitting were that "his salary has not been on time and it started when I investigated officers in PhilHealth" and the "unfairness in the promotion process. "
He also strongly opposed the mandatory payment of PhilHealth contribution by Overseas Filipino Workers. (READ: 300,000 sign online petition opposing increase in OFW PhilHealth contributions)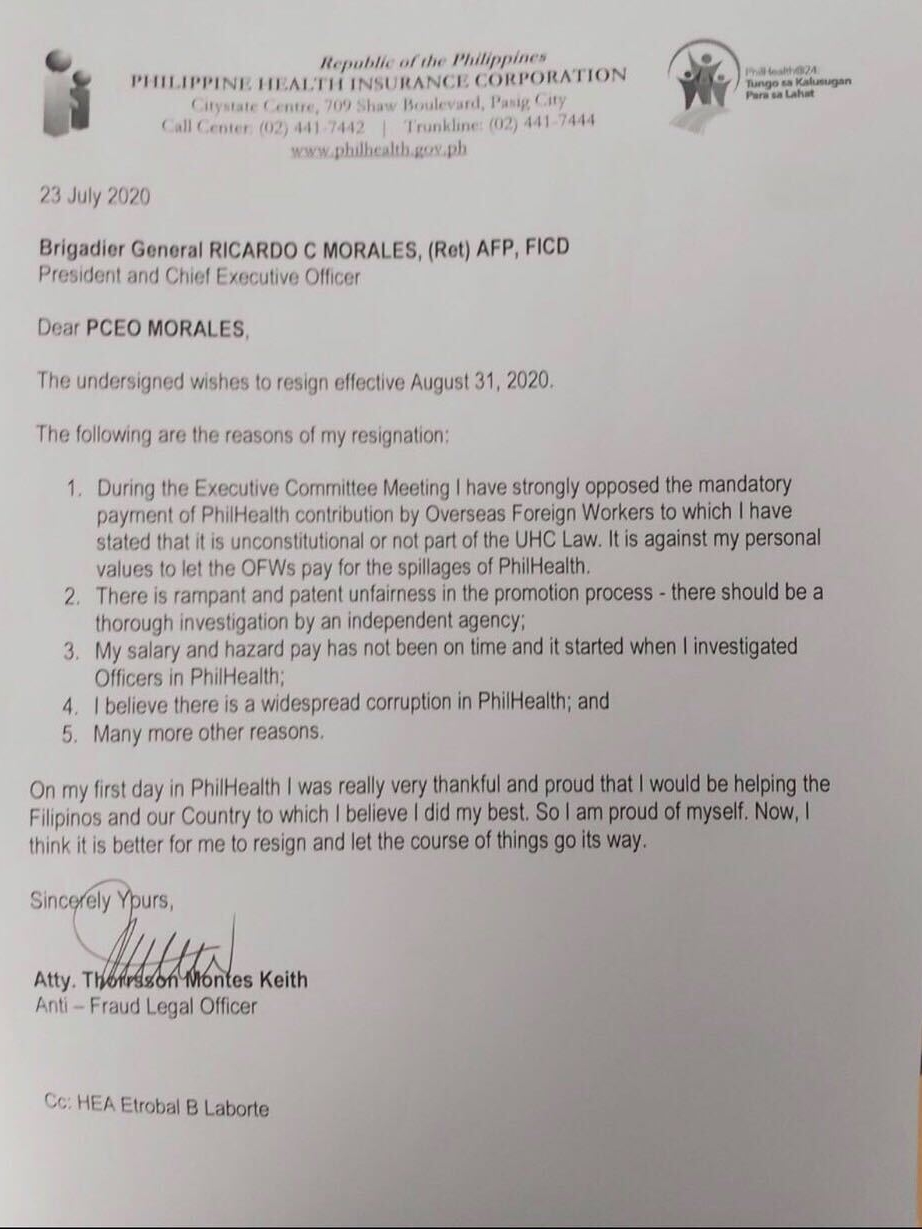 In June, Presidential Spokesperson Harry Roque said that he would set up a meeting with President Rodrigo Duterte and Morales to discuss the corruption allegations in PhilHealth. This came after reports that P154-billion worth of funds could not be accounted for.
Morales then said that it was still "premature" to go to the President. He cited a Commission on Audit report which said that the agency could not substantiate the missing P154 billion funds. (READ: PhilHealth chief: 'Premature' to meet Duterte over corruption allegations)
During a Senate hearing in May, Senate Minority Leader Franklin Drilon grilled Morales over the state insurer's supposed "overpriced" P8,150 testing package for COVID-19. Two weeks later, PhilHealth released a new COVID-19 testing package. It was scaled down to P3,409 from P8,150.
'Substantiate' accusations
In a statement on Friday morning, July 24, PhilHealth said that it has yet to receive the resignation letter of Keith.
PhilHealth said that the grievances on promotion he cited could be resolved through its grievance machinery.
On the issue of corruption, PhilHealth asked Keith to "substantiate his accusations so proper procedures can be initiated."
Meanwhile, the state insurer confirmed the resignation of Head Executive Assistant Etrobal Laborte which will take effect at the end of August.
PhilHealth said that Laborte will go back to his doctorate studies.
It also said that Corporate Legal Counsel Roberto Labe Jr "vehemently denied any news of his resignation." – Rappler.com