The Roque family's persistence in the face of a hate crime has galvanized the Filipino-American community, which has rallied around them and their fight for justice
This story is published in partnership with SoJannelleTV, a magazine show about Filipinos in North America.
On May 13, 2022, Filipina immigrant Patricia Roque and her mother Nerissa went out for a late-night snack at a McDonald's drive-thru in North Hollywood when they thought their car had been rear-ended. When Patricia began recording to get the vehicle's license plates, she said the other driver, a Caucasian male later identified as Nicholas Weber, began shouting racial abuse at them.
Patricia said Weber left the scene then returned and threatened to kill the women. The women called the police, who took an hour to arrive at the scene. Patricia's father soon arrived to come to their aid, but the elderly man was physically assaulted by the over 6-foot Weber, leading to a broken rib. When Nerissa intervened, she too was assaulted and strangled into unconsciousness.
When police finally arrived at the scene, the Roques said the Los Angeles Police Department (LAPD) attempted to dissuade them from pursuing the matter criminally.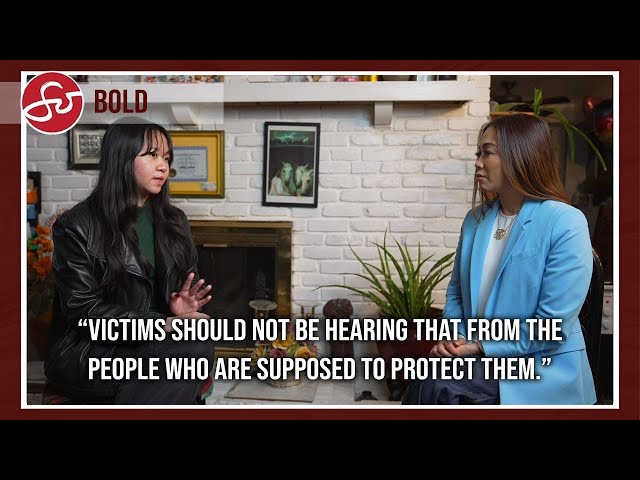 "We were met with deterrence from the LAPD by saying, 'Are you sure you want to continue with this? It costs so much to hire a lawyer, it takes so much of your time,'" Patricia recalled in an interview with Filipino-American media pioneer Jannelle So Perkins.
"Once we heard that, we said, 'Yes, we're going through with it,' because victims should not be hearing that from the people who are supposed to protect people like us. Because we know that it's important to give people a voice," Patricia said in the interview for So Jannelle TV, which airs US-wide on cable channels The Filipino Channel (TFC) and ANC, as well as on local Southern CA digital channel KNET 25.1, and available also on social media platforms.
What has transpired since has been an exercise in stamina, patience, and determination. The Roques have seen criminal proceedings stop and start. Weber was not initially arrested but was brought into custody after failing to appear in court to answer the charges. 
While they may have felt alone at first, the family's persistence in the face of a hate crime has galvanized the Filipino-American community, which has rallied around the family and their fight for justice.
"We know that it's important to continue with it regardless of how many delays there will be because we know it's not only me and my family who are pursuing this – it's a whole community. It makes it easier to live everyday life, knowing that a whole community was beside us, trying to fight for justice and trying to advocate for anti-Asian hate," said Nerissa.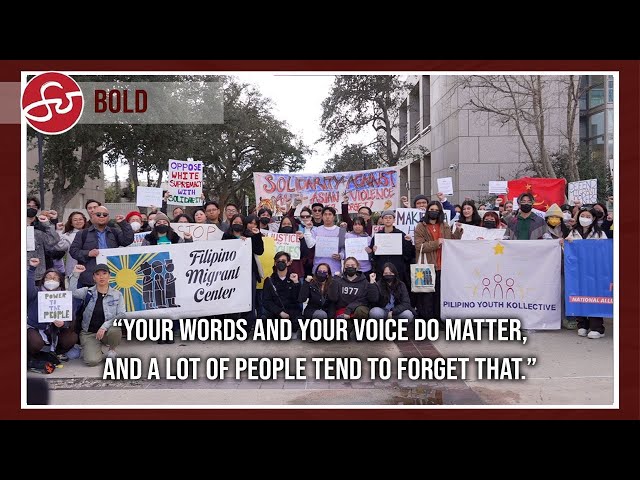 The Roques' story doesn't exist in a bubble. Hate crimes against Asian Americans in California increased 177.5% in 2021 from the previous year, according to a report from the California Department of Justice. 
Lawyer Sandy Roxas, who was referred to represent the Roques by the Philippine American Bar Association, said it was a battle just to get the legal system to take the incident seriously. Roxas said prosecutors initially filed charges of misdemeanor battery against the 31-year-old Weber, and it was only after five months that the evidence was reviewed and the charges were elevated to a felony.
"Things have been happening but very slowly," said Roxas.
Whereas once they were few, now the Roques are joined by many, united in trying to stamp out racism and violence against Asians. A brief court hearing on March 6 to set a preliminary hearing drew large crowds of supporters for the Roques from different organizations in a display of strength.
"For us, this case really holds a lot of weight, a lot of significance, because it will set the precedent of how future cases are handled around anti-Asian hate crimes," said Romeo Hebron of the Filipino Migrant Center. "I think our community continues to be ignored and cast off to the side, and now this case really shows the significance in terms of being able to show that the community is not going to let this issue go away and that we're going to continue to fight for justice for the Roque family."
The Roques continue to be impacted by that night in May of 2022, and the "what ifs" remain in their minds. The next court date, a preliminary hearing, is set for April 4. The fight for justice is just warming up, but the Roques are ready to fight to the end.
"What if it had happened to another family that does not have huge support like we have right now? We try to look at the silver lining to the incident," said Patricia. – Jannelle So Productions | Rappler.com
Rappler is partnering with Jannelle So Productions Inc, founded by Filipino-American pioneer and Los Angeles-based journalist Jannelle So, to publish video and written stories from SoJannelleTV about the journeys, successes, and challenges of Filipinos living in America.
Check out So Jannelle TV daily for stories that make you pause, reflect, and appreciate who we are and what we are as a people.
Sundays, 4:30 pm PT / 7:30 pm ET on TFC
Mondays, 6 pm on KNET Channel 25.1 Southern California
Replay on Saturdays, 7:30 pm PT / 10:30 pm ET on ANC North America
Any time on YouTube.com/SoJannelleTV