Progressive OFW rights groups demand from candidates in the 2022 elections concrete plans for aid, increased budget for distressed workers, and more assistance for health and legal matters
Progressive overseas Filipino worker (OFW) rights groups challenged candidates in the 2022 elections to heed their demands outlining specific ways to take care of migrant workers.
On Thursday, November 25, the groups led by Migrante International said in their 10-point overseas Filipinos electoral agenda report that OFWs across the world have remained in distress despite repeatedly being hailed as "economic heroes."
"Millions of distressed overseas Filipino workers, both land and sea-based who have lost their livelihood and have been displaced or stranded experienced hunger, severe illnesses, including mental health concerns and continue to do so because of the Philippine government's slow action, inaction and lack of systematic and sustained welfare and financial support," Migrante said in a statement.
As the May 2022 elections draw near, Migrante and the other groups called for concrete action and plans from local and national candidates on their strategy to alleviate the plight of their sector.
These are the ten demands in the groups' electoral agenda:
Aid, free repatriation, and assistance to migrant workers and their families.
Crack down on illegal recruitment, human trafficking, and other crimes, especially towards women. Hold accountable promoters and accomplices of these crimes.
Increase budget for services catering to migrant Filipinos, including those for overseas absentee voting, Assistance to Nationals and legal assistance under the Department of Foreign Affairs, and the Overseas Workers Welfare Administration (OWWA).
Save Mary Jane Veloso and other Filipinos on death row or incarcerated abroad, especially women OFWs. Give them free and extensive legal assistance.
Open embassies, consulates, and Philippine overseas labor offices during weekends
Services and protection for seafarers.
Give free, quality, and comprehensive health services, especially during the COVID-19 pandemic.
Stop revenue-making schemes in servicing OFWs (e.g. OWWA membership, overseas employment certificates, PhilHealth premium memberships, other fees required by the Commission on Overseas Filipinos).
Stop red-tagging, militarization, violation of human rights and fascism. Continue peace talks.
Abolish the labor export program and focus on ensuring the availability of jobs in the Philippines
Apart from the several Migrante regional chapters, the following groups were also signatory to the 10-point agenda:
Concerned Seafarers of the Philippines
SeaNetwork
Churches Witnessing with Migrants
Kaisahan ng mga Migrante at Tagapagtaguyod para sa Ayudang Nakasasapat (Kamtin)
Samahan ng mga Domestic Helper sa Gitnang Silangan (Sandigan)
Malaya Movement Canada
Rise Against Government Exaction (Rage) Hong Kong
Association of Concerned Filipinos in Thailand
Gabriela Rome
Anakbayan USA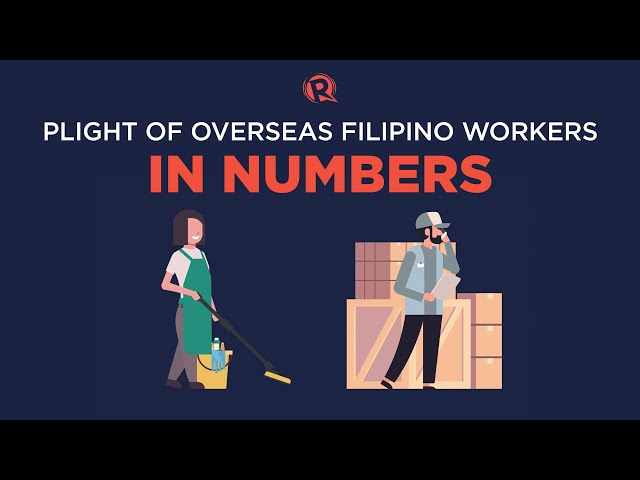 Bayan Muna chairperson and senatorial aspirant Neri Colmenares advised Filipinos to vote for politicians that are genuinely determined to advance the OFW sector's interests.
"Tingnan ang track record. Ang tunay na kandidato, boses ng OFW, seafarers, genuinely nagtatrabaho para sa mga mamamayan," he said in the Thursday press briefing. (Check their track records. True candidates that are the voices of OFWs and seafarers genuinely work for the people)
President Rodrigo Duterte's signature platform for OFWs has been the creation of a department dedicated to the sector. It has been a promise since his campaign in 2015, and is currently up for debates at the Senate plenary.
While assisting OFWs in distress, progressive groups like Migrante have been critical of Duterte's administration, hitting the President on issues like his war on drugs and crackdown on dissent.
However, in the 2016 election, Duterte and dictator's son Ferdinand Marcos Jr. dominated the overseas vote for president and vice president, respectively.
– Rappler.com