This is AI generated summarization, which may have errors. For context, always refer to the full article.
While proponents say a department will allow the government to 'focus' on the plight of OFWs, critics question how exactly services on the ground will be improved
For the fourth time, the proposal to create a department for overseas Filipino workers (OFWs) made it to President Rodrigo Duterte's State of the Nation Address (SONA).
Duterte on Monday, July 26, identified the creation of a Department of Migrant Workers and Overseas Filipinos (DMWOF) a priority bill in his final SONA. He made similar calls during his past SONAs, except in 2017 and 2018.
"I also ask Congress to pass a law creating the Department of Migrant Workers and Overseas Filipinos. Kailangan po ito (this is needed) – because they are suffering, they suffered not only yesterday but they are still suffering now with so many inadequacies, in both our government response, including the monetary assistance – to ensure that there is a department that is solely focused on addressing the needs and taking care of the welfare of our countrymen abroad," Duterte said on Monday.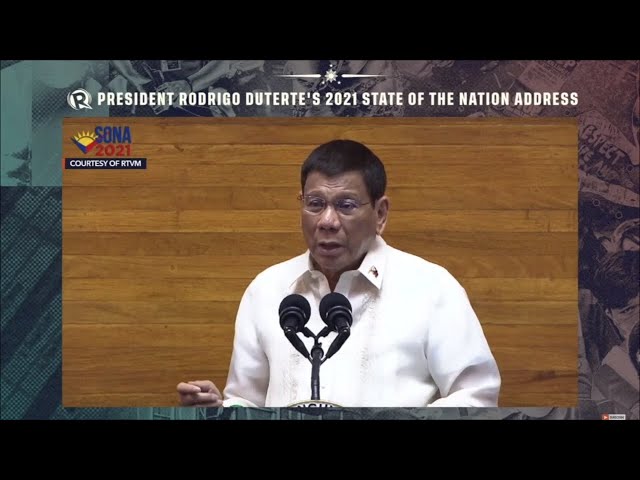 It has been Duterte's plan to create a department focusing on OFWs even before he became president.
In a May 10 Senate hearing, Cabinet Secretary Karlo Nograles said that, out of at least eight proposed departments pending in Congress, the DMWOF was Duterte's highest priority.
The House of Representatives approved the proposed department on third and final reading in March 2020, while a similar measure is up for plenary debates at the Senate.
But some labor groups and experts think a new department might not be the answer to the plight of OFWs.
Latest numbers from the Philippine Statistics Authority showed an estimated 2.2 million OFWs as of 2019, but this figure could stretch to 10.2 million, according to the Commission on Filipinos Overseas (CFO), if permanent migrants are included.
Does the Philippines need an OFW department? What are the arguments for and against it?
What the bills, proponents say
Consolidation
If passed into law, Senate Bill 234 would turn the Philippine Overseas Employment Administration (POEA) into the DMWOF, with the mandate of overseeing all policies protecting the welfare of Filipinos abroad.
The functions of the following offices under existing departments would be merged and transferred under the DMWOF:
National Reintegration Center under the Overseas Workers Welfare Administration (OWWA)
All Philippine Overseas Labor Offices under the Department of Labor and Employment (DOLE)
International Labor Affairs Bureau under DOLE
National Maritime Polytechnic under DOLE
Office of the Undersecrertary for Migrant Workers' Affairs under the Department of Foreign Affairs
International Social Services Office under the Department of Social Welfare and Development
CFO under the Office of the President
Meanwhile, the OWWA would be an attached agency of the DMWOF.
Nograles said that the DMWOF would create a more "efficient way of handling the multidimensional concerns" of OFWs.
According to Nograles, with the DMWOF, there would be less confusion for a distressed OFW's family in the Philippines, who can run to a single department for their concerns.
"The structure of the DMWOF should meet the needs for navigating a world full of challenges to overseas Filipino workers, such as the post-pandemic world," said Senator Joel Villanueva, who chairs the Senate labor committee.
Focus
In September 2019, Taguig-Pateros Representative Alan Peter Cayetano said the proposed department would allow the government to "focus" on OFWs.
Cayetano recalled during his time as foreign secretary that his schedule did not allow him to dedicate more than a day to speak to OFWs even if he wanted to because he had other matters to attend to.
"Hindi mo mahahati ang katawan mo eh…. The reality is, with the [OFW department], may isa kang secretary na siya lang responsible talaga. Kung may papagalitan or pupurihin, uutusan, mayroong accountable," said Cayetano.
(It's impossible to split your time…. The reality is, with the [OFW department], you would have one secretary responsible for this. If someone has to be scolded or praised or given tasks, we would have someone to hold accountable.)
What critics say:
How would it be different?
While the DMWOF sounds promising, an expert and at least two advocacy groups have said the way that the department is outlined in the current bills may not be the answer to the plight of OFWs. Some senators also brought up how more confusion could ensue in operations in the offices abroad.
Progressive OFW rights group Migrante International gave the possible department a thumbs down on July 21, saying the present system of services should be improved instead.
"Ang usapin ay hindi pagtatayo ng another department, [sa halip ay] paano magiging mas mahusay at maayos ang pagpapaabot ng tunay na serbisyo sa iba't ibang OFWs," said Dolores Balladares of Migrante Hong Kong.
(This should not be about creating another department, but how the government could give better services to OFWs.)
Ellene Sana, executive director of the Center for Migrant Advocacy, welcomed the government's effort to revisit its current setup. However, she emphasized the need to scrutinize the current system further and how the creation of a new department would make things any different.
For instance, one gut issue that OFWs face is the hassle of going to different agencies to secure important documents. Sana said that the government – under Duterte and previous administrations – has already addressed this by setting up one-stop service centers for OFWs (OSSCOs). 
There are at least 19 OSSCOs nationwide, spread across 14 regions, and an online version on the POEA's website.
As for services abroad, Section 18 of the DMWOF bill outlines a "one country team approach." But, since August 2015, the government has already been implementing a joint manual for overseas operations. 
Under this manual, Philippine officials abroad coming from the labor, foreign affairs, and social welfare departments employ a single-country team approach that supposedly makes assistance for OFWs more efficient. 
The government personnel who receives a complaint from an OFW is responsible for rerouting the concern to the government's Joint Assistance Desk, thereby removing the burden from the worker.
"So you have OSSCOs locally, and a joint manual for overseas operations. So, supposedly, services are streamlined and coordination among the agencies is more efficient. So we do not see the value of creating a new department," Sana told Rappler in Filipino.
For Arman Hernando of Migrante, if there are issues with services in the current system, reorganizing them into a single department may not make significant changes.
"Hanggang walang review, para ka lang naglilipat ng bahay, pero mga furniture mo na may anay ililipat mo rin doon," said Hernando. (Without a review, it would be like moving to a new house but bringing along your termite-infested furniture.)
Entrenching the labor export policy?
In May 2021, labor rights group Sentro ng mga Nagkakaisa at Progresibong Manggagawa (Sentro) rejected the proposed department, saying it would "institutionalize" the country's reliance on labor exportation for economic development.
The Philippines needs to take steps to solve the root issue of why so many Filipinos seek work abroad, said Sana. For Sentro, labor migration should be done out of want, not out of desperation.
"No family should be broken up, relationships severed, or friends and relatives separated in the name of economic progress," said Sentro.
Hernando said the bills need to show clear plans on how to eventually lessen the deployment of Filipino workers.
Experimentation?
According to the bill, 10 years after the DMWOF is created, a congressional oversight committee would have discretion to dissolve the department "should circumstances prove that there is no more need for its existence."
Sana finds this sunset clause problematic: "Ano 'yun, nag-e-experiment lang? You're doing a major overhaul of your migration governance, tapos meron kang pasubali [na] baka it will not work. Napakalaki ng risk na inilalagay mo."
(Is the government just experimenting? You're doing a major overhaul of your migration governance, and then you're opening yourself to the possibility that it would not work. That's such a big risk.)
But, according to Senator Villanueva, the review would come precisely because the state's policy is "to not promote overseas employment as means to sustain economic growth and to achieve national development."
Villanueva expressed confidence that the DMWOF would no longer be needed in the future.
With the Philippine elections happening in May 2022, the current 18th Congress has less than a year to pass the DMWOF under Duterte. – Rappler.com