(3rd UPDATE) The arrival of donated COVID-19 vaccines from China paves the way for the start of the Philippines' inoculation campaign, among the last to start in Southeast Asia
The Philippines' first batch of coronavirus vaccines arrived in the country on Sunday, February 28, paving the way for the start of its mass inoculation campaign with shots developed by China's Sinovac Biotech.
The aircraft carrying the vaccines – a transport plane of the People's Liberation Army of China – landed at Villamor Air Base in Pasay City around 4:10 pm on Sunday.
"There is light at the end of the tunnel. That is light at the end of the tunnel," Presidential Spokesperson Harry Roque said in an interview with state-run network PTV. "At least nagsimula na po tayo. At tuluy-tuloy na po." (At least we have started. And this will continue.)
The delivery of 600,000 doses of Sinovac's CoronaVac – a donation from the Chinese government – was set to be witnessed by President Rodrigo Duterte, Health Secretary Francisco Duque III, and vaccine czar Carlito Galvez Jr at the Villamor Air Base.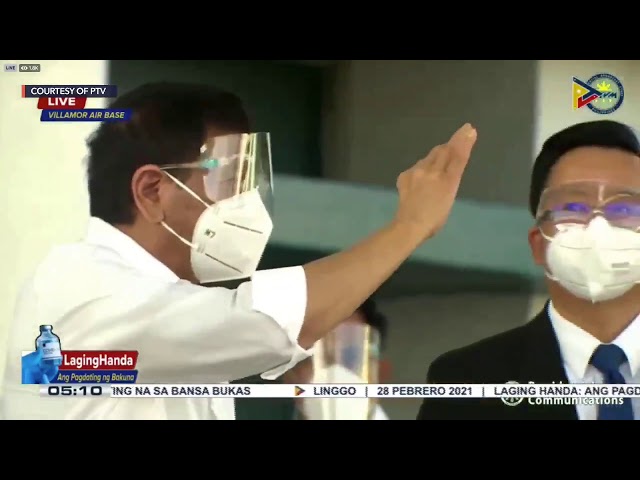 Malacañang earlier hailed the delivery of Sinovac's vaccine, which would be used to jump-start the country's vaccination campaign in several hospitals across Metro Manila.
Though the Duterte government had targeted to start distributing vaccines by February, the Philippines is now among the last countries in Southeast Asia to start vaccinating its residents. It was the last to receive vaccine doses in the region.
The arrival of the vaccine comes days after the Philippine Food and Drug Administration (FDA) issued emergency use authorization (EUA) for CoronaVac last Monday, February 22.
Sinovac is the latest to be granted emergency approval in the Philippines, though its vaccine is the first to arrive after delays in paperwork stalled vaccines from the global COVAX Facility which were initially supposed to arrive in mid-February.
China first announced it would donate vaccines to Filipinos during the official visit of Chinese State Councilor and Foreign Minister Wang Yi to Manila last January.
Senator Bong Go, former presidential aide, said on Sunday that Galvez, Duque, and other Cabinet secretaries will be among the first government officials to be vaccinated with Sinovac on Monday, March 1.
Duterte, 75, will not be receiving Sinovac as the FDA, along with government experts, did not recommend its use for senior citizens or those 60 years old and above. Data from late-stage trials had mostly been gathered from participants 18 to 59 years old.
"To my fellow Filipinos, these vaccines are backed by science and deliberated by our Filipino experts. I encourage that you get vaccinated at the soonest possible time and be a partner in preventing the further spread of the disease," Duterte said in a speech.
Health workers go first
Aside from several government officials, health workers were identified as a priority to receive the Sinovac vaccine.
In a press conference later on Sunday, Duterte said health workers who refuse to take Sinovac "have a choice," and can wait for the other vaccines that are set to arrive in the country.
"Kung ayaw nila ng Sinovac, maghintay sila," he said. "In a few days, there has been quite a… basta I was assured that [AstraZeneca] would be coming within the next few days."
At least 525,600 doses of vaccines developed by British drugmaker AstraZeneca and the University of Oxford is expected to arrive in a week, after it was postponed from March 1.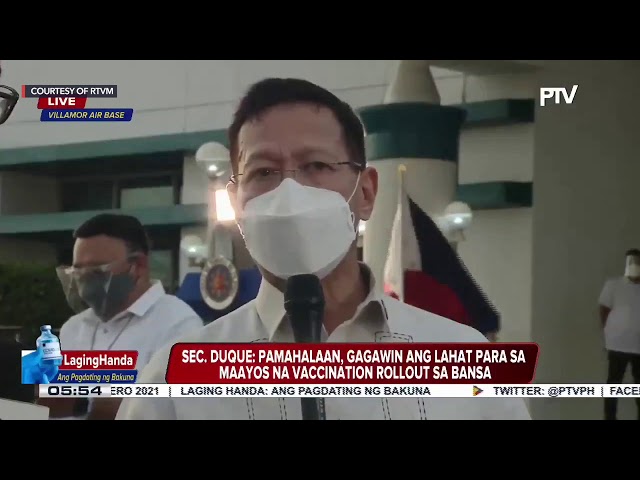 In issuing Sinovac an EUA, the FDA said data from Phase 3 trials in Brazil, where a lower efficacy of 50.4% was observed, led experts not to recommend its use for priority groups. The Brazil trials involved health workers exposed to COVID-19.
The recommendation spurred days-long deliberations among experts part of the National Immunization Technical Advisory Group, who later approved the use of the vaccine for health workers, reiterating it is safe and effective.
With vaccine supply scarce and delivery of different brands uncertain, experts said health workers should be given the chance to receive an available vaccine since they are most exposed to COVID-19. In the meantime, health workers who will refuse to get Sinovac were given assurances they would not lose their place in the government's prioritization.
The FDA granted emergency approval to Sinovac after separate Phase 3 trials in Indonesia and Turkey demonstrated efficacy of 65.3% to 91.2%. These trials were done mostly in community settings and not among health workers who were exposed to COVID-19.
Aside from the Philippines, Indonesia, Turkey, Brazil, Chile, Colombia, Uruguay, and Laos have granted emergency authorization for Sinovac's CoronaVac. – with reports from Rambo Talabong/Rappler.com
Editors Note: An earlier version of this story stated the Philippines was the last to start its vaccination campaign. We have corrected this to state the Philippines was the last to receive vaccine doses.