Initial doses of the vaccines are expected to arrive as early as the 3rd quarter of 2021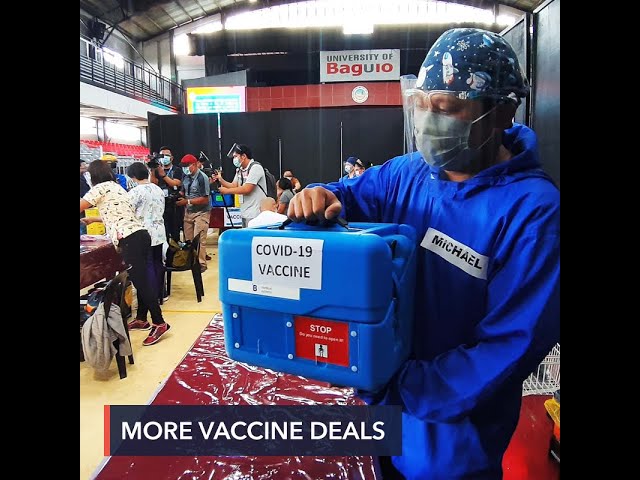 Philippine vaccine czar Carlito Galvez Jr said that the government has signed two more agreements with pharmaceutical firms to secure at least 25 million more doses of coronavirus vaccines for Filipinos.
Galvez gave the update during a virtual press briefing on Wednesday, February 17, as he flashed figures of vaccines eyed by the Philippine government for delivery in 2021. Among new agreements signed included those with Moderna for 20 million doses of its vaccine and Johnson & Johnson (Janssen Pharmaceutica) for 5 million doses of its single-dose coronavirus shot.
Galvez's presentation indicated that term sheets with the American pharmaceutical firms had been signed and that these companies have committed to supply doses to the Philippines. Term sheets are the second to the last step in vaccine negotiations and were necessary for locking in logistics needed for production and delivery.
Initial doses of Moderna and Johnson and Johnson's vaccines were expected to arrive in the Philippines as early as the 3rd quarter of 2021, with additional supply slated for delivery in the 4th quarter.
While the deals assure Filipinos access to limited global supply, a supply agreement will still need to be signed with these companies to facilitate actual purchase and payment, as well as set a definite date for delivery.
Both Moderna and Johnson and Johnson will also need to secure emergency use authorization (EUA) from the Food and Drug Administration (FDA) before it could be rolled out to the public.
So far, the FDA has granted emergency use approval for Pfizer and AstraZeneca's vaccine, though FDA Director General Eric Domingo said Moderna has expressed interest in applying for an EUA.
Johnson & Johnson is expected to start Phase 3 clinical trials of its vaccine in the Philippines in the coming weeks, after the FDA approved its application to hold late-stage trials in the country.
Why it matters
With term sheets signed with Moderna and Johnson & Johnson, Galvez said the government has secured enough doses needed to vaccinate at least 70 million Filipinos by the end of the year.
Aside from the two companies, the Philippines is also eyeing to purchase 25 million doses of Pfizer and BioNTech's vaccine, while a tripartite agreement is being considered for 10 to 15 million doses of Gamaleya's Sputnik V COVID-19 vaccine.
Prior to this, term sheets had been signed to secure 30 million doses of Novavax' vaccine, 17 million doses of AstraZeneca's vaccine, and 25 million doses of Sinovac's vaccine.
On top of this, the Philippines is also expecting up to 44 million doses from the COVAX global facility.
Galvez earlier said the government is targeting to start the rollout of vaccines by February, though the lack of an indemnification program in the country has hindered the delivery of an initial 117,000 Pfizer vaccines from COVAX. Government lawyers have signed an indemnification agreement with the global vaccine facility to facilitate the delivery of vaccines which could be expected in the coming week, he added.
Once vaccines arrive, health officials plan to vaccinate some 2 to 3 million people per week to reach its target of inoculating at least 50 to 70 million Filipinos by the end of 2021.
The Philippines' total vaccine orders are pegged at about 178 million, largely in anticipation of delays and other complications in scarce global supply. – Rappler.com
Read Rappler's series of explainers on the Duterte government's vaccine program below: