Filipino and American soldiers end their two-week military exercises in the Philippines
Philippine and United States military troops ended their two-week joint exercises on Friday, April 23, that highlighted what an American diplomat described as the "strength and resolve" of the military alliance.
"Balikatan showcases the strength and resolve of the Philippine-US alliance," US embassy chargé d'affaires John Law said during the closing ceremony of the 36th Balikatan Exercise in Camp Aguinaldo, Quezon City.
Armed Forces chief of staff General Cirilito Sobejana agreed, saying: "The successful conduct of this year's Balikatan Exercise 36-2021 has definitely brought us a step closer towards our goal of capacitating our forces, and as such, will consequently contribute to the peace and stability of the Indo-Pacific Region."
This year's exercises happened against the backdrop of China's incursions into the West Philippine Sea and amid a pandemic.
They are meant to improve the capability of both militaries to respond to crises. "But training is never over," Law said. "We will continue to advance our military-to-military partnership in pursuit of our shared commitment to mutual defense in a free and open Indo-Pacific."
This is the fourth time the exercises were held since President Rodrigo Duterte became commander-in-chief in 2016. Last year's was canceled due to the pandemic.
Defense Secretary Delfin Lorenzana gave assurances that the Philippines will keep its alliance with the superpower through the Mutual Defense Treaty (MDT).
"I am likewise grateful for your constant and continued assurance of the ironclad commitment to our Mutual Defense Treaty," said Lorenzana.
The 2021 exercises were conducted under strict health protocols and joined by 225 American soldiers and 415 from the Armed Forces of the Philippines. The drill included a bilateral staff exercise, close air support training, maritime security training, and humanitarian and civic assistance activities.
In 2020, Duterte ordered the cancellation of the PH-US Visiting Forces Agreement after his ally was denied a US Visa over issues of human rights violation. But the government changed its mind later and the pact, which allows US military and civilian personnel temporary stay here, remains in effect.
Tension at sea
Amid the tension in the West Philippine Sea, the United States has been showing its support to the Philippines.
On April 12, the United States backed the Philippines as it voiced concern over the presence of over 220 ships believed to be manned by Chinese maritime militia spotted near a reef in the West Philippine Sea.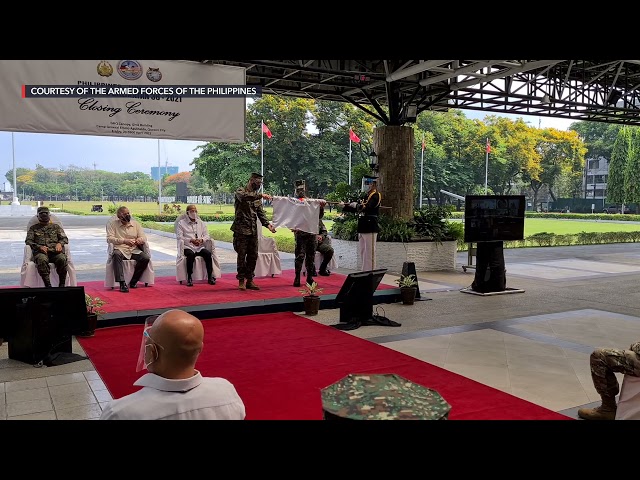 The White House even called the Philippine government to discuss matters in the disputed waters. During the call, US National Security Adviser Jake Sullivan reiterated to his Philippine counterpart, Hermogenes Esperon Jr, that the two countries' Mutual Defense Treaty (MDT) – which commits both sides to defend one another in case of an attack – covered the West Philippine Sea. – With reports from Sofia Tomacruz/ Rappler.com