Based on new satellite data reviewed by Phivolcs, volcanic smog from Taal Volcano is confirmed to have reached various areas in Luzon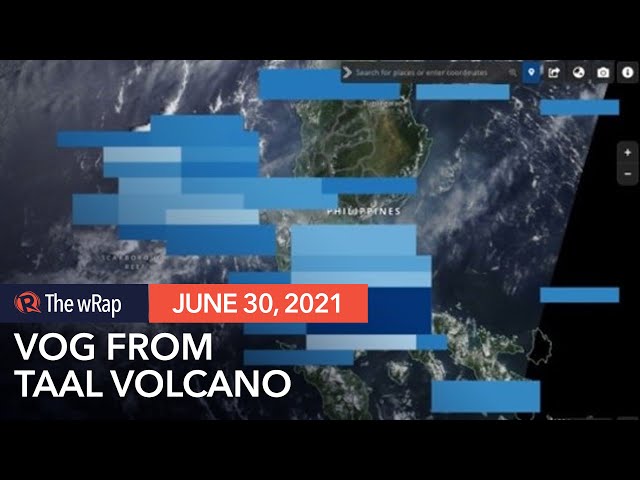 The Philippine Institute of Volcanology and Seismology (Phivolcs) said on Wednesday, June 30, that new data show volcanic smog or vog from Taal Volcano in Batangas has indeed reached Calabarzon, Metro Manila, and other parts of Luzon.
Phivolcs had initially announced on Tuesday morning, June 29, that the haze reported in Metro Manila was from pollution caused by "human activities."
But in a statement at 6:30 am on Wednesday, the agency explained that satellite data came out on Tuesday afternoon, covering sulfur dioxide (SO2) plumes detected from Taal Volcano on Monday, June 28, and on Tuesday.
The information came from NASA's Ozone Mapping Instrument on the Aura platform and the Ozone Mapping and Profiler Suite on the Suomi National Polar-Orbiting Partnership Satellite.
"The plumes extend from the planetary boundary layer or PBL, representing near-ground surface levels, to the upper troposphere at almost 20 kilometers above sea level and mostly spread over the Batangas, Laguna, Cavite, Rizal, Bulacan, Pampanga, Bataan, and Zambales provinces and the National Capital Region," Phivolcs said on Wednesday.
"Satellite detection on [Tuesday] showed an even larger coverage of Luzon Island," it added.
Below are the areas covered by the vog from Monday to Tuesday.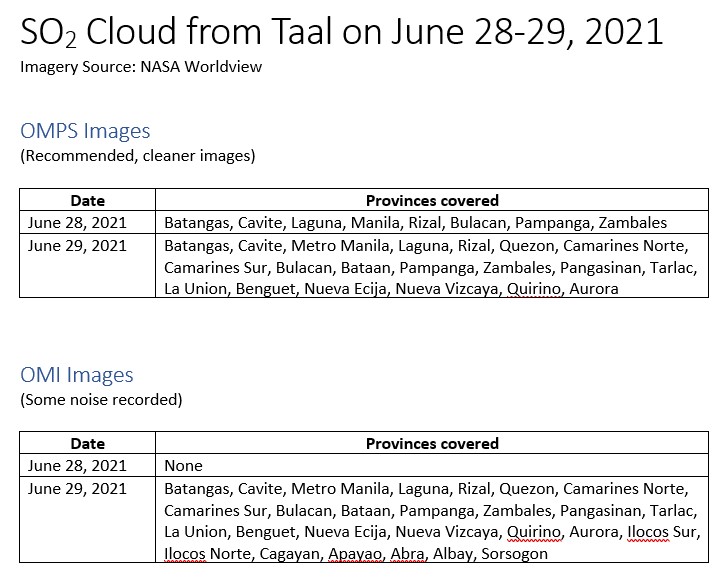 On Tuesday afternoon, Phivolcs had warned local government units in areas surrounding Taal Lake to assess the health effects of vog from Taal Volcano. This was after SO2 emission averaged at 14,326 tons per day on Monday, "the highest ever recorded in Taal."
Phivolcs acknowledged that its new statement on Wednesday differs from its assertion on Tuesday that the reported haze was due to pollution.
It said it "initially negated" the public's observations "due to the lack of substantiating evidence" on its part at the time and also based on "the general direction of wind and SO2 dispersal from Taal to the northeast and east" since Monday.
Phivolcs added that its initial interpretation of pollution was supported by information from the Philippine Atmospheric, Geophysical, and Astronomical Services Administration showing that a warm layer of air was preventing cooler air near the ground from rising, "trapping pollutants and helping promote the accumulation of smog over NCR and nearby provinces."
Given the new data from the satellite platforms, however, Phivolcs updated its assessment.
"As a scientific institution, we have been reminded again of the value of uncertainty and the limitations of our data, the value of citizen observation, and the need to constantly challenge our own perceptions, interpretations, and ideas," Phivolcs said.
"We would like to reassure the public that we are committed to provide the best and most current volcano monitoring data available, especially that these have important safety and health implications."
Exposure to vog can irritate the eyes, throat, and respiratory tract. People with health conditions, the elderly, pregnant women, and children may be most vulnerable to its effects.
Phivolcs earlier gave the following tips for protection from vog:
Avoid outdoor activities, stay indoors, and shut doors and windows.
Cover nose, ideally with an N95 face mask.
Drink plenty of water to reduce any throat irritation or constriction.
If belonging to any of the sensitive groups mentioned, seek help from a doctor or the barangay health unit if needed.
In a separate bulletin at 8 am on Wednesday, Phivolcs said SO2 emission remains high, averaging at 8,982 tons per day on Tuesday.
The Taal Volcano Network also recorded six volcanic earthquakes in the past 24 hours.
These show "magmatic unrest continues to occur at shallow depths beneath the edifice."
Taal Volcano has been under Alert Level 2 since March 9. The volcano last erupted in January 2020. – Rappler.com