(4th UPDATE) After the first phreatomagmatic eruption at 3:16 pm on Thursday, July 1, four more 'short phreatomagmatic bursts' occur later in the evening
Taal Volcano in the province of Batangas was placed under Alert Level 3 on Thursday, July 1, following a phreatomagmatic eruption.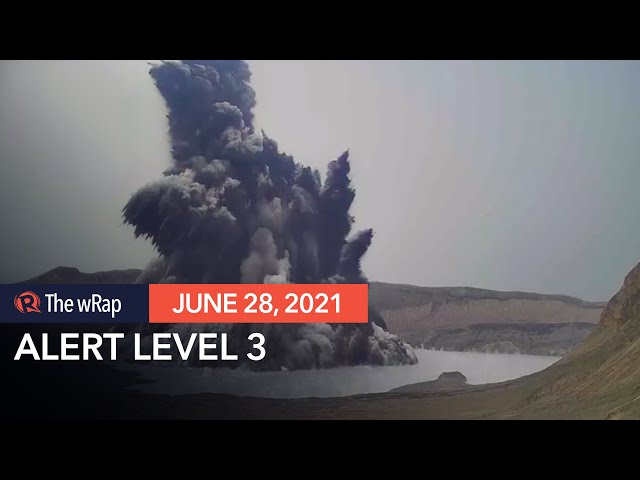 The Philippine Institute of Volcanology and Seismology (Phivolcs) said in a bulletin on Thursday afternoon that Taal Volcano's main crater "generated a short-lived dark phreatomagmatic plume one kilometer high" at 3:16 pm. This lasted until 3:21 pm or around five minutes and was confined to the crater.
A phreatomagmatic eruption refers to "an eruption that involves both magma and water, which typically interact explosively," according to the United States Geological Survey.
The eruption prompted the Alert Level 3 declaration.
"This means that there is magmatic intrusion at the main crater that may further drive succeeding eruptions," Phivolcs said, referring to rising magma.
In a briefing on Thursday, Maria Antonia Bornas, chief of Phivolcs' Volcano Monitoring and Eruption Prediction Division, further explained what occurred.
"Ang magma po at ang tubig na siya pong nasa lawa ng main crater ay nagdampi, nagkaroon na po ng contact. Kaya po ang tubig po ay bigla po siyang naco-convert sa gas, in the form of water vapor. At 'yung conversion na ito ay sobrang bilis…. Dahil po ang magma ay napakainit…ito ay nakakapaglikha ng tinatawag na shockwave," Bornas said.
(The magma and the water in the main crater lake interacted. The water was immediately converted into gas, in the form of water vapor. This conversion happened very quickly. Since the magma is extremely hot, the process created what is called a shockwave.)
Late Thursday evening, Phivolcs said there were four more "short phreatomagmatic bursts" lasting not longer than two minutes each, which produced plumes 200 meters high. These occurred at 6:26 pm, 7:21 pm, 7:41 pm, and 8:20 pm.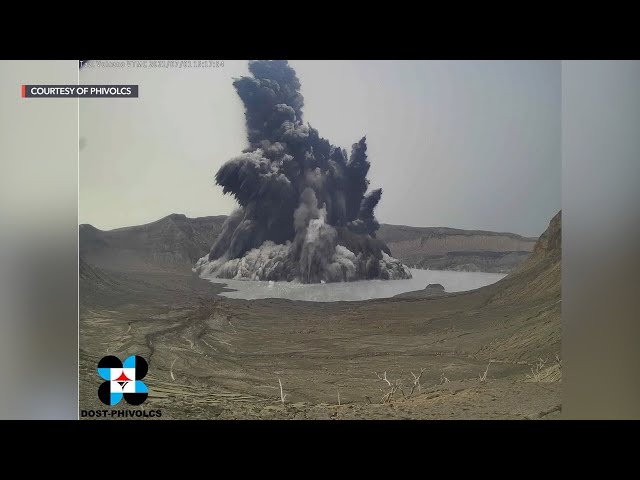 Spike in sulfur dioxide
Two days before the phreatomagmatic eruptions, on Monday, June 28, Taal Volcano's sulfur dioxide (SO2) emission had averaged at an all-time high of 14,326 tons per day.
Bornas said SO2 emission remained high on Thursday, averaging at 13,287 tons per day.
SO2 is a major gas component of magma and one of the parameters measured by Phivolcs as it monitors the volcano 24/7.
"Nung nag-umpisa po 'yung matataas na plume at nagkaroon po tayo ng sobrang pagtaas ng SO2, nagkaroon na po kami ng kutob na baka po meron pong nag-oo-ooze na magma…sa ilalim po ng main crater lake," Bornas said.
(When we started to observe tall plumes and a spike in SO2, we already had a hunch that magma was oozing beneath the main crater lake.)
The high levels of SO2 coming from Taal in recent days, combined with atmospheric conditions, led to volcanic smog or vog, a type of air pollution which spread to Calabarzon, Metro Manila, and other parts of Luzon.
Exposure to vog can irritate the eyes, throat, and respiratory tract. People with health conditions, the elderly, pregnant women, and children may be most vulnerable to its effects. (READ: How to protect yourself from Taal volcanic smog)
Evacuation recommended
Taal Volcano was previously placed under Alert Level 2 last March 9 due to increasing unrest.
Now that the volcano is under Alert Level 3, Phivolcs recommended that Taal Volcano Island and high-risk barangays in the towns of Agoncillo and Laurel in Batangas be evacuated "due to the possible hazards of pyroclastic density currents and volcanic tsunami."
The high-risk barangays are the following:
Agoncillo: Banyaga, Bilibinwang
Laurel: Gulod, Buso‑buso, Lakeshore Bugaan East
Phivolcs reminded the public that Taal Volcano Island is a permanent danger zone and entry is prohibited.
It also advised communities around Taal Lake "to take precautionary measures and be vigilant of possible lakewater disturbances related to the ongoing unrest."
Batangas Governor Hermilando Mandanas said in the briefing that trucks have been readied to evacuate affected residents. – Rappler.com