The complaints are refiled with the Office of the Davao del Norte Provincial Prosecutor by Central Visayas police's Anti-Kidnapping Group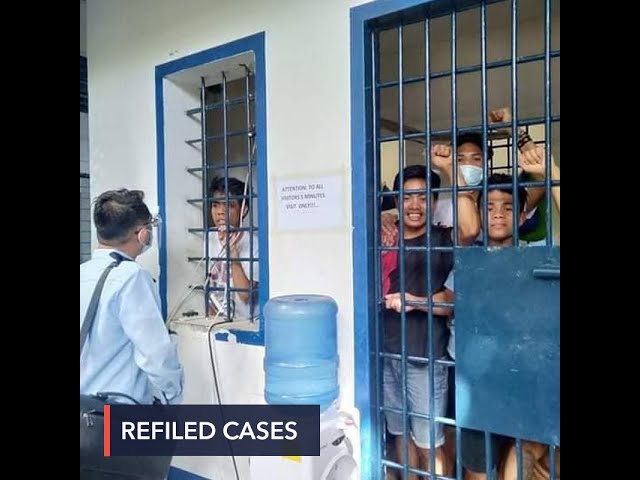 The legal battle continues for arrested Lumad teachers and students in Cebu as the Central Visayas police recently filed a motion for reconsideration for the recently dismissed complaints against them.
On Tuesday, June 8, Police Lieutenant Colonel Ehdel Pereira, acting chief of the Central Visayas police legal office told Rappler the complaints have been refiled with the Office of the Davao del Norte Provincial Prosecutor by their Anti-Kidnapping Group.
"We have filed at least three cases and we are still planning for other cases," he said.
On May 5, Davao del Norte fiscal initially dismissed the complaints for "insufficiency of evidence, lack of probable cause, and being outside the territorial jurisdiction" of the Davao del Norte provincial fiscal.
The complaints included serious illegal detention, kidnapping, and child abuse. Among the respondents were Chad Booc, Roshelle Mae C. Porcadilla, Benito Bay-ao, Segundo Milong, Jomar Benag, Esmelito Oribawan, and Moddie Mansimuy-at.
Pereira added they believe that contrary to the resolution, the Davao del Norte provincial prosecutor did have jurisdiction over the case.
"Allow me to stress in the past resolution, the fiscal has already found that there are crimes committed although they are saying that they have no jurisdiction. According to them, the jurisdiction in Cebu City or Davao City. But in our MR, we stressed that they have jurisdiction," he said.
The resolution only mentioned the presence of "indications" that acts committed by the respondents would fit the elements of alleged crimes.
Lawyer King Anthony Perez, spokesperson for the National Union of People's Lawyers – Cebu serving as the respondents' legal counsel, said they have already received a copy of the complaints.
"We will file our comment/opposition to the MR to respond to the contentions made by the complainants," he told Rappler on Tuesday.
On February 15, Cebu police and social workers conducted an unprecedented raid on the University of San Carlos (USC) – Talamban campus retreat house where Lumad students, datus, and volunteer teachers were taking refuge.
Here, seven teachers, students, and datus were arrested for allegedly training the children as child warriors. – Rappler.com