A considerable number of Filipinos do not want to get vaccinated against COVID-19, so local governments and the private sector come up with raffles to entice them
In the Philippines, vaccine hesitancy is real: A survey shows that two in every three Filipinos are either uncertain or unwilling to have themselves inoculated against the novel coronavirus.
That is why the private sector, local government units (LGUs), and at least one congresswoman have resorted to promoting COVID-19 vaccines through unconventional means.
Here are some of the interesting rewards that await Filipinos who have decided to finally take the jab.
Sacks of rice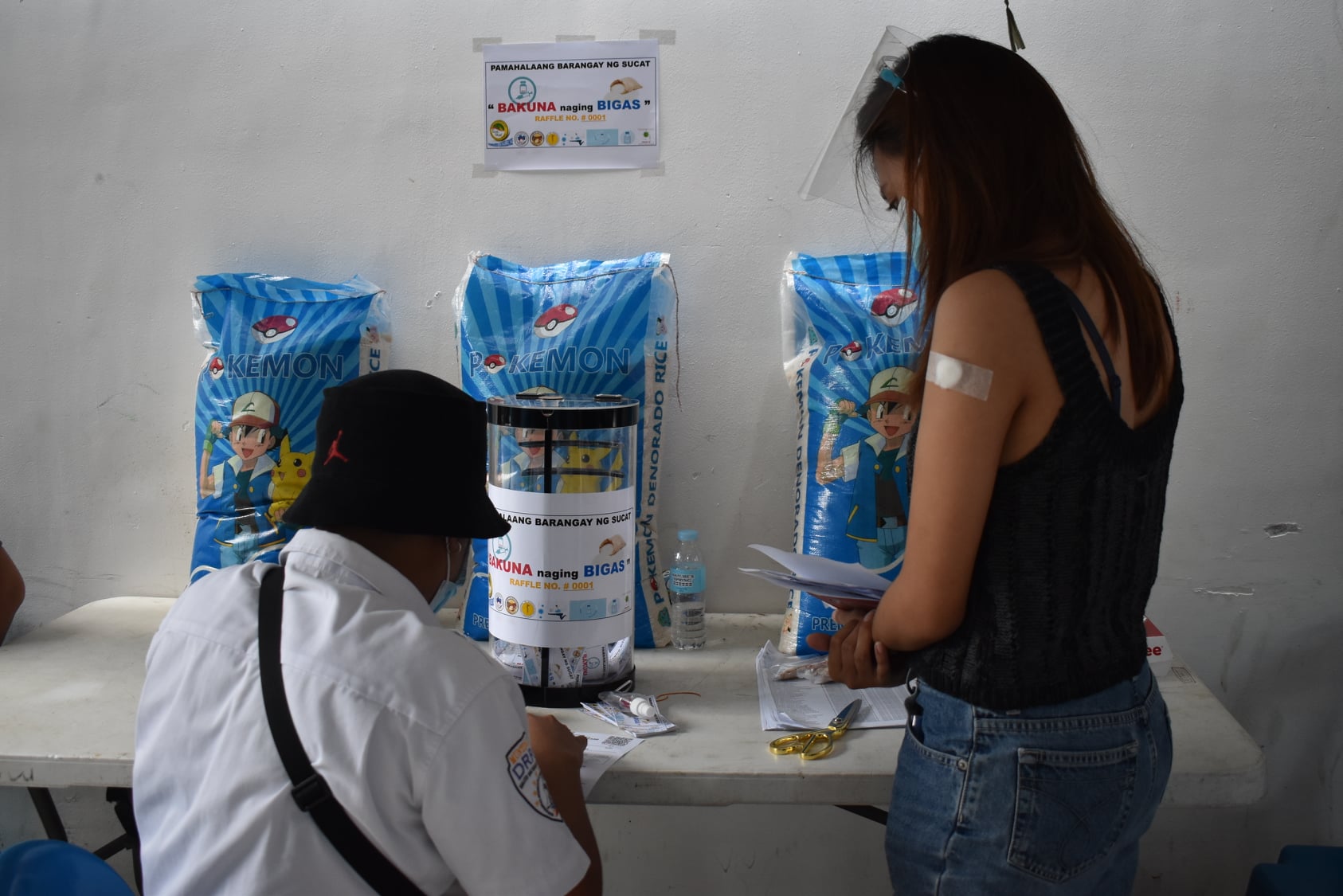 Residents of Barangay Sucat in Muntinlupa City who get their COVID-19 vaccine at the Sucat Covered Court are eligible for a raffle, where they could win 25 kilograms of rice.
The raffle is held once a week, and 20 winners are chosen each time.
At the city-run Ospital ng Muntinlupa grocery packs were given to over 500 residents who were vaccinated against COVID-19. The Muntinlupa City Masonic Lodge 414 was behind the initiative, according to a Manila Bulletin report.
Cows
Smart minds in San Luis, Pampanga, seem to be aware that they have to come up with a catchy slogan for their unconventional push to increase the number of vaccinated people in their municipality.
The "Baka para sa Bakuna (Get a cow when you get vaccinated)" project raffles off a cow every end of the month. The names of residents who have been administered with at least one vaccine dose are included in the raffle.
Residents must visit the mayor's office and show proof that they have been vaccinated in order to qualify for the raffle. The promo runs from July 2021 to June 2022.
Anyone interested in sponsoring the "cow" prize may reach out to the municipal government.
House and lot
House Deputy Speaker and Las Piñas Representative Camille Villar raises the stakes for those who are still hesitant to take the vaccine in her city – a grand prize of house and lot.
The promo runs from June 15 to December 23, 2021, and is open to all residents of Las Piñas who have received at least one vaccine dose. Raffle tickets are available in all barangays in Las Piñas and must be dropped in barangay halls, and AllHome and AllDay Supermarket branches within the city.
The grand draw for the house and lot, as well as two motorcycles, is on December 24. A "pangkabuhayan (livelihood)" package worth P5,000 will also be given to 50 lucky vaccine recipients monthly, beginning July 15.
Villar's family develops subdivisions and other real estate projects and owns the AllHome and AllDay chains of stores.
Discounts at restaurants
The private sector's role in the Philippines' COVID-19 immunization drive cannot be understated, and companies are not yet done. They aim to launch a "Bakuna Benefits (vaccine benefits)" program in June, to offer vaccinated Filipinos discounts in restaurants and retail outlets.
McDonald's Philippines' Margot Torres said an LGU-issued vaccination card must be presented so customers can avail themselves of the benefits.
The Department of the Interior and Local Government (DILG), which is a partner in the "Bakuna Benefits" program, said it welcomes unique initiatives to boost vaccination drives.
"Yes, we support that. That has been a best practice from other countries to increase vaccine demand," Interior Undersecretary Jonathan Malaya told Rappler on May 28.
Long way to go
The government aims to inoculate 70% of the population or around 70 million Filipinos in 2021.
As of May 25, only 3.4 million Filipinos have received at least one COVID-19 vaccine dose. Of this number, only 1.02 million Filipinos are fully vaccinated.
Following the arrival of more doses in the Philippines, the government is set to expand the coverage of qualified vaccine recipients in June to include economic frontline workers. – Rappler.com