'I think it's probably the immigrant mentality in me, being not only a person of color but being a '1.5 generation' Filipino-American,' says Ruby Ibarra
This story is published in partnership with SoJannelleTV, a magazine show about Filipinos in North America
On the microphone, Ruby Ibarra is a fierce "Pinay warrior," spitting lyrics laced with sociopolitical messages that emanate from her upbringing in California's Bay Area, a battleground for many of America's activist movements, and the influence of listening to Francis Magalona, who instilled in her pride in her morena skin tone and made her feel connected to the country she was born in.
In her day job, Ibarra is fighting just as fiercely in the laboratory. A University of California, Davis graduate, Ibarra works as a scientist at a biotech firm researching coronavirus vaccines.
How does she find the time and energy?
"I think it's probably the immigrant mentality in me, being not only a person of color but being a '1.5 generation' Filipino-American," said Ibarra, a native of Tacloban City, Philippines, in an interview with Filipino-American media pioneer Jannelle So Perkins for the latter's So Jannelle TV show. "I think folks like that aren't strangers to wearing multiple hats. When it comes to me feeling like, do I have to choose between sciences or do I have to pursue music, I'm actually in a time right now where I love doing both."
"Doing both" has often meant flying down to Los Angeles, or traveling out of state for the evening, and then returning to the Bay Area in time to clock in for her 40-hour-a-week job.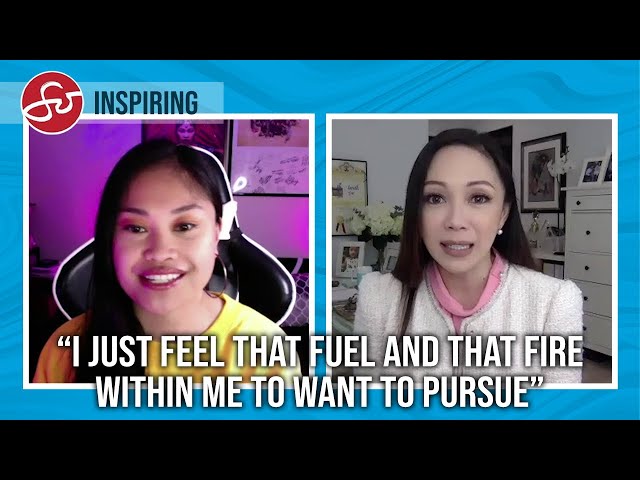 Her ability to operate on a strict time constraint was tested to the limit when director Ramona Diaz approached her about contributing a song to play during the ending credits to the documentary A Thousand Cuts. The documentary, which follows Rappler CEO Maria Ressa through her legal battles, needed to be finalized in time for the Sundance Film Festival in January 2020, giving Ibarra just 4 days to write, record and produce the final track.
The final version was mailed on New Year's Day, in time to be included in the final cut.
"It was definitely such an honor to even be part of such an incredible film," said Ibarra.
Ibarra had met Ressa and Diaz in the spring of 2019, when she and her band The Balikbayans appeared at the Rappler office to record a Live Jam performance. Ibarra had been following Ressa's fight to preserve press freedom in the Philippines, and the band approached the two afterwards.
"I remember [Ressa's] last question to us was asking, 'Why do you do what you do?' It sounds like a very simple question but it actually made us all think, especially as Filipino-American artists being in the Philippines at that time, and I brought that back with me to the States when I returned," remembered Ibarra.
Nine months later, Diaz sent her an email. She wanted Ibarra to contribute to the film.
"Thinking about what kind of lyrics to write for such a powerful film like A Thousand Cuts, it definitely was a challenge at first," said Ibarra.
"I knew that this was going to be a very important piece of film, not just in the Philippines, but as we all have seen, there is a lot of parallels between the Philippines, between the administrations.
"I think that when I was writing the lyrics, it was just me focusing on what Maria Ressa stands for, what does it mean to have a sense of truth and a sense of understanding and also a sense of knowing what to fight for and what you believe in.
Finding purpose in her work, whether it be with a microphone or a microscope, keeps Ibarra motivated through the long hours.
"I can see the value of it too in helping the community, whether it's through music or the sciences," said Ibarra. "I think it's two of the world's biggest medicines." – Jannelle So Productions | Rappler.com
Rappler is partnering with Jannelle So Productions Inc (JSP), founded by Filipino-American pioneer and Los-Angeles-based journalist Jannelle So, to publish video and written stories from SoJannelleTV about the journeys, successes, and challenges of Filipinos living in America.
Check out So Jannelle TV daily for stories that make you pause, reflect, and appreciate who we are and what we are as a people.
Fridays, 5 PM on KSCITV-LA18
Saturdays, 7:30 PM PT on ANC
Sundays, 3:55 PM PT / 6:55PM ET on TFC
Or any time on YouTube.com/SoJannelleTV