This is AI generated summarization, which may have errors. For context, always refer to the full article.
Unlike the initial complaint filed against the police involved, murder carries a heavier penalty of reclusion perpetua or up to 40 years in prison
MANILA, Philippines – Human rights group IDEALS filed a murder complaint against 19 cops tagged in the killing 17-year-old Jerhode Jemboy Baltazar, the teen slain by Navotas cops earlier in August.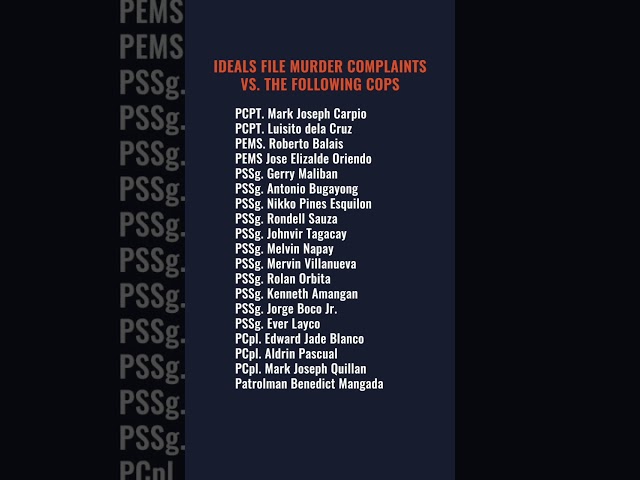 In a press briefer on Tuesday, August 29, the group announced that it filed the complaint with the Navotas City prosecutor's office. Jessie, the teen's father, was named the complainant. Meanwhile, below are the names of the 19 cops facing complaints:
Police Captain (PCPT.) Mark Joseph Carpio
PCPT. Luisito dela Cruz
Police Executive Master Sergeant (PEMS) Roberto Balais
PEMS Jose Elizalde Oriendo
Police Staff Sergeant (PSSg.) Gerry Maliban
PSSg. Antonio Bugayong
PSSg. Nikko Pines Esquilon
PSSg. Rondell Sauza
PSSg. Johnvir Tagacay
PSSg. Melvin Napay
PSSg. Mervin Villanueva
PSSg. Rolan Orbita
PSSg. Kenneth Amangan
PSSg. Jorge Boco Jr.
PSSg. Ever Layco
Police Corporal (PCpl.) Edward Jade Blanco
PCpl. Aldrin Pascual
PCpl. Mark Joseph Quillan
Patrolman Benedict Mangada
On August 2, Navotas cops killed Jemboy while the teen and his friend were cleaning their fishing boat in a river near their home. Jemboy sustained gunshot wounds in the head and hand, and fell into river, according to his family.
Balais, Bugayong, Maliban, Esquilon, Blanco, and Mangada already face a reckless imprudence resulting in homicide complaint, on top of the new murder complaint. They were initially held under custody, but were released for further investigation. Meanwhile, other cops already face administrative charges.
In filing the complaint, IDEALS "asserted that they should have been charged for murder instead."
"Kailangang panagutin ang mga kapulisang sangkot sa krimen at pang-aabusong ginawa sa isang inosenteng biktima. Let's end the cycle of impunity (The cops tagged in the crime should be held accountable for ther violence against the innocent victim)," said lawyer Ansheline Bacudio, IDEALS human rights program manager and counsel for the victim's family, said.
"Ang amin pong panawagan: ilabas na po nila ang mga dokumentong lalong magbibigay-linaw sa totoong nangyari," Bacudio added. "Kung sinsero po ang kagustuhan nilang ituwid ang mga kamalian sa kanilang ranggo, umaasa po kami na makikipagtulungan po sila sa amin sa usaping ito."
(Our demand, the police should make public the document that will clear things out. If they are really sincere in correcting this problem among their ranks, we are hoping that they will cooperate with us in this concern.)
Unlike the reckless imprudence complaint, murder carries a heavier penalty. If proven guilty of murder, a person can face the penalty of reclusion perpetua or 20 years and one day, or up to 40 years in prison.
Jemboy was among the two teen killed by the police in August alone. On August 20, PCpl. Arnulfo Sabillo killed 15-year-old John Frances Ompad in Rodriguez, Rizal. – Rappler.com