(2nd UPDATE) Senators say former PS-DBM chief Lloyd Christopher Lao should be investigated by the Office of the Ombudsman for graft 'at the very least'
Senators on Friday, August 27, grilled Lloyd Christopher Lao, the embattled former chief of the Department of Budget and Management's Procurement Service (PS-DBM), for awarding over P8 billion worth of COVID-19 contracts to a firm that lacked the track record and credibility to engage in big ticket government procurement.
At the third hearing conducted by the Senate Blue Ribbon Committee, lawmakers placed heat on Lao for his failure to exercise due diligence on Pharmally Pharmaceutical Corporation, among the companies flagged by senators for supplying overpriced COVID-19 items to the government.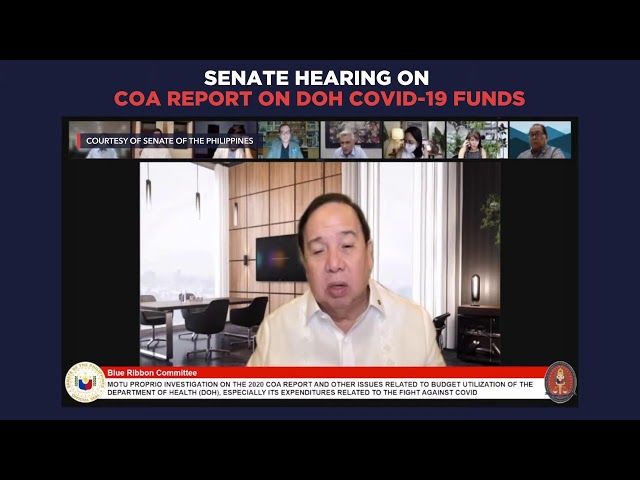 Pharmally, lawmakers pointed out, had been awarded P8.6 billion in contracts so far despite several issues raised with the firm, including the following:
Fake addresses used by Pharmally's owners
Pharmally's incorporation in September 2019, or just months before it started participating in bidding for pandemic contracts
Links to Taiwan-based Pharmally International Holding Co, which had been taken off the stock market due to fraudulent activity
Limited experience in bidding for government contracts.
Senator Panfilo Lacson asked Lao "what kind" of due diligence was observed in vetting Pharmally before approving contracts to the company as head of PS-DBM, considering the firm had faced the several issues raised by the committee.
"It is either there was no due diligence for reason of collusion, or they were lazy to exercise diligence, or they're sloppy which I don't want to believe…being the PS-DBM, a trained and experienced procuring entity of the government…. I wonder how they were able to award the procurement of billions of these items?" Lacson said.
Lao, however, claimed throughout most of the hearing that he had no knowledge of issues raised by lawmakers back when he led the agency.
On the issue of fake address, Senate Minority Leader Franklin Drilon and committee chair Senator Richard Gordon bared that owners of Pharmally used bogus residential addresses in its General Information Sheet (GIS) submitted to the Securities and Exchange Commission.
This came after the Senate had tried to serve its officials subpoenas for the hearing – only to be told that some were non-existent, left vacant, or were barely occupied. "Simple diligence would have shown that these are fake addresses," Drilon said. 
Lao said the GIS where addresses where indicated were not among documents required by the PS-DBM. "The general information sheet is not needed. That is the only answer I can give," he said.
He later argued that the PS-DBM could not check whether addresses submitted to the SEC were valid since the agency was not a part of that process, eliciting criticism from Gordon who hit Lao for being "very cavalier with the people's money."
Raising the issue of Pharmally's incorporation in September 2019, Drilon said that if Lao had reviewed the company's articles of incorporation, such information could be found, along with other details on the company, including that it counted only some P600,000 in capital.
To this, Lao admitted: "We failed to check on the articles of incorporation."
Earlier in the hearing, Senator Risa Hontiveros had also raised that one of Pharmally's owners had also been a board member of Pharmally International Holding, which was being investigated for fraud in Taiwan. But in response, Lao said he was not aware of the matter.
Senator Imee Marcos likewise raised that Pharmally had no proof of securing a previous completed contract with the government worth half the price of the contract it was bidding for – something required by general procurement laws.
Later asked by Lacson what the company's track record was in bidding for government contracts, Lao said he had "no information" on the matter and that he had only known of the contracts Pharmally secured in the PS-DBM.
Lao had also insisted that when the PS-DBM was deliberating on contracts to be awarded, "there [were]no red flags shown" on Pharmally.
Marcos added that the company continued to bag contracts as recently as June 2021, despite glaring gaps in its track record. "They keep alluding to the 2020 shortage of all these PPEs but they're still winning – with or without incorporators with real addresses," she said.
The senator also asked if Lao knew one of Pharmally's officials, a certain "Linconn Ong," who was supposedly one of Lao's good friends. Lao responded that he had met Ong in the PS-DBM when they were participating in biddings, but that he had "no personal relations" with him.
"Usec [Lao], aabot na ng P16 bilyon ang napapanalunan nilang kontrata, hindi mo pa kilala (Usec, they have won contracts up to P16 billion already and you still don't know them)?" Marcos said.
Senators want Lao probed for graft
Lao sought to justify the PS-DBM's dealings with Pharmally, saying he had done his "best" to exercise due diligence, while the company had supposedly offered the government the "cheapest prices" for items in the first few months of the pandemic.
Earlier in the hearing, however, senators had already called called out Lao for possible negligence in the PS-DBM's failure to secure COVID-19 items at cheaper prices when organizations like the Philippe Red Cross and Go Negosyo were able to buy supplies at lower costs.
Senators were also unsatisfied with Lao's answers and called him out for being "evasive" in responding to questions. Lacson, Drilon, and Gordon pressed Lao to identify how the PS-DBM ended up dealing with Pharmally.
"Did you do it on your own or did somebody order you to award the contracts to those suppliers? Because you did not follow proper procedure, you threw out of the window all the requriments…so either you did it on your own or somebody ordered you to award the contracts to those suppliers because clearly, there is collusion," Lacson said.
Lao, however, did not give details and had only shared that Pharmally had been among companies recommended to the agency through envoys. He then tossed it to officials in the PS-DBM, saying "They have on the records who endorsed them to our office. PS-DBM can answer."
Drilon later moved to refer the issue of contracts awarded to Pharmally to the Ombudsman, saying Lao should be investigated for graft "at the very least."
"At the very least, this Mr Lao should be made liable for anti-graft, for entering into contracts which are grossly prejudicial to the interest of the government and failed by his own admission to exercise the necessary prudence in order to prevent this totally disadvantageous contract from taking place," he said. – Rappler.com