Senator Richard Gordon says ex-DBM official Lloyd Christopher Lao must face queries over the procurement of allegedly overpriced pandemic items
The Senate blue ribbon committee issued a subpoena against former Department of Budget and Management (DBM) undersecretary Lloyd Christopher Lao, ordering him to attend the next hearing on the allegedly overpriced pandemic items procured when he was still in office.
On Monday, August 23, Senator Richard Gordon – who chairs the chamber's panel tasked to look into corruption cases in government – said Lao is ordered to attend the next hearing on Wednesday, August 25.
Senate President Vicente Sotto III approved the summons for Lao, whose office acknowledged receipt of the subpoena through text message and e-mail.
"It is important that he appears because there are so many questions that need answers especially; he was previously investigated over procurement of overpriced medical supplies and equipment," Gordon said.
The blue ribbon committee is currently probing various 2020 audit reports by the Commission on Audit, which found that billions of funds meant to bolster the government's coronavirus pandemic response programs were either misused or unused by various agencies.
Lao was head of the Procurement Service of the Department of Budget and Management (PS-DBM) when it bought P95.45 million-worth of allegedly overpriced face masks and face shields during the coronavirus crisis.
The PS-DBM is now having difficulty selling them to client government agencies.
The Department of Health had also transferred P41 billion to PS-DBM to buy personal protective equipment, but state auditors said this transfer lacked supporting documents.
The DBM-PS, an agency attached to the DBM, acts like a shop for common-use supplies. Instead of procuring from suppliers, government agencies would buy from the PS instead.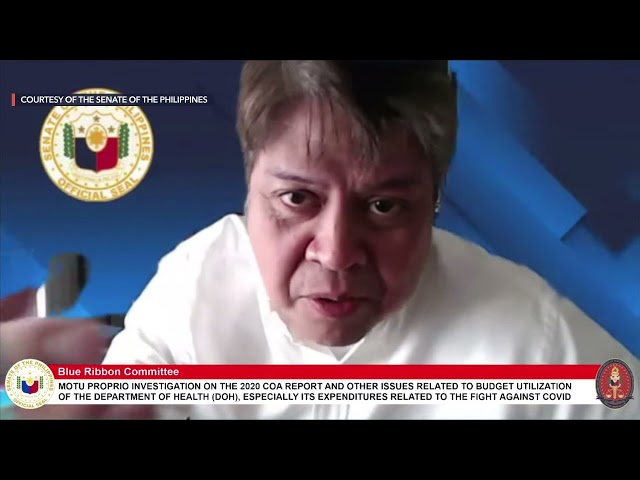 Lao first became undersecretary at the Presidential Management Staff-Office of the Special Assistant to the President, an office previously headed by President Rodrigo Duterte's longtime aide turned senator Bong Go.
Lao resigned as PS-DBM chief in June for still unknown reasons.
Gordon said Lao must now face senators to explain the circumstances behind the controversial procurements.
Lao already defended the PS-DBM's controversial purchase of face masks and face shields, saying in a press conference on August 20 the items were the "cheapest" they could find at the time. The embattled former official also said he is ready to face the Senate.
Gordon has certified with the Bureau of Immigration that Lao is still in the Philippines and should be able to attend the blue ribbon committee's hearing on Wednesday.
"Mr. Lao is still in the Philippines, or at least, has not left the country, as certified by the Bureau of Immigration. This is a good sign that can only mean to indicate that he is not fleeing and can help us in our investigation in bringing light to the seemingly murky processes of government procurement," said Gordon.
The blue ribbon committee's next hearing will be held at 10 am on Wednesday. – Rappler.com