More than halfway into the Duterte presidency, only 59% of Yolanda permanent housing units are completed
President Rodrigo Duterte has promised to wage war against red tape and unnecessary bureaucracy in order to fast-track critical government projects. But his efforts have still left a sizeable backlog in the housing sector even in the sunset years of his presidency.
Nearly 7 years after Super Typhoon Yolanda (Haiyan), the government still hasn't finished building 90,363 housing units intended for victims displaced by the calamity.
This is the backlog as of June 30, 2020 – more than halfway into the administration of Duterte who made the slow rehabilitation of Yolanda-hit areas an election issue against the Liberal Party.
The backlog figure was taken from a presentation of the Department of Human Settlements and Urban Development (DHSUD) and National Housing Authority (NHA) during their budget briefing on Thursday, September 10.
Out of the 220,680 Yolanda housing units targeted to be built, only 130,317 or 59% have been completed. This means 90,363 or 41% are unfinished or not ready for occupancy of intended beneficiaries.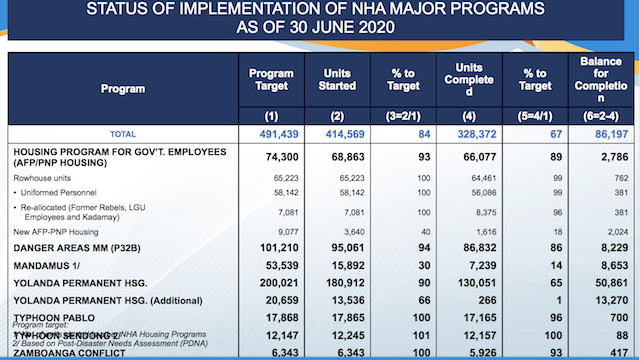 The figures are a combination of two programs listed by NHA – the Yolanda Permanent Housing program that aimed to build 200,021 houses, and an "additional" program that aimed to build 20,659 houses.
In the first program, 65% or 130,051 units had been completed. In the second, 266 or a measly 1.2% of the target had been completed.
The presentation showed lower figures under the heading "balance for completion." Adding the "balance for completion" of the two Yolanda housing programs yields a total of 64,131 units still to be completed, which makes it appear that this is the backlog and not the higher 90,363 unfinished houses.
However, a closer look at the table of figures shows that this balance came from subtracting the number of housing units completed from the number of units started. Thus, the figure is actually the number of houses that have begun construction but are not yet fully built. It doesn't take into account the housing units that have yet to begin construction.
By "backlog," we refer to the number of housing units that have not yet been completed out of the target number set by the government.
Backlog for Typhoon Pablo, Zamboanga siege
Housing projects for even older crises – and in Duterte's own backyard – remained unfinished even past the halfway mark of Duterte's presidency.
Out of the 17,868 target units, a total of 703 housing units in Mindanao intended for those affected by Typhoon Pablo (Bopha) are unfinished. Eight years have passed since the storm ravaged parts of Mindanao, Duterte's home region, in late 2012.
The NHA reported having started on 17,865 units while 17,165 have been completed.
It wasn't immediately clear why it has taken so long to finish the 700 houses.
Meanwhile, 417 houses targeted for construction for those displaced by the 2013 Zamboanga Siege are also still unfinished. The NHA reported it had started on all 6,343 units targeted by their housing program but only 5,926 were completed.
Like Typhoon Pablo, the Zamboanga siege took place in Mindanao, a region Duterte promised would not be left behind during his administration. 
Mindanaoans have pinned their hopes on Duterte, a long-time mayor of one of its most developed cities and the first Chief Executive to hail from their island.
Particularly for Yolanda areas, Duterte promised speedy rehabilitation efforts. In 2017, he created a task force to fast-track such programs. The task force was even headed by Budget Secretary Wendel Avisado.
In a November 2016 visit to Yolanda ground zero Tacloban City, Duterte said it was "BS" (bull shit) that some rehabilitation works were not yet finished and said they ought to be done in one year's time.
Despite the housing backlog, the Duterte government has asked for what a lawmaker called a "measly" P3.68 billion in funding for housing agencies for 2021. This is only 5% of the P77 billion that the agencies hoped to get for next year. Lawmakers in the House of Representatives called for a higher budget for the agencies. – Rappler.com