WHAT YOU NEED TO KNOW
President Ferdinand Marcos Jr. flies to Beijing, China, from January 3 to 5 for his first state visit outside of Southeast Asia and his first foreign trip in 2023.
It will a quick visit for Marcos, who flies to China just as COVID-19 cases there are surging. The entire delegation will be under a bubble to minimize the chances of exposure to COVID-19.
Bookmark this page for updates on the three-day visit to Beijing, including analysis on what this means for the Marcos administration and the Philippines' relationship with China.
LATEST UPDATES
'Mature' bilateral ties
Marcos capped off the state visit by noting how he and Xi "took note of the growing maturity of this bilateral relationship."
"This bilateral relationship, which now allows both sides to manage differences on the West Philippine Sea so as to not allow it to hinder the rest of our fruitful engagements and multi-faceted cooperation," he said. 
"I emphasized to President Xi how my administration intends to pursue an independent foreign policy: that we are more than willing to cooperate whenever possible, in the pursuit of regional peace and our two countries' national interest," he added. 
Chinese investment pledges
According to the Presidential Communications Office, Chinese investors promised over $22.8 billion in investment pledges during the state visit.
In a release to media, Malacañang said the investment promises included $1.72 billion for agribusiness, $13.76 billion for renewable energy, and $7.32 billion for strategic monitoring (electric vehicle, mineral processing).
Before flying back to Manila on Thursday, January 5, Marcos joined a roundtable meeting with Chinese investors from the agribusiness, renewable industry, mineral processing, and e-vehicle sectors. 
Rappler Talk: Ano'ng napala natin sa China visit?
In this episode of Rappler Talk, Rappler's Sofia Tomacruz and Bea Cupin sit down with Jed Rabena, research fellow at Asia Pacific Pathways to Progress, to discuss President Ferdinand Marcos Jr.'s state visit to China.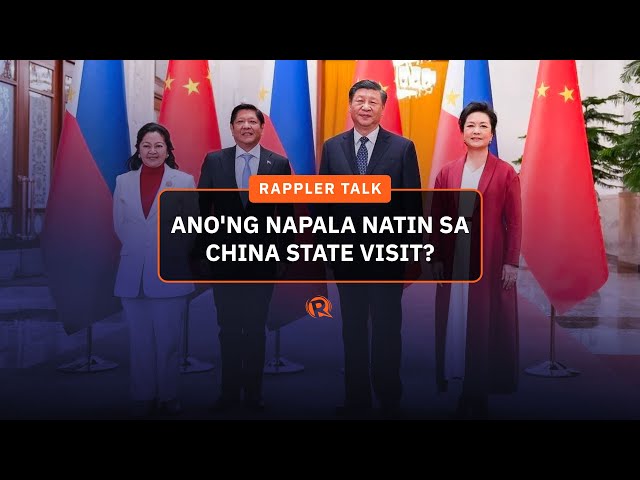 LIST: Bilateral agreements signed during Marcos' state visit to China
The agreements cover a wide range of sectors, from tourism to trade.
Read more.
Marcos meets Xi Jinping
Marcos meets China's Xi Jinping during state visit. This is their second bilateral meeting in 3 months.

The President earlier said 10 bilateral agreements are expected to be signed during the state visit. | via @beacupin pic.twitter.com/OQfU9KEVSt

— Rappler (@rapplerdotcom) January 4, 2023
'Dozens' of infrastructure agreements to be signed in China, says Diokno 
Finance Secretary Benjamin Diokno said on Wednesday, January 4, that the Philippines and China will sign agreements and loans that would boost the Marcos administration's "Build Better More" infrastructure program. 
"This very short trip will promise to be a very successful one," Diokno said, adding in an interview that deals in agriculture were also being secured.
The Office of the President and finance department have yet to share more details on deals signed in China as of posting. Marcos' infrastructure program seeks to build a farm to "Farm-to-Market Road (FMR) Network Master Plan, a detailed framework and strategic directions for sustainable projects."
'Invest in the Philippines'
In his meeting with Li Zhanshu, President Ferdinand Marcos Jr. said he hoped China would "continue to invest in the Philippines." He made the same call prior to departing from Manila, telling an audience of government officials that he hoped Chinese citizens would return to the Philippines as investors, tourists, or students.
Repeating previous assertions, Marcos said disagreements should not be "the sum" of Manila and Beijing's relations, according to Malacañang.
House Speaker Martin Romualdez, the President's cousin, said he hoped the meeting with Li would "result in more engagements and exchanges between the legislative bodies of China and the Philippines." Li heads China's legislature while Romualdez heads one of two chambers in the Philippine Congress.