The low pressure area may develop into a tropical depression within 48 hours, says PAGASA early Saturday, November 7
The low pressure area (LPA) inside the Philippine Area of Responsibility (PAR) is expected to reach Eastern Visayas on Saturday morning or afternoon, November 7.
The Philippine Atmospheric, Geophysical, and Astronomical Services Administration (PAGASA) said in a bulletin issued 5 am on Saturday that the LPA is now 465 kilometers east of Surigao City, Surigao del Norte, or 440 kilometers east of Guiuan, Eastern Samar.
PAGASA added that the LPA may develop into a tropical depression within 48 hours. This may also happen when it is near or already over Philippine landmass.
If it does develop into a tropical depression, it would be given the local name Tonyo, as the Philippines' 20th tropical cyclone for 2020.
In addition, Signal No. 1 would be immediately raised in the first PAGASA bulletin for Tonyo, if it develops, since it could be near or over land by then.
But the state weather bureau said the LPA is already bringing rain to parts of the Philippines on Saturday, including Bicol and Calabarzon, two regions hardest hit by Super Typhoon Rolly (Goni) less than a week ago.
Moderate to heavy rain
Bicol
Marinduque
Romblon
Oriental Mindoro
Quezon
Eastern Visayas
Dinagat Islands
Light to moderate rain, with at times heavy rain
rest of Calabarzon
rest of Mimaropa
rest of Visayas
rest of Mindanao
PAGASA warned that floods, landslides, and lahar flows are possible during heavy or prolonged rainfall. (READ: FAST FACTS: Tropical cyclones, rainfall advisories)
The LPA and the easterlies will also cause moderate to rough seas, with waves 2 to 3.5 meters high, in the following seaboards:
seaboards of northern Quezon (including the northern and eastern coastal waters of Polillo Island) and Camarines Norte
northern seaboard of Camarines Sur
northern and eastern seaboards of Catanduanes
eastern seaboards of Albay (including Rapu-Rapu Islands), Sorsogon, Eastern Samar, Dinagat Islands, and Siargao Island
PAGASA advised small vessels to take precautionary measures and "inexperienced mariners" to "avoid navigating in these conditions."
Meanwhile, Severe Tropical Storm Siony (Atsani) left PAR at 12 am on Saturday.
In a separate 5 am bulletin on Saturday, PAGASA said Siony was already 295 kilometers northwest of Itbayat, Batanes, moving northwest at 10 kilometers per hour (km/h).
The severe tropical storm maintained its strength, with maximum sustained winds of 95 km/h and gustiness of up to 115 km/h. But PAGASA said it is expected to weaken into an LPA within 24 to 36 hours.
Though Siony is now outside PAR, PAGASA warned it would still trigger moderate to rough seas, with waves 2 to 3 meters high, in the next 24 hours.
The seaboards of Batanes, the Babuyan Islands, and the northern part of Ilocos Norte are affected.
Siony had made landfall in Misanga Island in Itbayat, Batanes, at around 7:50 am on Friday, November 6. It also affected other parts of extreme Northern Luzon, but no casualties have been reported.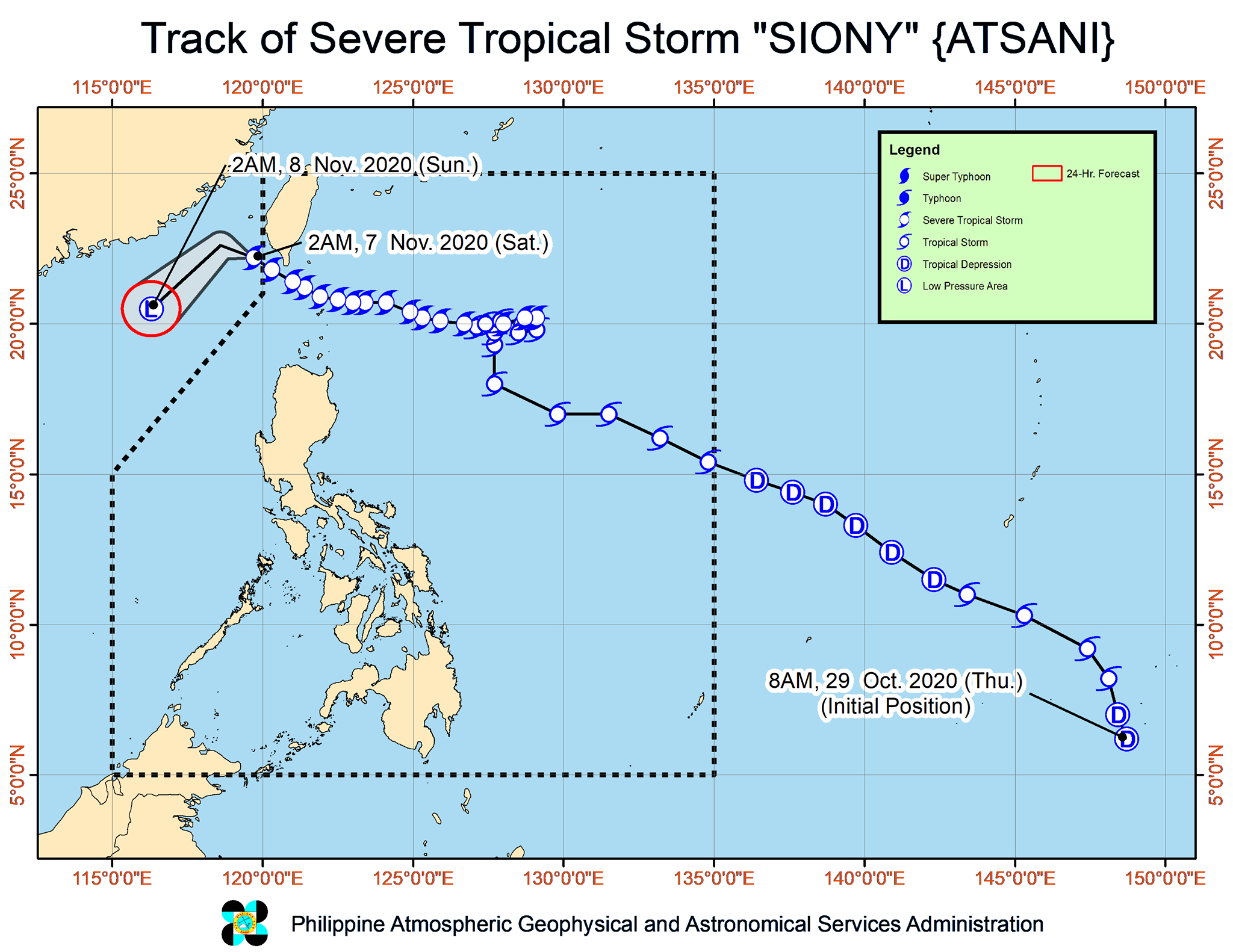 Siony was the Philippines' 19th tropical cyclone for 2020.
An average of 20 tropical cyclones form within or enter PAR each year. (READ: LIST: PAGASA's names for tropical cyclones in 2020)
These are PAGASA's latest estimates for the number of tropical cyclones inside PAR in the next 6 months:
November 2020 – 1 to 3
December 2020 – 2 or 3
January 2021 – 0 or 1
February 2021 – 0 or 1
March 2021 – 0 or 1
April 2021 – 0 or 1
In early October, the state weather bureau warned Filipinos to expect more rain in the coming months due to the onset of La Niña.
The onset of the northeast monsoon or hanging amihan was also declared on Friday, which means cold temperatures are expected in the coming months.
PAGASA also said La Niña may enhance the northeast monsoon, which could trigger floods and landslides. – Rappler.com