Tropical Storm Ulysses is given the international name Vamco on Monday afternoon, November 9
Ulysses strengthened from a tropical depression into a tropical storm at 2 pm on Monday, November 9, as it slowed down over the Philippine Sea.
It now has maximum sustained winds of 65 kilometers per hour (km/h) and gustiness of up to 80 km/h, from 55 km/h and 70 km/h, respectively.
Now that Ulysses is a tropical storm, it has been given the international name Vamco. Tropical depressions are not yet given international names.
The Philippine Atmospheric, Geophysical, and Astronomical Services Administration (PAGASA) warned in its 5 pm bulletin on Monday that Ulysses could intensify further into a severe tropical storm within 24 hours, and then into a typhoon on Wednesday, November 11.
As of Monday afternoon, Ulysses is located 575 kilometers east of Borongan City, Eastern Samar.
The tropical storm is moving northwest at a much slower 15 km/h, from the previous 40 km/h. It is expected to maintain that direction until Tuesday afternoon, November 10.
Then Ulysses is forecast to turn west and head for the Bicol-Quezon area, where it could make landfall.
With the tropical storm slowing down and its center slightly shifting, the projected landfall is now on Thursday, November 12, instead of Wednesday.
The forecast may change if there are significant shifts in Ulysses' direction or speed in the next couple of days.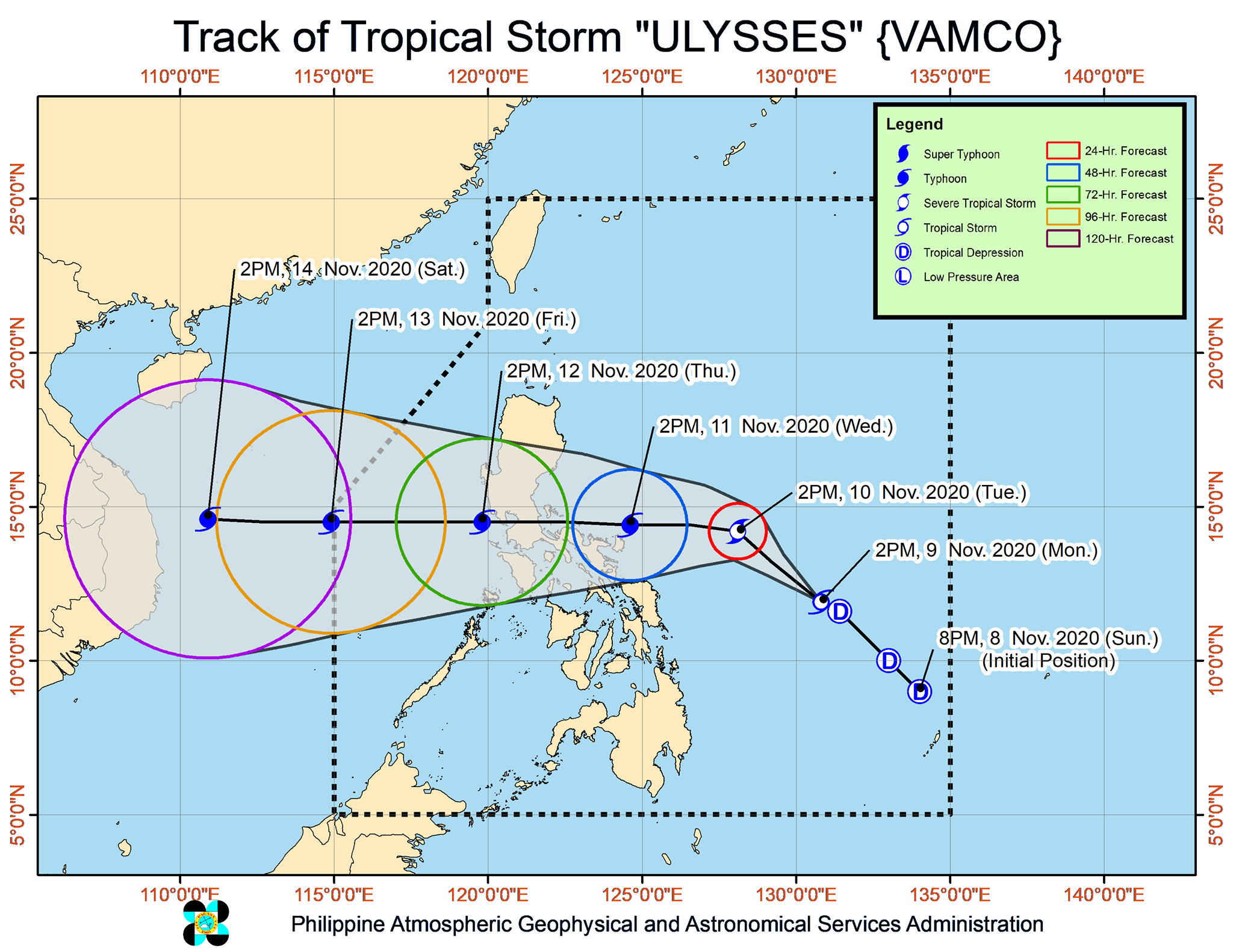 While Ulysses' center remains far from land, its trough or extension will already start bringing rain from Monday evening to Tuesday morning.
Light to moderate rain, with at times heavy rain (Ulysses' trough)
Bicol
Quezon
Eastern Visayas
The tail-end of a cold front is also causing rain in some northern provinces.
Moderate to heavy rain (tail-end of a cold front)
Cagayan including Babuyan Islands
Apayao
Ilocos Norte
As early as Monday, residents must be on alert for possible floods and landslides. (READ: FAST FACTS: Tropical cyclones, rainfall advisories)
Meanwhile, there are no areas under tropical cyclone wind signals yet. But PAGASA said it could raise Signal No. 1 in parts of Bicol or Eastern Visayas as early as Monday evening or early Tuesday morning, to warn those areas ahead of time that strong winds are expected.
As for coastal conditions, travel is now risky in certain seaboards due to rough to very rough seas, with waves 2.8 to 4.5 meters high.
seaboards of Northern Luzon
eastern seaboard of Central Luzon
eastern and western seaboards of Southern Luzon
Small vessels should also watch out for moderate to rough seas, with waves 1.5 to 2.5 meters high, in these seaboards:
remaining seaboards of Luzon
eastern seaboard of Mindanao
Ulysses is the Philippines' 21st tropical cyclone for 2020 – already above the yearly average of 20. (READ: LIST: PAGASA's names for tropical cyclones in 2020)
For the next 6 months, these are PAGASA's estimates for tropical cyclones inside PAR:
November 2020 – 1 to 3
December 2020 – 2 or 3
January 2021 – 0 or 1
February 2021 – 0 or 1
March 2021 – 0 or 1
April 2021 – 0 or 1
Since October, La Niña has been underway, which means there is more rain than usual.
Then in November, the northeast monsoon or hanging amihan began, signaling "surges of cold temperatures."
PAGASA warned that La Niña may enhance the northeast monsoon, which could trigger floods and landslides. – Rappler.com