This is AI generated summarization, which may have errors. For context, always refer to the full article.
When it came to the President's promises regarding infrastructure, the drug war, and corruption, among others, Rappler reporters say he failed to study how feasible these would be
"Lagi niyang binabalikan, 75 lang siya sa school. Happy na siya sa [75]. This is a guy, this is a man [na] hindi nag-aaral."
(He would always recount how he got 75 in school. He was happy with a 75. This is a guy, this is a man who does not study.)
Rappler Mindanao bureau coordinator Herbie Gomez had this to say regarding President Rodrigo Duterte's unfulfilled promises after five years of his presidency. In reality, these promises were unattainable.
During Newsbreak Chats: Pangakong Napako, Probinsiyang Nadaya (Broken Promises, Hoodwinked Provinces), which aired on Thursday, July 29, Rappler reporters assessed what had become of Duterte's campaign promises, including big-ticket infrastructure projects, suppressing drugs and criminality, and eradicating corruption, among others. (READ: Unfulfilled promises loom over Duterte's final SONA)
Gomez recalled the excuses Duterte made during his final State of the Nation Address (SONA) for failing to eliminate drugs in his promised 3-6-month timeline.
"Hindi niya naiintindihan 'yung pinagsasabi niya, in other words. Basta lang…. Di ba sinabi niya, sa Davao kasi, ang ginawa namin, to coerce, to intimidate, to bribe? Akala niya ganun lang kadali…. 'Yung corruption ganun din…. Lately, sinabi niya, hindi realistic, hindi pala kaya, endemic. Basically, same excuse, same template," Gomez said.
(He doesn't understand what he's saying, in other words. He'd say just anything…. Didn't he say that what they did in Davao was to coerce, to intimidate, to bribe? He thought it would be that easy. The same goes with corruption…. Lately, he said, it wasn't realistic, it couldn't be done after all, endemic. Basically, same excuse, same template.)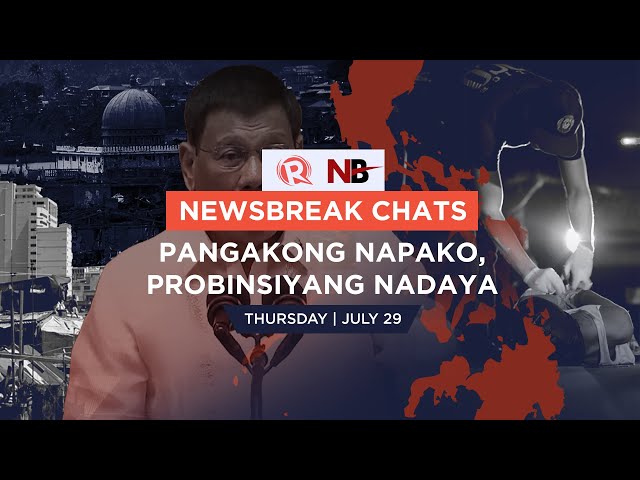 Rappler business reporter Ralf Rivas also weighed in on Duterte's promised infrastructure projects, such as the bridges that were supposed to connect Luzon, the Visayas, and Mindanao. He recounted what former socioeconomic planning secretary Ernesto Pernia said: it would require new engineering designs, in part due to the depth of the waters. (READ: Duterte's bridges linking Luzon, Visayas, Mindanao shelved)
Rivas wondered if it was even necessary in the first place. "Mahal kasi mag-feasibility study eh, tapos, parang, the mere ambition pa lang na iko-connect mo 'yun, parang, kailangan ba talaga natin 'yun? [I] don't know, somewhere along the way, I'd speculate na may nawalang pera doon just because of dreaming that kind of dream," he said.
(A feasibility study costs a lot, and the mere ambition of connecting them, it's like, do we really need it? [I] don't know, somewhere along the way, I'd speculate that we lost money just for dreaming that kind of dream.)
Pandemic is not a 'convenient excuse'
Rappler investigative editor Miriam Grace A. Go asked the reporters if they would agree that the pandemic could be used as a "convenient excuse" for the administration on why it failed to deliver on its promises.
Rivas said the current budget does not even make it seem like there had been a pandemic.
He explained that Duterte's economic team still operated under the frame of trickle-down economics, thinking big infrastructure projects would create a ripple effect. But Rivas thinks these were just grand assumptions.
"One, unang-una pa lang, talo na sila kasi, 'yung absorptive capacity ng mga agencies at ng mga contractors, hindi nila kayang gawin 'yang mga ambisyosong prokeyto na 'yan. Number two, 'yung pivot to China ni Duterte did not really bear much fruit."
(One, they would have already lost because, with the absorptive capacity of agencies and contractors, they are unable to complete those ambitious projects. Number two, Duterte's pivot to China did not really bear much fruit.)
Under Duterte's flagship Build, Build, Build infrastructure program, only nine out of 119 projects have been completed thus far. Meanwhile, only three out of 14 projects from deals with Beijing were expected to be finished by 2022.
"There was plenty of time for them to change their perspective, to totally change their mindset and worldview to fit the needs of this pandemic, had they given cash [directly to people's pockets]," Rivas added.
In his last SONA, Duterte even admitted that he did "not know what to do" about the pandemic, saying he would have to listen to the task force. (READ: Duterte's longest SONA leaves Filipinos hanging on pandemic recovery) – Rappler.com