'People power...is supposed to be a continued event. We forgot this lesson of people power, but Myanmar is teaching us that again,' says political science professor Arjan Aguirre
Throngs of people pour out on the streets for days, defying the crackdown of a military with only flags, protest signs, hard hats, and a collective message that they will fight for the future of their country. 
These are the scenes coming out of a Southeast Asian country as the world watches a people unbowed by the use of force meant to stifle protest. But while the images are familiar to Filipinos, this is not the EDSA People Power revolt. 
This is Myanmar, where crowds continued to come out on Thursday, February 25, to oppose a military takeover of its democratically elected government despite warnings that seek to sow fear among the youth and workers on strike. 
"Myanmar people are very brave. They have shown that in the past few days, and they will continue to do so. That will exert the number one pressure in the country," said Kavi Chongkittavorn, senior columnist at the Bangkok Post and former editor of the Myanmar Times, in a virtual forum hosted by the East-West Center. 
In the Philippines, February 25 is when Filipinos commemorate the culmination of 4-day demonstrations that toppled dictator Ferdinand Marcos in 1986. But the 35th anniversary of the People Power revolt took place on Thursday without much fanfare.
Philippine President Rodrigo Duterte, along with lawmakers, issued their annual statements as millions of Filipinos continue to cope with various levels of quarantine restrictions that have remained in place for nearly a year. 
Watchdogs have warned for decades since 1986 that democracy in the Philippines was backsliding, with the effects most felt in recent years under the Duterte administration.
Looking deeper at protests in Myanmar, political and social scientists have pointed out that events in the Philippines' neighboring country hold lessons for Filipinos as the nation marks 35 years since EDSA.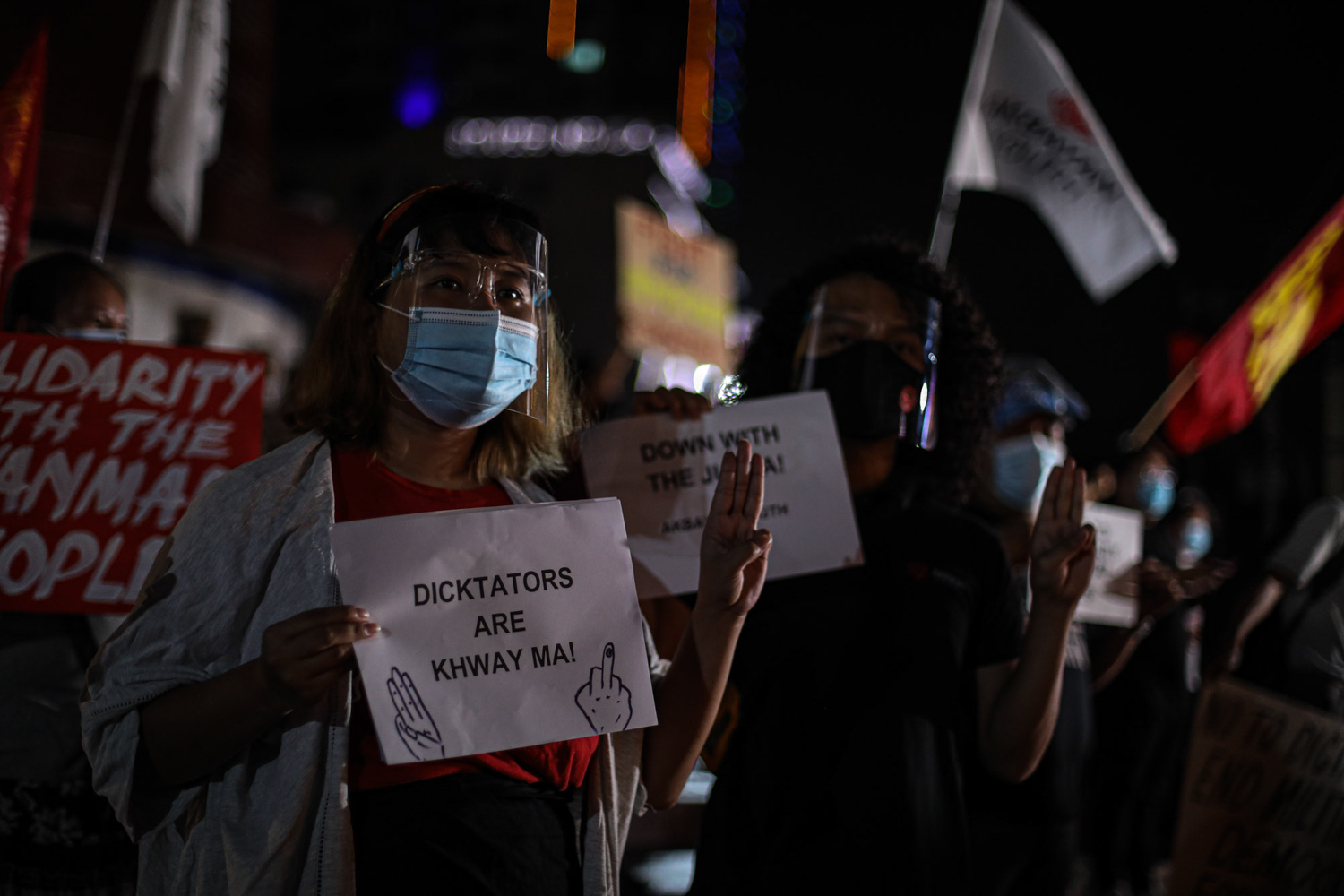 'Bigger than one party, one person'
For Arjan Aguirre, who teaches social movements at Ateneo de Manila University, protests in Myanmar can show Filipinos that "people power" is a legacy that each person must take up, even long after taking to the streets.
"People power is not supposed to have a beginning and end. It is supposed to be a continued event. We forgot this lesson of people power, but Myanmar is teaching us that again," Aguirre told Rappler in an interview.
One difference between today's protests in Myanmar and the protests in the Philippines decades ago, he pointed out, is the history of the people of Myanmar. Mostly closed off from the world and under direct military rule for almost half a century, different generations of Myanmar people have shared histories of standing up to the military in 1988 and again in 2007. 
"They have struggled for a long time. They've had their share of losses and victories, but they are willing to go out again. These are the children of generations that took up past movements," Aguirre added.
University of the Philippines political scientist Maria Ela Atienza echoed this, saying that while the protests in Myanmar were similar to People Power – with civilians showing they were fed up with military rule and military dominance in politics – Myanmar experienced a long history of military rule.
"Myanmar has a longer history of authoritarian and military rule, while in the Philippines, we had 20 years of Marcos dictatorship where a civilian leader had enabled the military and police to be the main implementors of constitutional authoritarianism. But before Martial Law, the Philippines had a long history of electoral democracy," she told Rappler in an interview. 
Soe Myint, editor-in-chief of Myanmar's Mizzima News, said past experiences of living and dealing with the military were a reason why a coup was no surprise for the people of Myanmar.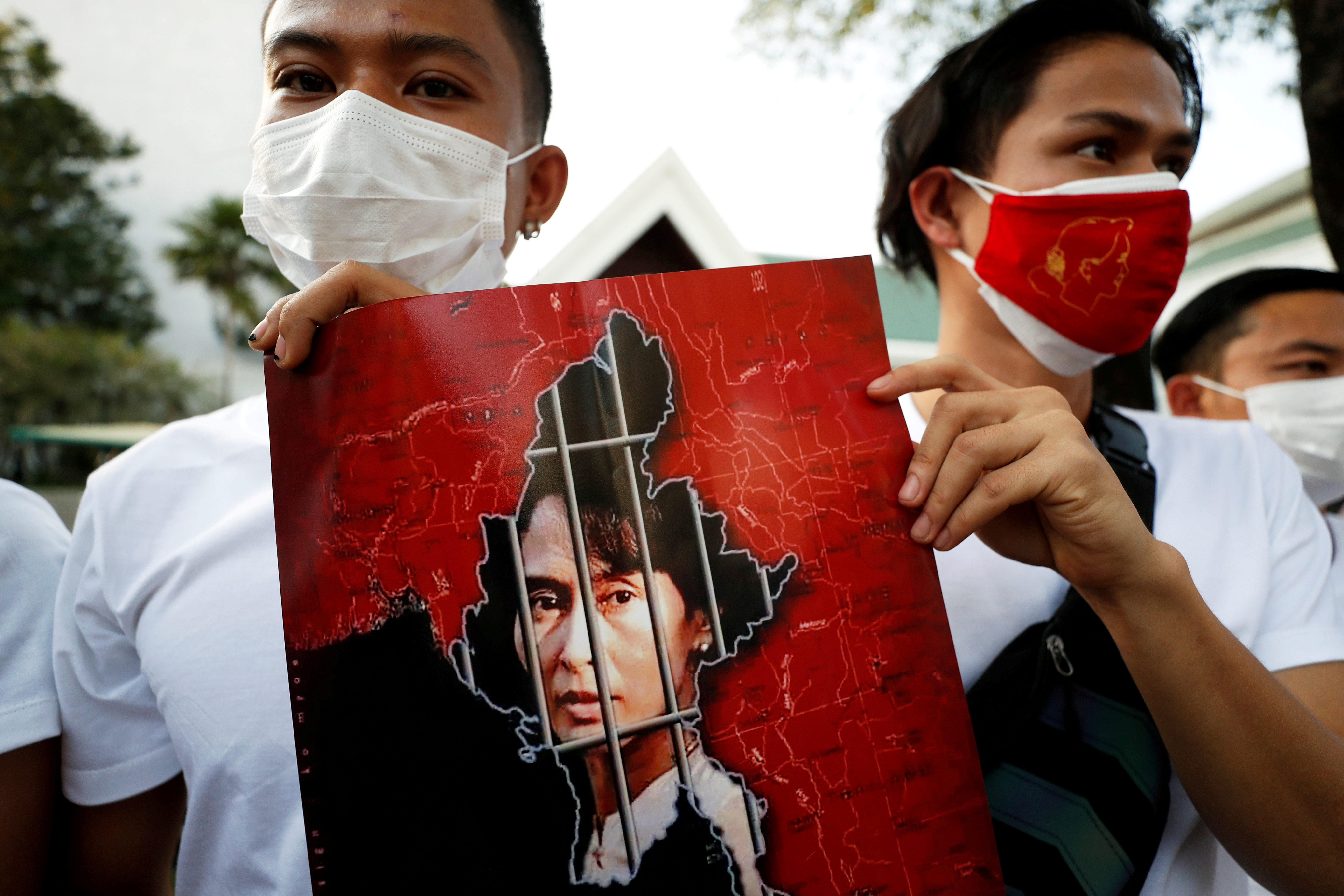 "The military coup – it was not unexpected because we have not achieved our ultimate goal of freedom and democracy in Myanmar. So now that's why we are ready, in a way. People are ready. That's why you will see people from all walks of life coming to the streets to protest against the coup," Myint said in the East-West Center forum.
The Myanmar military had staged its coup on the back of rising tensions over the results of recent elections where the country's civil leader Aung San Suu Kyi and her party won a landslide victory. Along with Suu Kyi, other top officials of the National League for Democracy were detained just hours before Myanmar's parliament was scheduled to convene on February 1. 
But while the military's refusal to accept results of its recent elections served as a trigger, Myint said Myanmar citizens know that fighting and protecting a democracy, no matter how fragile, is bigger than just one person or one leader. 
"It is not a question of a party. It is not a question of an individual. It is not a question of just a limited scope. It is a question of a people's continuous struggle for freedom and democracy and human rights," he said.
People Power legacy
Reflecting on EDSA, Aguirre asked: "(The People Power revolt) is supposed to be our legacy, so we must own it. But how can we own it if there are obvious threats to our welfare, our dignity as human beings…. Nasaan ang ating paninindigan (Where is our resolve) about our freedom?"
Human rights defenders have decried the shrinking civil space in the Philippines as the Duterte administration cracks down on dissent and rights violations flourish under the banner of his anti-illegal-drug campaign. Critics and analysts have also viewed Duterte as the biggest threat to democratic freedoms since Marcos. 
Alongside this, international watchdogs and reports such as the Democracy Index 2017 said that Duterte has "led the way among Asian countries that are infringing democratic values." The World Justice Project Rule of Law Index also noted that under Duterte, the rule of law in the Philippines deteriorated significantly. 
Aguirre said: "This (People Power) is a shared moment, this is a moment shared by many people pero sinasampal tayo ngayon. Kaya 'nyo bang panindigan ang demokrasya, ang freedom ninyo (but we are being beaten now. Can people still fight for democracy, for freedom)?"
Atienza said honoring the legacy of the People Power revolt also means taking up the task of ensuring that Filipinos "defend, institutionalize, and put to practice" what EDSA achieved.
"As we have discovered in 35 years, if we are not vigilant and we do not strengthen institutions and processes supporting democracy and people power, it is so easy to lose to populist leaders promising easy fixes to our social, political, and economic problems," she said.
Aguirre said that while many may remember the EDSA Revolution as historic for its peaceful movement, the 1986 People Power revolt was most powerful for showing the world that the fight for democracy can be done peacefully.
"There have been many non-violent revolutions that have taken place like in Latin America, during the democratization wave in the 1970s. But what makes EDSA 1986 so special is we, the Philippines, really showed that it can be done in a non-violent way," he said. – with research by Razel Suansing/Rappler.com