PART 2: Rappler pieces together the Duterte government's strategy to distribute vaccines to the public
In a global quest to end the coronavirus pandemic, developing a safe and effective vaccine at breakneck speed is only the first step.
Countries across the world now face the challenge of deploying a vaccine to enough people with the goal of stemming the spread of COVID-19.
While efforts of the Philippines to secure enough doses of scarce vaccines is crucial, the success of a public immunization campaign ultimately hinges on vaccination. This includes facing down the massive logistical task of ensuring that vaccines could actually be given to enough Filipinos at the right time, in the right place.
Health Secretary Francisco Duque detailed the government's general strategy to deploy COVID-19 vaccines in at least 4,512 fixed vaccination sites, likening it to elections where voters troop to polling precincts scattered across their communities.
What can the public expect when the first doses of a COVID-19 vaccine arrive in February?
Read Part 1 of our explainer which breaks the government's plans covering the delivery and storage of COVID-19 vaccines below:
In Part 2 of Rappler's explainer, we piece together statements made by various health and task force officials that detail the government's strategy in distributing vaccines to the public.
Here are key things to know:
Where will they be distributed?
After vaccines arrive in the country, they will be stored in the Department of Health's warehouses or storage facilities of 3rd party logistics providers, depending on their required temperature conditions.
From there, vaccines will be deployed to city and provincial health offices, regional health units, hospital sites, as well as other identified locations where vaccinations will take place.
For local government units (LGUs) that secured vaccine deals on their own, supplies ordered will be delivered to their communities, with additional stock from the national government. Vaccine czar Carlito Galvez Jr said the goal here is to help areas reach herd immunity, with cities and provinces recording high infection rates to be prioritized.
When distributing Pfizer and BioNTech's vaccines that need to be kept in -70°C conditions, doses will be brought to regional and city health offices, as well as tertiary hospitals. These are likely where vaccinations will also take place as the Pfizer vaccine can be kept in normal refrigerated temperatures of 2°C to 8°C for up to 5 days only.
Unlike vaccines requiring only 2°C to 8°C or -20°C storage, the Pfizer vaccine will pass through less storage points before delivery to final vaccination sites since minimum handling is required to keep it stable.
Galvez earlier said that the Pfizer vaccine could be deployed only in Metro Manila, Cebu City, and Davao City where the necessary storage facilities are located. This particular vaccine, shown to have the highest efficacy rate of 95% so far, could not be given in certain provinces because they do not have the facilities needed to keep the vaccine stable.
Duque said there are at least 4,512 fixed vaccination sites that have been identified across the country so far – including private and public medical centers, hospitals, infirmaries, rural health units, private clinics, and health facilities of other government agencies. Health officials are considering expanding those sites to include other spaces like public schools, gymnasiums, and community centers.
One big task that remains for the DOH and LGUs is mapping out vaccination sites in their areas. Galvez and the DOH want that done by the end of January or early February 2021.
Meanwhile, for senior citizens and vulnerable groups, the DOH said it is studying the possibility of conducting house-to-house immunization to reach these individuals.
Duque said if the strategy is implemented, it would be the "exception rather than the norm" as the government focuses on using fixed vaccination sites.
Who will give the vaccine?
Based on guidelines crafted by the DOH, each vaccination site will have a minimum of 3 vaccination teams composed of 6 members each.
One team will consist of the following people:
2 members from any of the following: doctors, nurses, or midwives to screen and assess patients
1 member from any of the following: volunteer teacher, social worker, medical student, or other health professional who will ensure patients are made fully aware of the COVID-19 vaccine they are about to receive
1 member from any of the following: doctor, nurse, or midwife from the DOH's regional health unit to administer the vaccine
2 members from any of the following: midwives, barangay health workers, or health staff who will record patients' vital signs and document vaccination activities taking place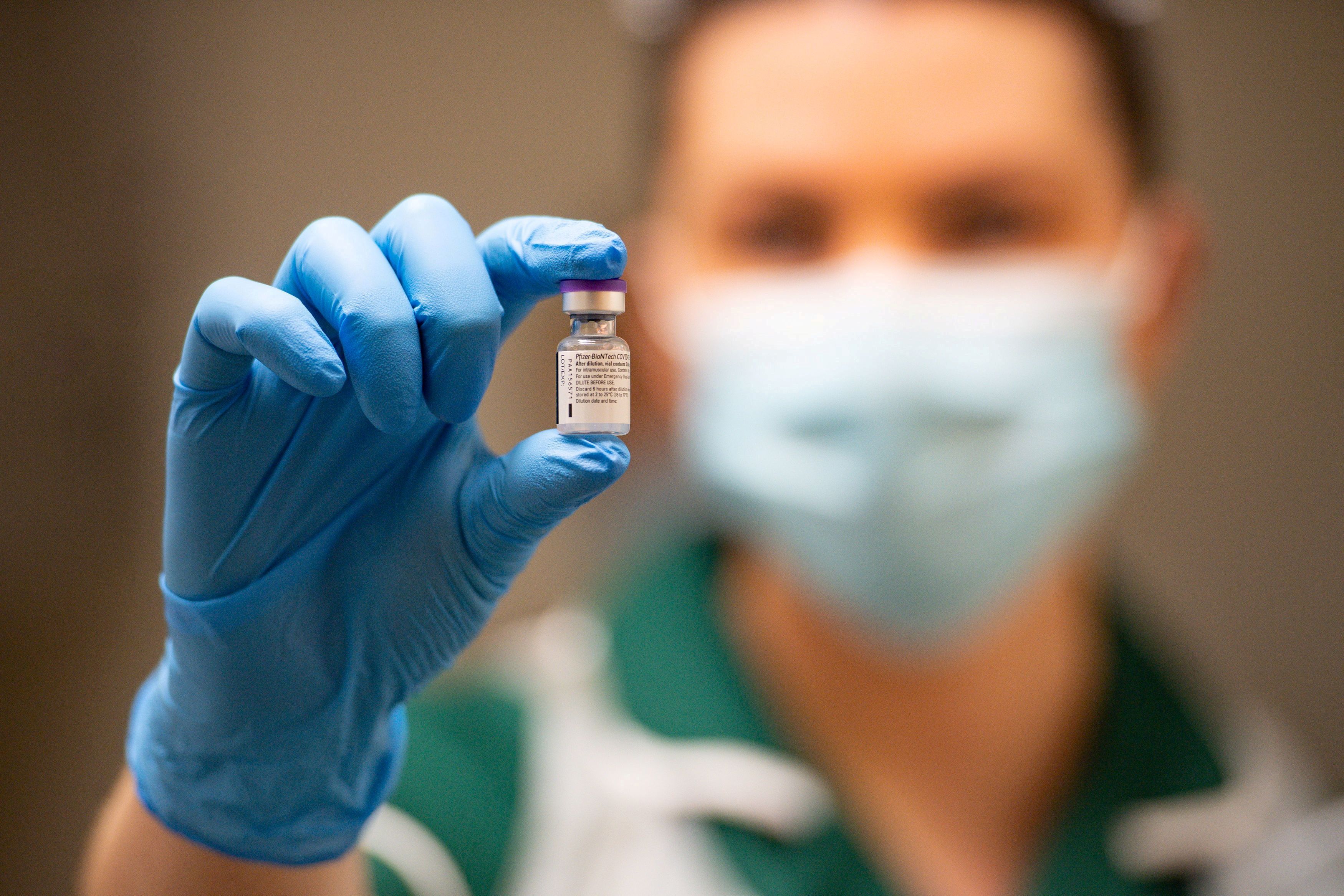 Aside from these, there will be one supervisor for every 3 vaccination teams.
Another 3 separate teams will also be formed, consisting of two people on each team. This group will be in charge of monitoring possible adverse events following immunization in vaccination sites.
The team's two members may be made up of the following health workers:
1 member from any of the following: paramedic, nurse, or midwife
1 member from any of the following: health surveillance officer, nurse, midwife, or pharmacist
Each vaccination team will target to vaccinate at least 100 people a day. The number of teams in a certain vaccination site may also vary according to the needs of communities where they are located, though there should be at least 3 teams operating per site.
Data from the DOH showed there are about 200,000 health workers who can be tapped for the vaccine rollout. Duque said the DOH is also in talks with medical societies and the Philippine Nurses Association to further increase the number of health personnel who can help administer vaccines.
What should I expect when it's my turn to be vaccinated?
Vaccination will follow the government's priority list of groups, with frontline health care workers, senior citizens, indigent populations, and uniformed personnel among the first groups in line.
The DOH earlier explained that its list of priority groups was based on the framework of the World Health Organization's Strategic Advisory Group of Experts on Immunization (SAGE) whose members are tasked with advising the international body on its overall policies and strategies on vaccines.
DOH Undersecretary Myrna Cabotaje said the government's list of priority groups was also crafted with the primary goal of reducing deaths and illnesses in high-risk populations and ensuring that critical essential services in health centers are maintained.
It's worth noting here that not all groups will be vaccinated at the same time since vaccines are expected to be delivered in tranches. Depending on the number of vaccine doses available, supplies will be prioritized according to the order of eligible groups below: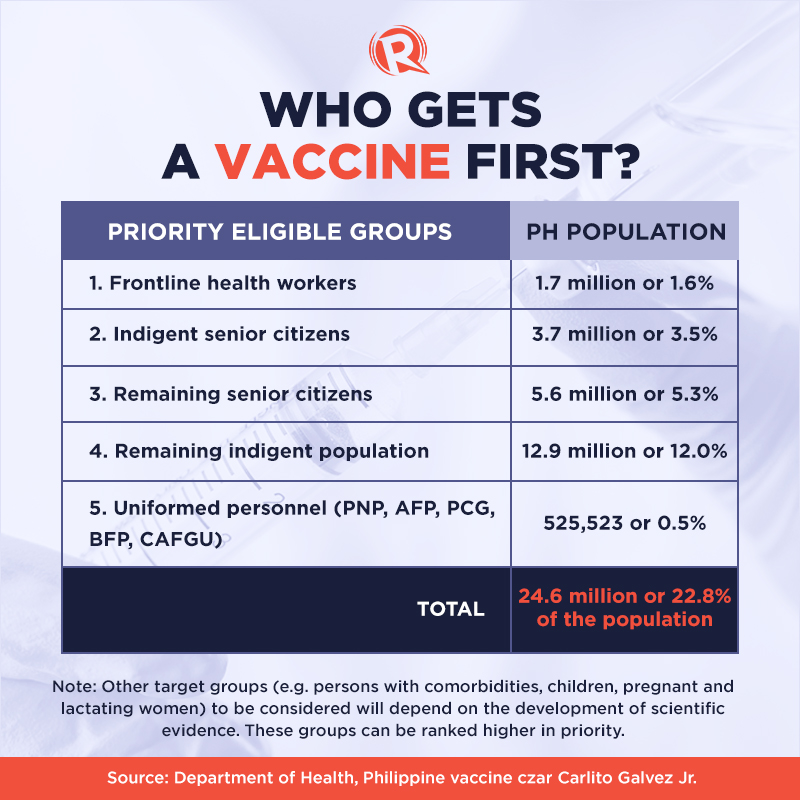 Despite this, Cabotaje gave assurances the DOH is planning for the possibility of adjusting rules on who could receive a vaccine and when, to avoid the experience of other countries where vaccine supplies were wasted due to stringent protocols.
As for doses given to the private sector, Duque and Galvez said companies would need to inoculate their "front line" employees first. This is necessary to comply with agreements made with vaccine companies that want assurances their vaccines will not be given to "privileged populations" first.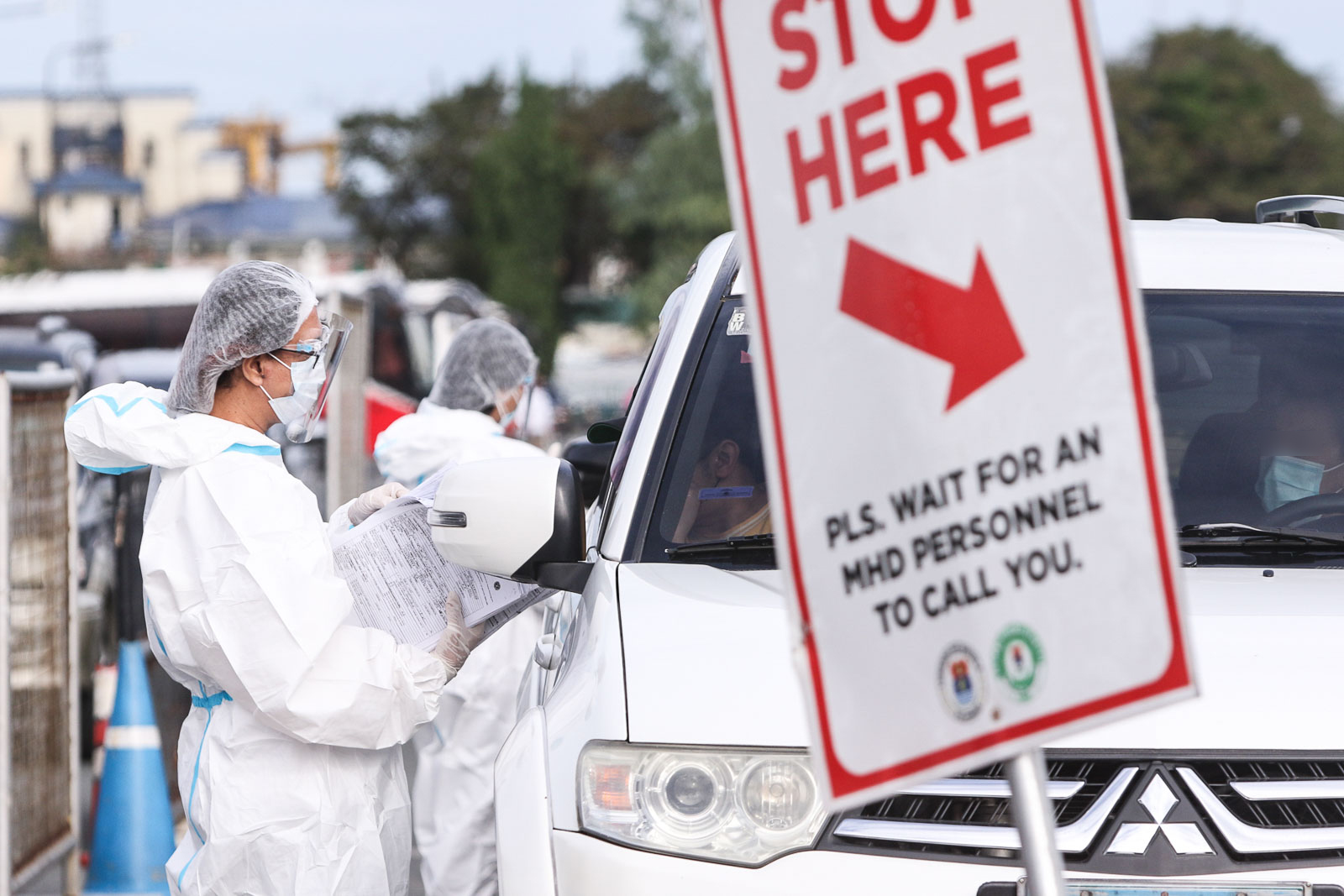 How will I become part of the government's list for vaccination?
The DOH said local government units have been tasked to identify who among their constituents fall into these priority groups for vaccination. Some localities have launched online registration sites where people can sign up to get vaccinated.
The DOH is also coming up with a master list of groups that will receive the vaccine using a platform developed with the Department of Information and Communication Technology.
Cabotaje told lawmakers that while the DOH wants to have a fully digitized platform for its master list, "adjustments" would need to be made to cover individuals who do not have access to smartphones, computers, or the internet. Details on the measures government will be taking to address this have yet to be provided.
Health experts pointed out that a master list was necessary to determine if specific vaccines are needed for certain populations such as high-risk groups and immunocompromised individuals. This is especially crucial after leading vaccines like Pfizer gave notice that its vaccines should not be administered to people with a known history of severe allergic reactions.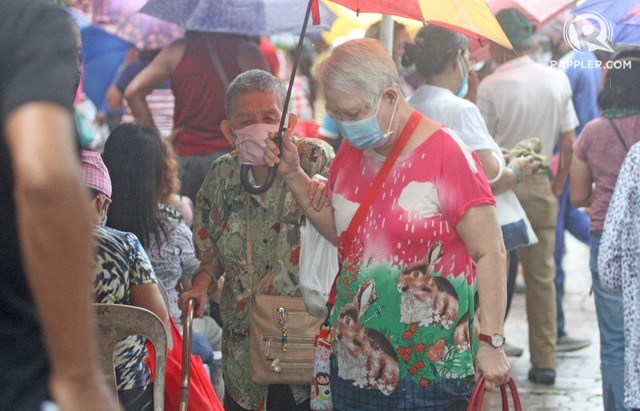 Aside from this, a master list will also be needed to help monitor patients who have been vaccinated to ensure they come back for their second dose. Complete and accurate lists are crucial to monitor for possible side effects and adverse events.
If it's your turn to be vaccinated, Duque said that immunization activities will follow a fixed schedule to lessen congestion and maintain minimum health standards.
A specific date and time will be provided for you to get vaccinated, along with directions to a vaccination site you should go to.
You will also be given cards with a QR code to track your dosing schedule, considering that available vaccines require two doses for full safety and efficacy results to be achieved.
After a second dose is completed, the DOH will give you a vaccination certificate.
What will happen in vaccination sites?
Health officials laid out a proposed setup for people to go through in vaccination sites: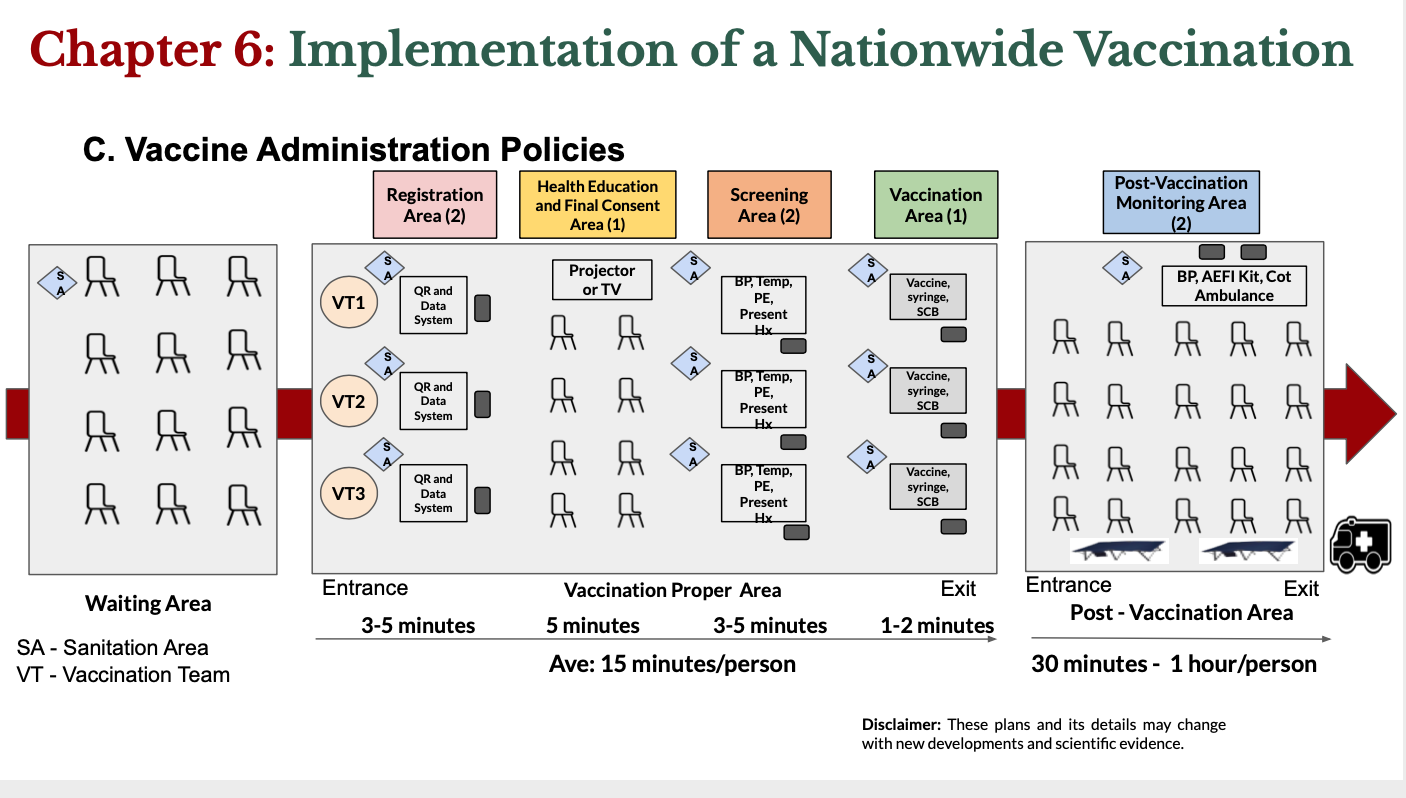 In each location, a waiting area will be set up where people will be stationed before their vaccination.
First step is to register. Here, QR codes on cards given to pre-registered patients will be scanned and the necessary documentary requirements like health declaration forms and informed consent forms will be submitted.
Next is the pre-vaccination "health education and final consent area" where patients can ask questions about the vaccine they are about to receive and seek counseling about any concern. At this point, patients will also be informed about possible side effects and will watch a video explaining COVID-19 vaccines before signing a final consent form.
After this, patients move on to a screening station where their medical history will be recorded and a quick physical examination will be done.
Next is the vaccination stations where a trained doctor, nurse, or midwife from the DOH's regional health unit will administer vaccines to patients. Before moving on, health workers will encode details about a patient's vaccination, including the date they were given their first dose (if they have had an earlier vaccination) and when they should come back for a second dose (if it is their first time).
Before leaving the vaccination sites, patients will be made to wait in a "post-vaccination area" set up for health workers to monitor and respond to any possible adverse event that may occur after immunization. Health workers will monitor patients for about 30 minutes to 1 hour.
Ideally, it may take about 1 hour and 30 minutes for each person to complete all steps in a vaccination site.
The DOH said vaccination activities will take place over the course of 7-day campaigns, at least 21 to 28 days apart for vaccines that require two doses. Galvez added that 24/7 shifts may take place to cover all individuals part of eligible populations who will receive the vaccine first.
Meanwhile, Cabotaje said the proposed flow was the DOH's framework in administering vaccines at fixed sites. She emphasized that detailed planning and changes may be made to suit the needs and resources of LGUs.
What happens after I get vaccinated?
Patients vaccinated will be monitored for about a year afterwards.
It's important to remember that COVID-19 vaccines being used are still under emergency approval. This means that one of the conditions for their use outside trials includes very close monitoring of patients.
Health officials earlier explained that a national committee headed by experts had been formed to manage and review adverse events following immunization. The DOH added that health surveillance would be both "active" and "passive," meaning each patient will be followed up, instead of only relying on people to report possible side effects or adverse events.
Surveillance will also be done at different levels, depending on how severe some reactions may be.
For instance, people who experience minor adverse events will be monitored weekly, while those with serious reactions within 24 to 48 hours will be closely watched for the necessary health response needed.
The national adverse events following immunization committee (NAEFIC) is responsible for reviewing and providing assessments of serious cases to determine whether or not adverse reactions were caused by the vaccine.
The committee is likewise expected to provide guidance to health officials on how to improve the delivery of immunization services, safety-related performance of vaccines, and management of patients experiencing serious side effects.
At congressional hearings, Duque asked lawmakers to craft an "indemnification fund" for people who may experience serious adverse events after getting immunized. Money from this fund will be used to compensate patients and cover the cost of treatment.
How is government preparing so far?
Galvez said agencies and officials involved in the rollout of vaccines would conduct simulations of distribution and deployment in the latter half of January. Some cities eyed for a rehearsal include Pasig and Taguig, while cities in the Visayas and Mindanao are being identified.
As part of the simulation, the retired general said officials will conduct time and motion rehearsals, including staged executions that will practice transport of vaccines from the airport, all the way to warehouses and health sites.
Meanwhile, various local officials are also holding their own simulation exercises for a vaccine rollout.
Galvez said the government would set up a vaccine "war room" at the Armed Forces of the Philippines' clubhouse in Camp Aguinaldo to monitor the distribution and deployment of vaccines from their transport to warehouses, all the way to when people get vaccinated.
Galvez committed that all agencies involved in the massive rollout should be ready by January 30. With the arrival of vaccines only weeks away, the clock is ticking. – Rappler.com