PART 1: Rappler sifts through plans of officials involved in addressing the pandemic, particularly how vaccines will be delivered and stored in the country
In February, the Philippines will embark on its biggest mass immunization campaign yet, as it prepares to dole out coronavirus vaccines that could end the health emergency – but not without testing the country's strained health system and pandemic response once more.
To get a picture of the scale of the challenge, consider this: Department of Health (DOH) Undersecretary Myrna Cabotaje said the largest vaccination campaign the government has ever conducted, so far, involved inoculating about 29 million Filipinos. Annual routine immunization programs aim to reach about two million children nationwide.
But targets for a mass vaccination campaign against COVID-19 eclipse these figures, as the campaign aims to cover from 50 million to 70 million Filipinos in 2021 alone. Its desired end stage has a much more ambitious goal: reaching all 110 million Filipinos spread across the archipelago by 2024.
For the unprecedented task, the government has partnered with the private sector to facilitate requirements needed for storage, delivery, to actual distribution and tracking of vaccines.
In Part 1 of this explainer, Rappler sifts through plans of key officials involved in addressing the pandemic, particularly how vaccines will be delivered and stored in the country. In part 2, we will detail the government's strategy for distributing vaccines from storage facilities to the public.
Which vaccines may arrive first?
In a best case scenario, doses of Pfizer and BioNTech's vaccine may be the first to arrive in the Philippines come February. Vaccine czar Carlito Galvez Jr said this could happen through the Gavi COVAX facility which planned to supply doses to low-income countries for an early rollout.
Pfizer is, so far, the only company that has secured emergency use authorization (EUA) for its COVID-19 vaccine from the Food and Drug Administration (FDA) – a requirement necessary for any vaccine to be used on the public.
Aside from the Pfizer vaccine, Galvez said Sinovac and AstraZeneca's vaccines may be next to arrive in the country, considering that doses for the two vaccines were already secured in negotiations.
Both Sinovac and AstraZeneca still need to be cleared by the FDA. FDA Director General Eric Domingo said the agency is waiting for Phase 3 trial data from Sinovac before it can move on to a full review, while AstraZeneca's EUA application is currently under evaluation.
How will vaccines be brought to the Philippines?
Galvez said delivery of vaccine supplies will be the responsibility of vaccine companies and manufacturers, based on current negotiations being finalized.
Once vaccines arrive in the Philippines, officials will take up to 15 days to inspect the items, he said. At the House of Representatives and Senate, Galvez also asked lawmakers to pass legislation that would ensure the speedy release of doses from Customs, recalling similar past experiences where personal protective equipment couldn't get to hospitals that needed them because of Customs requirements.
Experts warned the rollout of vaccines could be severely delayed, and the quality of supplies compromised, if necessary measures were not taken to prevent the items from being held up in Customs.
Where will vaccines be stored?
Health experts identified two strategies for storing vaccines, depending on their required temperature conditions.
The first covers vaccines that need storage temperatures of 2°C to 8°C and -20°C. For these, suppliers will transport doses to the Department of Health's (DOH) rented private warehouse or the Research Institute of Tropical Medicine (RITM), which is the main storage location of vaccines used for the government's National Immunization Program.
From here, vaccines will be transported to the DOH's 17 centers for health development that serve as regional hubs.
Citing their experience in storing vaccines for measles, polio, and other routine immunizations, the DOH earlier said there are enough storage facilities in the country for vaccines that need to be kept at 2°C to 8°C and -20°C. These include main sites in Metro Manila, regional centers, as well as provincial capitols.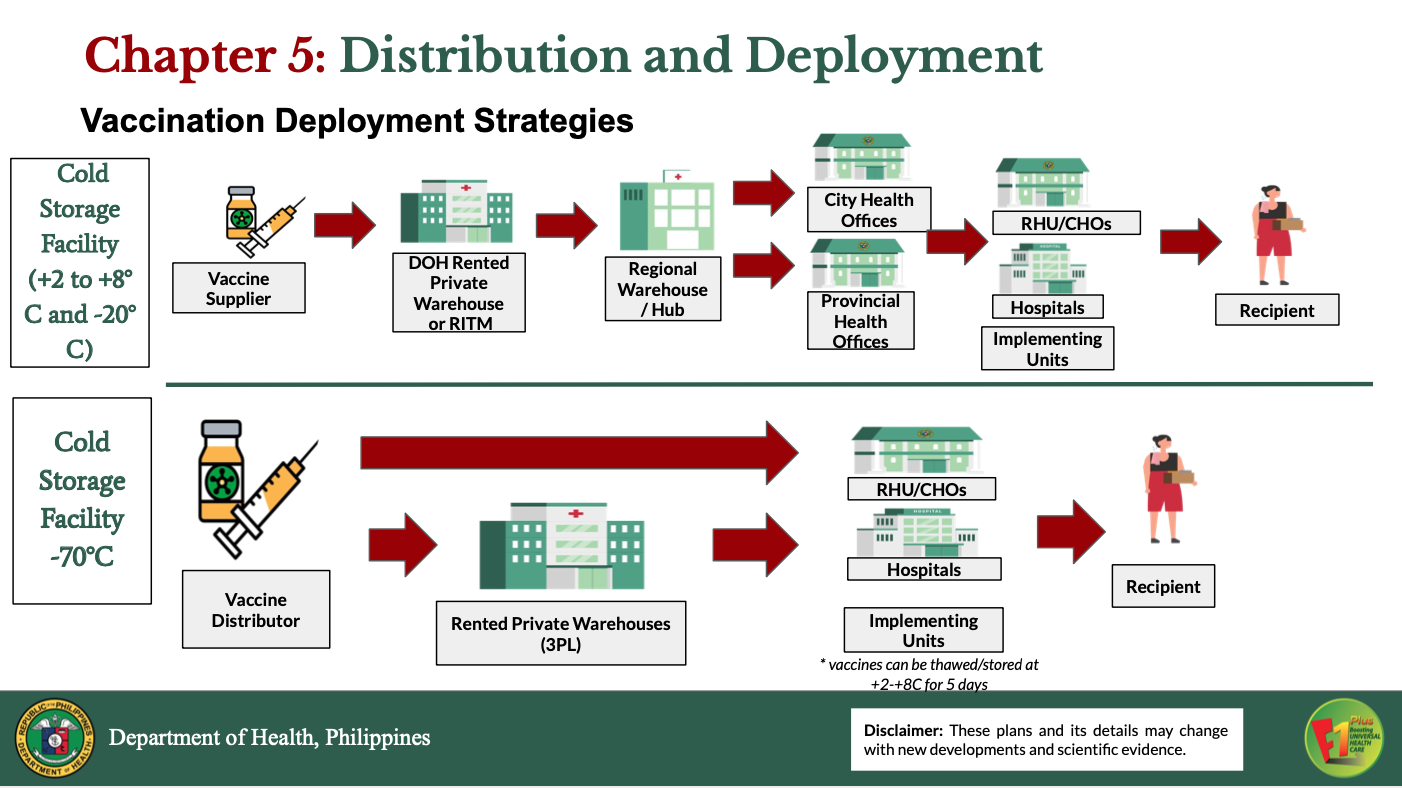 What about vaccines needing ultralow temperature storage?
As for vaccines that will require -70°C or ultracold storage facilities, like those of Pfizer and BioNTech, distributors will transport doses to private warehouses of third party logistics providers tapped by the government.
The DOH said final terms of agreements are still being discussed with companies with extensive experience in handling pharmaceutical products, including Zuellig Pharma Group, Royal Cargo, Orca, Maersk, LBC, and Metro Pacific, among others.
This comes on top of the 10 ultralow freezers the government procured to store more vaccine doses requiring frigid temperatures, and 5 ultralow units available in RITM, that can store over 1.1 million doses.
In an interview with Rappler, Zuellig chief business officer Jannette Jakosalem said the company has ordered 10 ultralow freezers that can each store about 400,000 to 500,000 vaccine doses. Zuellig Pharma – the biggest distributor of pharmaceutical goods in the Philippines – also has plans to purchase 4 more ultralow freezers for use in Cebu City and Davao City.
Partnerships with the logistical companies will be even more crucial in August, when the DOH will need assistance in storing vaccines needing storage temperatures of 2°C to 8°C.
Duque earlier said that the DOH expected vaccines for its regular immunization programs to arrive by then, and that it was crucial for these child vaccination programs to continue amid a COVID-19 vaccine rollout. (Conclusion: Part 2 | How COVID-19 vaccines will get from warehouses to you) – Rappler.com