This is AI generated summarization, which may have errors. For context, always refer to the full article.
The link doing the rounds on Facebook is fake. The e-commerce giant is celebrating only its 27th anniversary in 2021.
At a glance
Claim: Amazon is giving free gifts to everyone in celebration of its 30th anniversary in 2021.
Rating: FALSE
The facts: The website offering the promo is fake. Amazon has been operating since 1994 and will celebrate only its 27th anniversary on July 5, 2021.
Why we fact-checked it: The link has been circulating on Facebook and messaging apps since May. As of writing, the link has over 526,00 total interactions.
Complete details
Website cpcb0y.17clean.net falsely claims that e-commerce giant Amazon is giving "free gifts for everyone" in celebration of its 30th anniversary.
The link has been circulating on messaging apps and Facebook groups since May 2021. Data from social media monitoring tool CrowdTangle show that the link has accumulated over 526,000 total interactions across Facebook, Instagram, and Reddit, as of writing.
Once clicked, the link redirects to a website that looks like Amazon's where users are offered prizes if they participate in a survey. One of the supposed prizes is a brand new Huawei Mate 40 Pro 5G.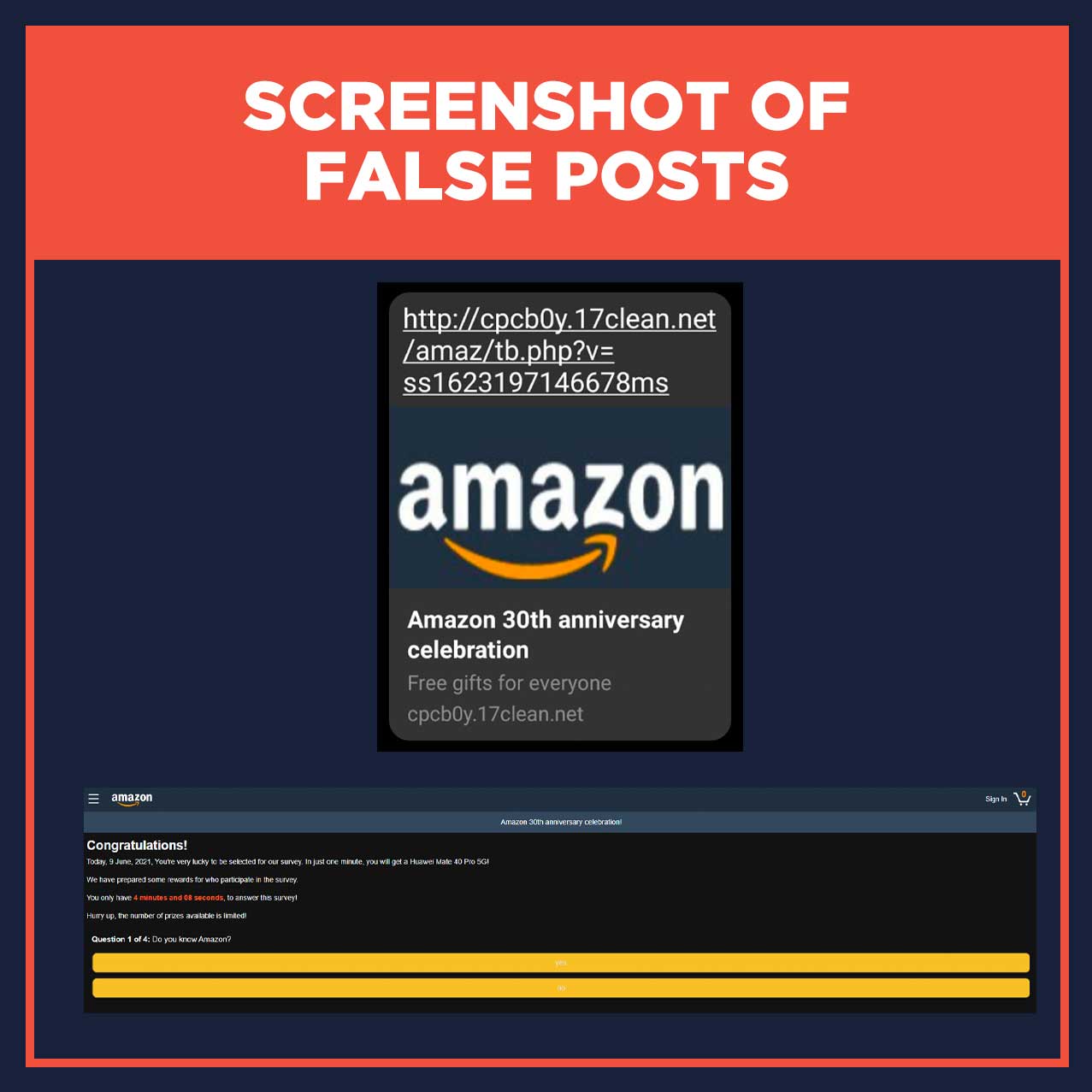 This is false.
The webpage cpcb0y.17clean.net is a fake Amazon link. The e-commerce giant's official website is amazon.com, as provided on Amazon's verified Facebook account.
The company is celebrating its 27th anniversary in July 2021, three years short of what the dubious link is claiming. A video from Yahoo Finance published in 2019 said that Amazon CEO Jeff Bezos founded the company in July 1994.
Amazon's verified channels did not announce anything about online giveaways for the brand's supposed 30th anniversary. There are also no news reports from legitimate news organizations about the said event.
Rappler debunked a similar scam that circulated on Facebook in May that claimed luxury watchmaker Rolex was giving away free watches in celebration of its 100th anniversary.
For information about Amazon's official promotions, refer to its verified Facebook page and official website. – Lorenz Dantes Pasion/Rappler.com
Lorenz Dantes Pasion is a Rappler intern. This fact check was reviewed by a member of Rappler's research team and a senior editor. Learn more about Rappler's internship program here.
Keep us aware of suspicious Facebook pages, groups, accounts, websites, articles, or photos in your network by contacting us at factcheck@rappler.com. Let us battle disinformation one Fact Check at a time.