Diokno chairs the Free Legal Assistance Group, an organization of human-rights lawyers which has represented individuals previously or allegedly part of far-left groups
At a glance
Claim: Human rights lawyer Chel Diokno is a defender of the New People's Army (NPA).
Rating: MISSING CONTEXT
The facts: While Diokno has represented former and alleged members of the NPA, his work pertains entirely to human rights cases.
Why we fact-checked this: A post claiming this has gotten 294 reactions, 262 comments and 43 shares, as of writing. Diokno has often been red-tagged.
Complete details
The Facebook page of blogger Alon Calinao Dy claims that human rights lawyer Jose Manuel "Chel" Diokno is a defender of the New People's Army (NPA). The claim, posted on June 18, 2021, has 539 reactions, 405 comments and 17 shares at the time of writing.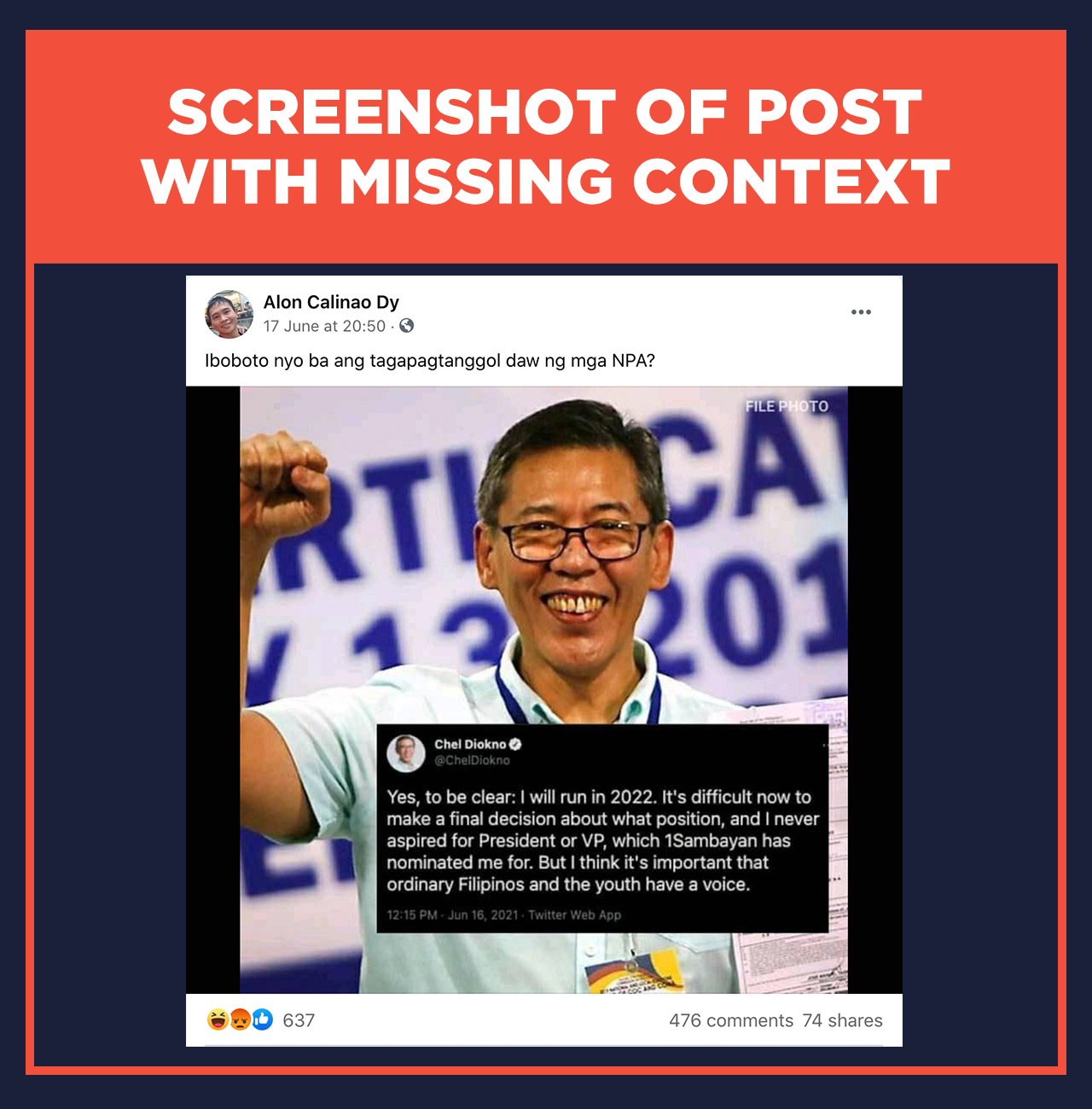 Diokno has also been a victim of red-tagging as a result of his open criticism of President Rodrigo Duterte's policies. In 2019, Diokno was falsely accused of being the head of the NPA. Another 2021 post also called Diokno the protector of the Communist Party of the Philippines and the NPA.
This claim is missing context.
Diokno has long been the chairperson for the Free Legal Assistance Group. FLAG has represented individuals previously or allegedly part of far-left groups throughout Diokno's tenure.
In 2007, Diokno represented the Manalo brothers, who were abducted and tortured for allegedly belonging to the NPA. The brothers were never formally charged. In 2015, retired Army Major General Jovito Palparan and eight others were indicted for the brothers' kidnapping and serious mistreatment.
In 2020, Diokno represented former NPA head Rodolfo Salas in the Supreme Court. FLAG said that Salas' right to due process was violated because he was not given an opportunity to answer the charges against him. On March 16, 2021, the court granted bail him bail, although he is facing the typically non-bailable charge of murder.
Dioko has also denied that he is a "communist lawyer." Diokno explained: "[People] seem to define me by my clients, like a form of guilt by association. They don't know I've also represented officers of the Navy, Army, and the PNP (Philippine National Police). I personally don't see that I'd be partial in terms of those kinds of cases."
In 2020, Diokno raised legal questions over the shooting of a retired soldier who had post-traumatic stress disorder (PTSD).
Diokno is running in the 2022 elections, although he hasn't specified for what position. – Jose Atienza/Rappler.com
Jose Atienza is a Rappler intern. This fact check was reviewed by a member of Rappler's research team and a senior editor. Learn more about Rappler's internship program here.
Keep us aware of suspicious Facebook pages, groups, accounts, websites, articles, or photos in your network by contacting us at factcheck@rappler.com. Let us battle disinformation one fact check at a time.