While some say Lapulapu may have been from Borneo or Sulu, there is no historical record yet proving this
At a glance
Claim: Lapulapu was a Tausug from Mindanao
Rating: FALSE
The facts: There are many legends and folklore on the origins of Lapulapu, but the only existing historical document on Lapulapu says he was a chieftan from Mactan. 
Why we fact-checked this: Bong Go, a senator, publicly stated a story on the origins of Lapulapu not based on fact, during an event commemorating the 500th anniversary of the Battle of Mactan in Cebu on April 27, 2021.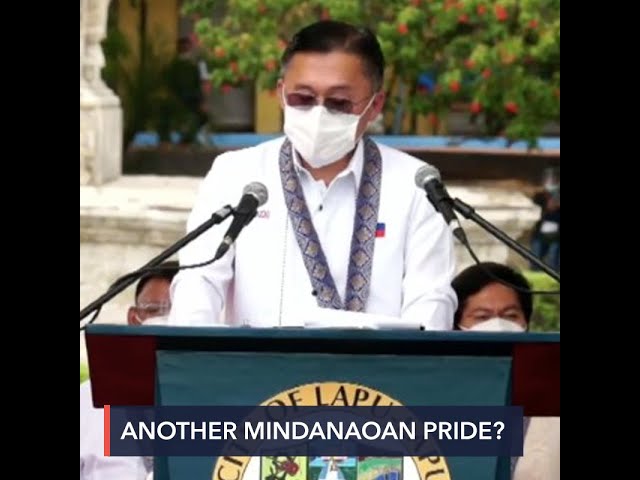 Details
At the 500th anniversary of the Battle of Mactan on Tuesday, April 27, Senator Bong Go claimed that Lapulapu, the chieftain of Mactan, was actually from the Tausug ethnic group of Mindanao.
"Kami po ni pangulong Duterte ay mga Mindanaoan, kami rin po ay mga Bisaya. Meron din po tayong dapat ipagmalaki (President Duterte and I are Mindanaoan and Bisaya. We also have something to be proud of)," Go said during his speech in Lapulapu City, Cebu.
"Batay sa isang bersyon ng kasaysayan na pagaaral ng dalubhasang si Abraham Idjirani, ang dating East King of Sulu na siyang nagbabantay sa 707 islands sa buong Pilipinas ay nagutos kay Lapulapu na magmasid kung bakit may mga dayuhan na dumaong sa ilang isla natin, kasama na ang Mactan," the former presidential aide said.
(According to one version of history that was studied by expert Abraham Idjirani, the former East King of Sulu, who was watching the 707 islands of the Philippines, ordered Lapulapu to observe why there were foreigners arriving in the islands, including Mactan.)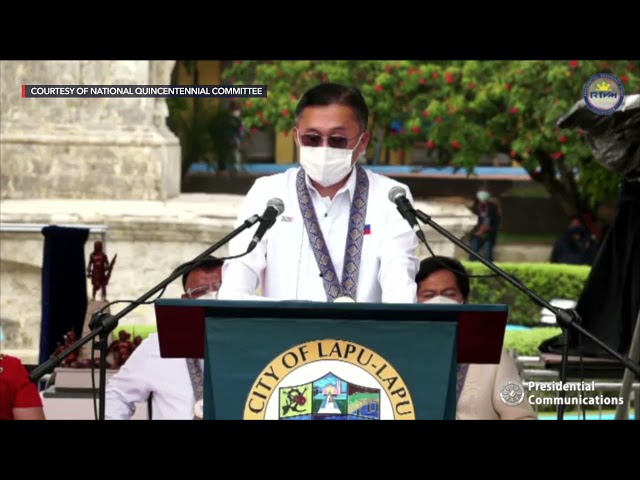 "Mula sa Sulu, nagsama nang maraming mandirigma ang Tausug na si Lapulapu sakay ng bangka, sinalubong sila ng mga tauhan ni Ferdinand Magellan [at] naganap ang Battle of Mactan, kung saan namatay si Magellan, at itinanghal na bayani si Lapulapu dahil sa pagtatanggol 'nya sa isla ng Pilipinas. Kabahagi ang mga taga-Mindanao sa tagumpay," Go added.
(From Sulu, many fighters joined the Tausug Lapulapu on his boat; they were greeted by the men of Ferdinand Magellan and the Battle of Mactan ensued – where Magellan died and Lapulapu was hailed a hero for defending an island of the Philippines. Mindanaoans are part of that victory.)
This claim is false.
There is no historical evidence to prove that Lapulapu came from Sulu.
Rappler asked Cebu-based anthropologist Jobers Bersales of the University of San Carlos (USC) where Lapulapu was from.
Bersales answered, "He's from Mactan."
He also wrote in a public Facebook post after the event, in Cebuano, "Why don't you folks believe Lapulapu is from Mactan? Why does he have to be Tausug or Bornean? Do you view people from Mactan as cowards?"
As for the "expert" Abraham Idjirani cited in Go's speech, he was not a historian, but the spokesperson of the Sultanate of Sulu.
Idjirani was frequently quoted in news reports during the 2013 Lahad Datu standoff, where armed men of Jamalul Kiram III, one of the claimants to the throne of the Sultanate of Sulu, went to Sabah and engaged Malaysian security forces in an armed standoff.
Regarding the "707" islands of the Philippines Go mentioned, he probably misspoke and meant "7,107 islands," the old count of the number of islands in the Philippines. The National Mapping and Resource Information Authority of the Philippines officially updated this number to 7,641 in 2017.
However, at the time Portuguese explorer Ferdinand Magellan got lost in Cebu, the territory we now know as the Philippines did not yet exist.
There is currently no historical evidence to support the claim of Go that a king (or sultan) of Sulu sent Lapulapu to supposedly check on foreigners in Mactan in 1521.
Neither was Mactan a part of the Sultanate of Sulu.
According to a 2019 Cebu Daily News column by Bersales, Italian scholar and explorer Antonio Pigafetta, who kept the only written primary record of Lapulapu's existence, was probably not interested in the genealogies of native chiefs at the time.
"Then and now we recall kinship by saying 'taga' (from) or 'kang' (of) or 'anak ni' (son/daughter of) or 'apo ni' (grandson/daughter of), 'igsoon ni' (brother/sister of), etc," Bersales said. "Without the contraption of a family name, try building your family tree using those qualifiers and I wish you the best of luck."
Aside from the Battle of Mactan, there is little else known about Lapulapu's origins except that he was a chieftain of Mactan.
"Given this vacuum, therefore, came attempts at filling it up by inventing history, cloaking it as folklore handed down from one's grandparents or, in the case of the story of the 10 Bornean datus, from an old trunk full of papers," the USC anthropologist and historian explained.
Bersales also said that a similar claim, in which Lapulapu was actually from Borneo, is not backed by documentary evidence.
Additional context
While some communities in Mindanao may believe Lapulapu was actually a Muslim from there, based on oral tradition, there has been no historical evidence presented yet to back up this claim.
Bersales has pointed out in several columns and forums that much of what we know of Lapulapu is based on folklore and not on actual historical record.
Fellow historian Ambeth Ocampo echoed this in a 2018 Inquirer column.
"What Filipinos have lost in the European historical record, we have regained with a vengeance through tradition and oral lore that make Lapulapu not just a hero of Mactan or Cebu, but a national hero for all Filipinos," he said. – Rappler.com
Editor's Note: An earlier version of this story inadvertently described the Sultanate of Sulu as "defunct." We have corrected this error by deleting this adjective.