Ballots were counted manually during Myanmar's 2020 elections, and Smartmatic has never provided services in that country
At a glance:
Claim: Myanmar used Smartmatic machines during their allegedly fraudulent elections in November 2020.
Rating: FALSE
The facts: Votes were cast via paper ballots and counted manually at polling stations. 
Why we fact-checked this: Facebook page "Filipino Future" made the claim on February 3, just as Myanmar's military seized power. As of writing, the post has a little over 200 interactions.
Complete details:
A Facebook page "Filipino Future" posted on February 3 that Myanmar used Smartmatic machines in their allegedly fraudulent national elections in November 2020. (READ: Myanmar general repeats pledge of new election as thousands join protests vs coup) 
The post said: "Alam nyo ba kung bakit tinakeover ng Burmese Military ang kanilang bansang Myanmar (Burma) sa pamamagitan ng kudeta at nagdeklara ng Martial Law? Dahil nakita nila ang pandaraya ng mga Democratic politicians (Liberals) sa kanilang election noong November 8, 2020 gamit ang Smartmatic machines." (Did you know why the Burmese military took over Myanmar (Burma) through a coup and declared Martial Law? It's because they saw how the Democratic politicians (Liberals) cheated in their national elections on November 8, 2020, using Smartmatic machines.)
The post linked the issue to Vice President Leni Robredo's election victory in 2016 and alleged that she won that election due to fraud. The Philippines used Smartmatic technology in that election. Robredo's opponent, Bongbong Marcos, filed an electoral protest, but the initial recount of votes in the 3 pilot provinces chosen by Marcos widened Robredo's lead over him by more than 15,000 votes.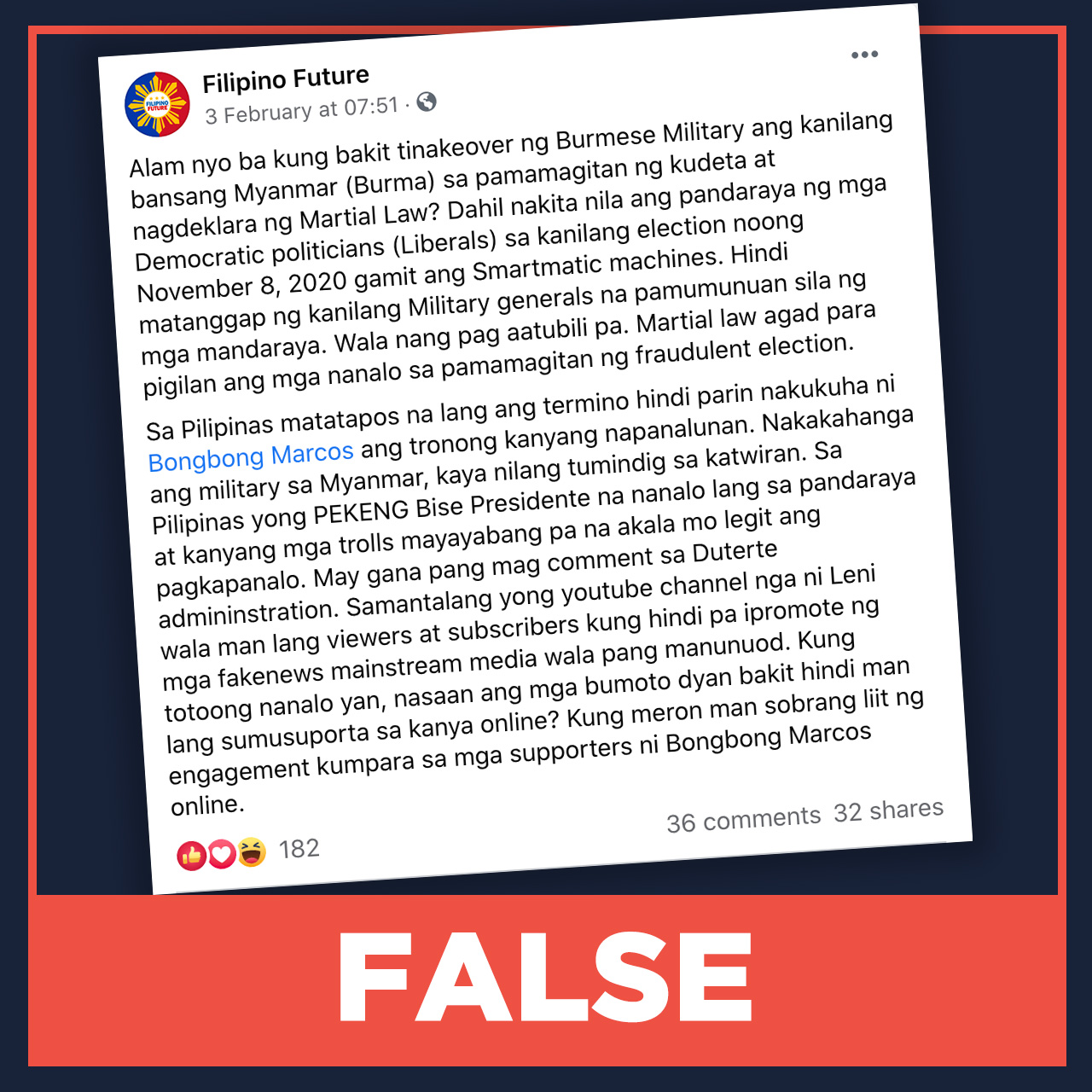 The post, put up following the news of a military takeover in Myanmar on February 1, has garnered 181 reactions, 36 comments, and 32 shares as of writing. The page "Filipino Future" has 133,105 followers.
The claim is false.
Myanmar did not use Smartmatic machines for their November 2020 national elections. They used paper ballots and counted the votes manually at polling stations. 
According to a fact sheet released by the International Institute for Democratic and Electoral Assistance – Myanmar in 2020, each voter was required to collect his or her  ballot, stamp it, and then cast it in a ballot box. There was no mention of an electronic voting machine.
A copy of the 2020 Union Election Commission Polling Manual, published by the Myanmar Electoral Resource and Information Network on September 29, 2020, also outlines the manual vote counting process. It does not mention counting of ballots using machines.
In a report published on November 10, 2020, CNN featured a photo of an official from the Union Election Commission manually counting ballots at a polling station in Yangon, Myanmar, on November 8.
Smartmatic also denied the claim in a fact check published on February 1 by Snopes, a signatory to the International Fact-Checking Network (IFCN): "Smartmatic had no involvement in Myanmar's 2020 elections. In fact, Smartmatic has never provided any election technology or services to authorities in that country. Any claim to the contrary is simply false."
Factcheck.org, another IFCN signatory, also debunked the claim in an article published on February 3.
The Myanmar election commission has denied allegations of fraud in the 2020 election. In an article by Reuters published January 28, the commission said "there were no errors big enough to impact the credibility of the vote." 
Rappler has fact-checked the page "Filipino Future" multiple times before on false claims, such as the Philippine economy got worse after the late dictator Ferdinand Marcos was ousted and that Philippine water is rich in deuterium. – Isabelle Mae Amora/Rappler.com
This article was written by a volunteer of Rappler's fact-checking mentorship program, a 5-week exclusive and hands-on training on detecting, investigating, and verifying online misinformation and disinformation.
Keep us aware of suspicious Facebook pages, groups, accounts, websites, articles, or photos in your network by contacting us at factcheck@rappler.com. Let us battle disinformation one fact check at a time.