Messenger RNA or mRNA vaccines like Pfizer do not contain a weakened virus that can cause viral shedding
At a glance
Claim: Pfizer messenger RNA (mRNA) vaccines cause viral shedding.
Rating: FALSE
The facts: Viral shedding can only occur when a vaccine contains a weakened version of the virus. mRNA vaccines do not use a live virus that causes COVID-19.
Why we fact-checked this: The video containing this claim has over 31,000 views, 2,600 reactions, and 2,000 comments on Facebook, as of writing.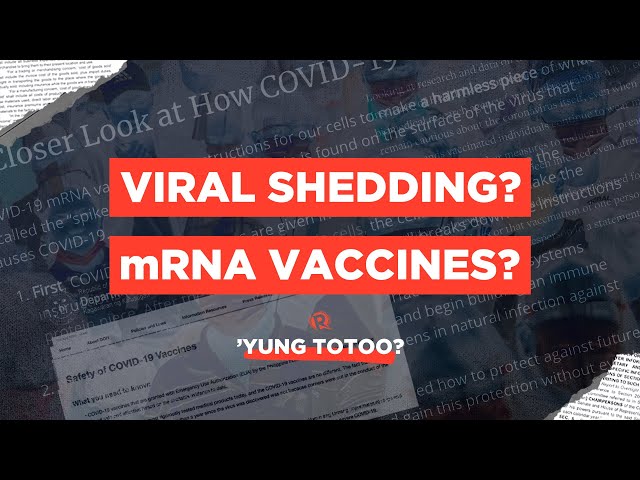 Complete details
A video livestreamed on Thursday, July 15, by Facebook user Lynn Agno falsely claims that mRNA vaccines like Pfizer cause viral shedding, which can infect unvaccinated people with the coronavirus.
In the video, Agno says that the Pfizer vaccine trial showed viral shedding happens to people vaccinated with mRNA vaccines. Agno also says the group "America's Frontline Doctors" confirms the claim.
The video is titled: "…may viral shedding na nangyayari!!! Meaning lalabas ang particles ng SPIKE PROTEINS mula sa katawan ng NABAKUNAHAN at mapupunta sa HINDI PA NABABAKUNAHAN sa pamamagitan ng 'SKIN CONTACT' at 'INHALATION' na pwede mag cause ng AUTO IMMUNE DISEASES…Mag ingat at lumayo sa mga naturukan!!!"
(Viral shedding is happening! This means particles of spike proteins will be released from the bodies of those vaccinated and will transfer to the unvaccinated through "skin contact" and "inhalation" that can cause autoimmune diseases. Be careful and avoid vaccinated people!)
Data from social media monitoring tool CrowdTangle show that the video has over 31,000 views, 2,600 reactions, and 2,000 comments on Facebook, as of writing.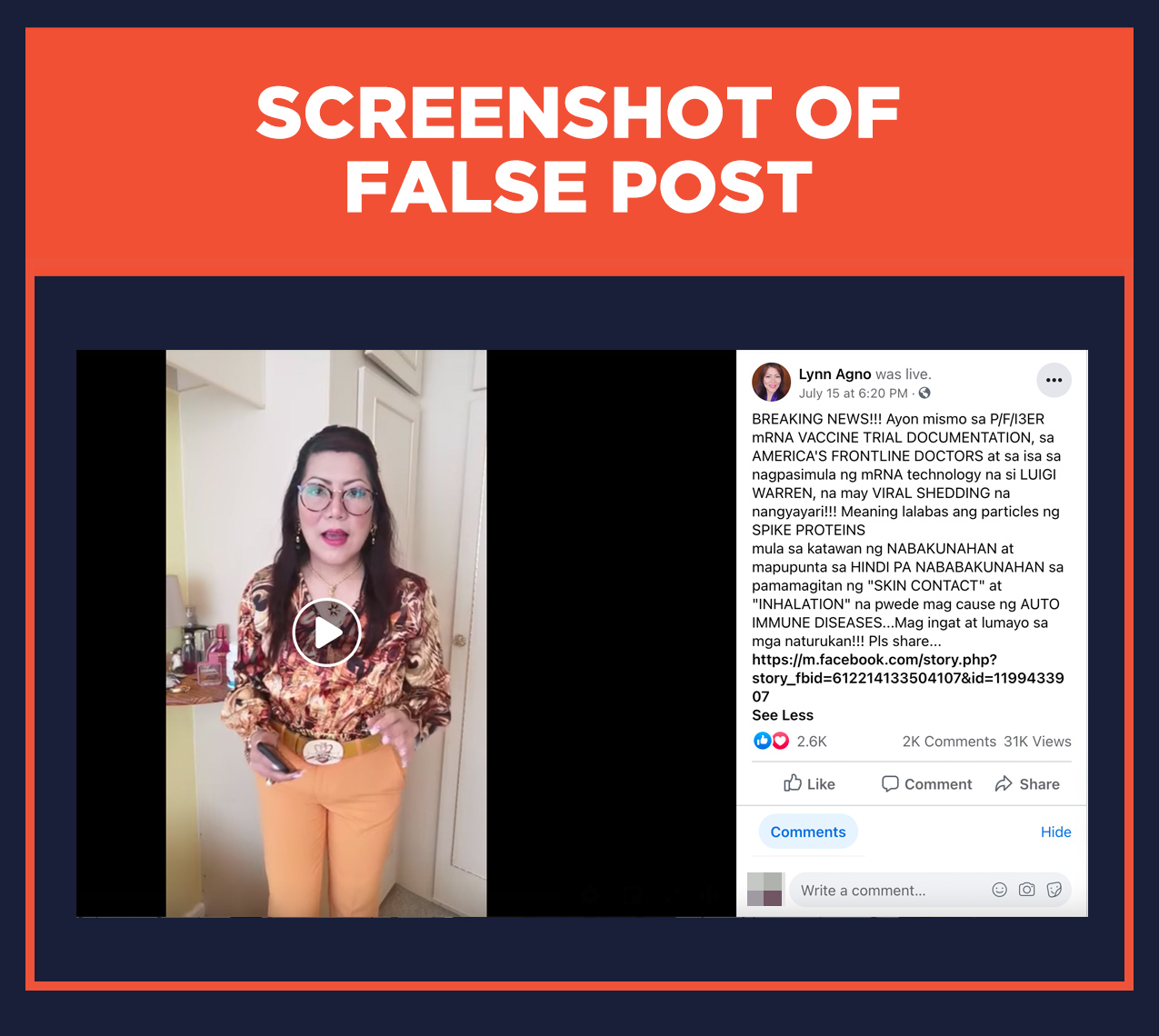 This claim is false.
Viral shedding is a process where the body releases viral particles while talking, coughing, eating, sneezing, or exhaling. The United States Centers for Disease and Control (CDC) says on its website that viral shedding from vaccines only occurs when a vaccine contains a weakened version of the virus.
In a related fact check by the Associated Press, Pfizer spokesperson Jerica Pitts said that Pfizer vaccines did not contain any virus particles that could cause viral shedding.
"The Pfizer-BioNTech COVID-19 vaccine is a synthetic mRNA vaccine and does not contain any virus particles. Because there is no virus produced in the body, no shedding occurs within the human body," Pitts said.
Moreover, the group "America's Frontline Doctors," which Agno cites in her video, is known as a purveyor of COVID-19 disinformation.
The CDC says that mRNA vaccines give instructions to the cells to make a harmless piece of the spike protein to trigger an immune response from the body.
The World Health Organization explains on its website that mRNA technology uses the genetic approach, which is one of the three main types of the COVID-19 vaccines being developed.
The other two approaches are the sub-unit approach that uses parts of the virus to trigger the immune system, and the whole microbe approach that uses a whole – but weakened – virus.
Wellness magazine Health also says that, although vaccines that use a weakened virus can cause viral shedding, it's extremely rare to spread enough of the germ to infect someone with COVID-19.
Rappler has fact-checked several times two separate Facebook pages by Agno: "Lynn Channel" and "Lynn Channel Warriors of Truth." She often posts false and misleading claims about COVID-19. – Lorenz Dantes Pasion/Rappler.com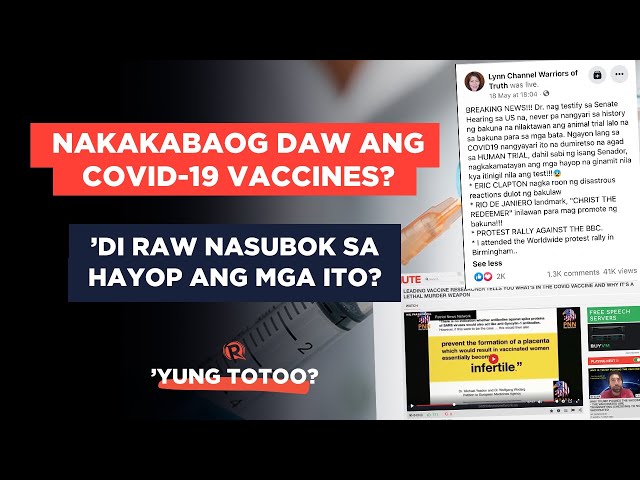 Lorenz Dantes Pasion is a Rappler intern. This fact check was reviewed by a member of Rappler's research team and a senior editor. Learn more about Rappler's internship program here.
Keep us aware of suspicious Facebook pages, groups, accounts, websites, articles, or photos in your network by contacting us at factcheck@rappler.com. Let us battle disinformation one Fact Check at a time.