Puregold is not hosting an online coupon giveaway. The website that posted the offer is fake.
At a glance:
Claim: Supermarket chain Puregold Price Club is offering coupons for an hour of free shopping in celebration of its 10th anniversary.
Rating: FALSE
The facts: The website where the offer came from is fake. Puregold denied hosting an online coupon giveaway on its verified Facebook page.
Why we fact-checked this: The website link containing the claim was posted 239 times and had 16,348 interactions as of writing.
Complete details:
Website puregolpromo06.betainsta.com is hosting an online coupon giveaway for free shopping in Puregold stores for one hour.
It appeared on different Facebook groups and pages as early as November 2019 and circulated again in January 2021. The link has accumulated a total of 16,348 interactions as of writing, according to data from CrowdTangle.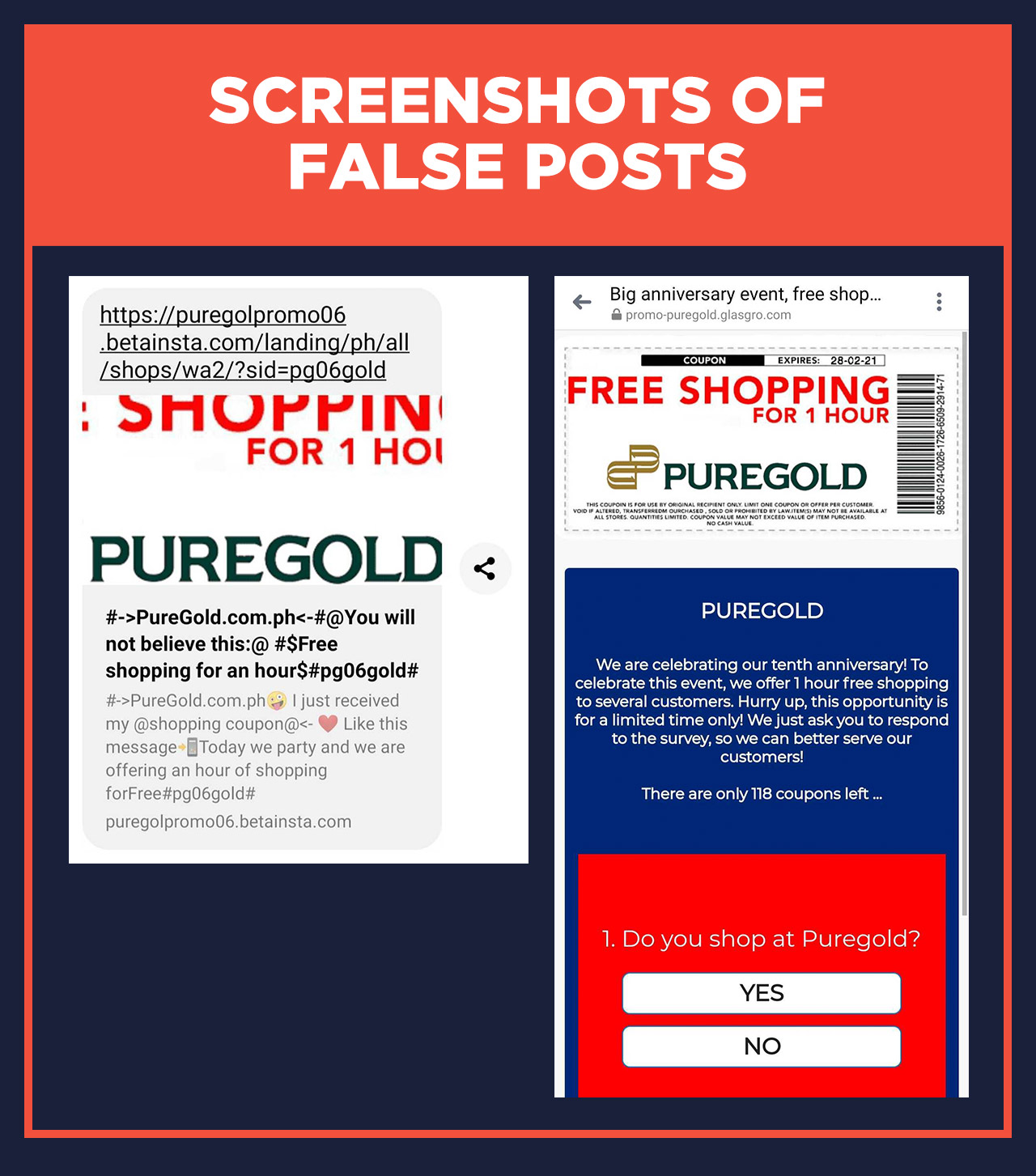 This is false. Website puregolpromo06.betainsta.com is a fake Puregold website link. The supermarket chain's official website is puregold.com.ph, as listed in the About section of its verified Facebook account.
The supermarket has also repeatedly denied hosting such giveaways. On November 8, 2019, Puregold released a statement and said that the coupon giveaway is "not authorized by Puregold Price Club Inc." Puregold also called the offer a "phishing activity" and said that the shopping coupons "will not be honored by any Puregold store."
Puregold released the same statement on January 14 and again urged customers to ignore the link and never provide any personal information such as their email address, contact number, or address.
Rappler talked to 4 Facebook users who clicked on the link, which they said asked for their name, contact number, and email address. All 4 users reported experiencing problems in receiving and sending messages shortly after. They also said they received unknown notifications on Facebook for about two days.
As of writing, the fake website puregolpromo06.betainsta.com is inaccessible. For information on Puregold's ongoing promotions and offerings, the supermarket chain urges customers to refer to its official Facebook page or visit any of its stores nationwide. – Owenh Toledo/Rappler.com
This article was written by a volunteer of Rappler's fact-checking mentorship program, a 5-week exclusive and hands-on training on detecting, investigating, and verifying online misinformation and disinformation.
Keep us aware of suspicious Facebook pages, groups, accounts, websites, articles, or photos in your network by contacting us at factcheck@rappler.com. Let us battle disinformation one Fact Check at a time.