The terms 'red-tagging,' 'red tag,' and 'red-tagged' were already in use before the Communist Party of the Philippines (CPP) was founded in 1968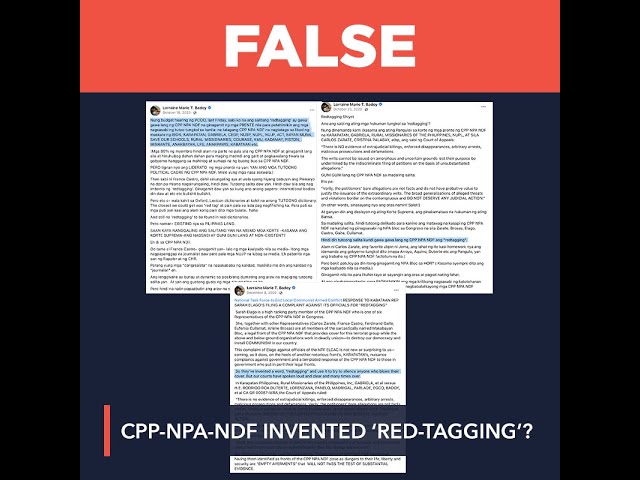 At a glance:
Claim: "Red-tagging" is a term invented by the Communist Party of the Philippines, the New People's Army, and the National Democratic Front (CPP-NPA-NDF).
Rating: FALSE
The facts: The terms "red-tagging," "red tag," or "red-tagged" were already used in journals and newspapers before 1968 when Jose Ma Sison founded the CPP.
Why we fact-checked this: The claim was made in multiple Facebook posts of Lorraine Badoy, an undersecretary of the Presidential Communications Operations Office (PCOO) and the spokesperson of the National Task Force to End Local Communist Armed Conflict (NTF-ELCAC).
Complete details:
Several Facebook posts from the verified account of Lorraine Badoy falsely claimed that "red-tagging" was a term invented by the CPP-NPA-NDF. Badoy is an undersecretary of the PCOO, as well as a spokesperson of the NTF-ELCAC.
Badoy made the claim in a Facebook post as early as October 18, 2020. "Nung budget hearing ng PCOO, last Friday, sabi ko na ang salitang 'red-tagging' ay gawa-gawa lang ng CPP-NPA-NDF na ginagamit ng mga PRENTE nila para patahimikin ang mga nagsasabi ng tutoo tungkol sa kanila…" Badoy said. She then mentioned organizations belonging to the Makabayan bloc.
(During the budget hearing of PCOO last Friday, I said that the term "red-tagging" was just made up by the CPP-NPA-NDF and used by their fronts to silence those telling the truth about them…)
Since then, Badoy had repeated the false claim at least 4 more times in her online posts from October 2020 to January 2021. She also claimed that the term only exists in the Philippines in a post on December 4.
"It is almost embarrassing to have to tell them that 'red-tagging' does not exist in the International Humanitarian Law because it only exists in the Philippines, having been invented by the extremist group, the CPP-NPA-NDF of which KARAPATAN is part of," Badoy said.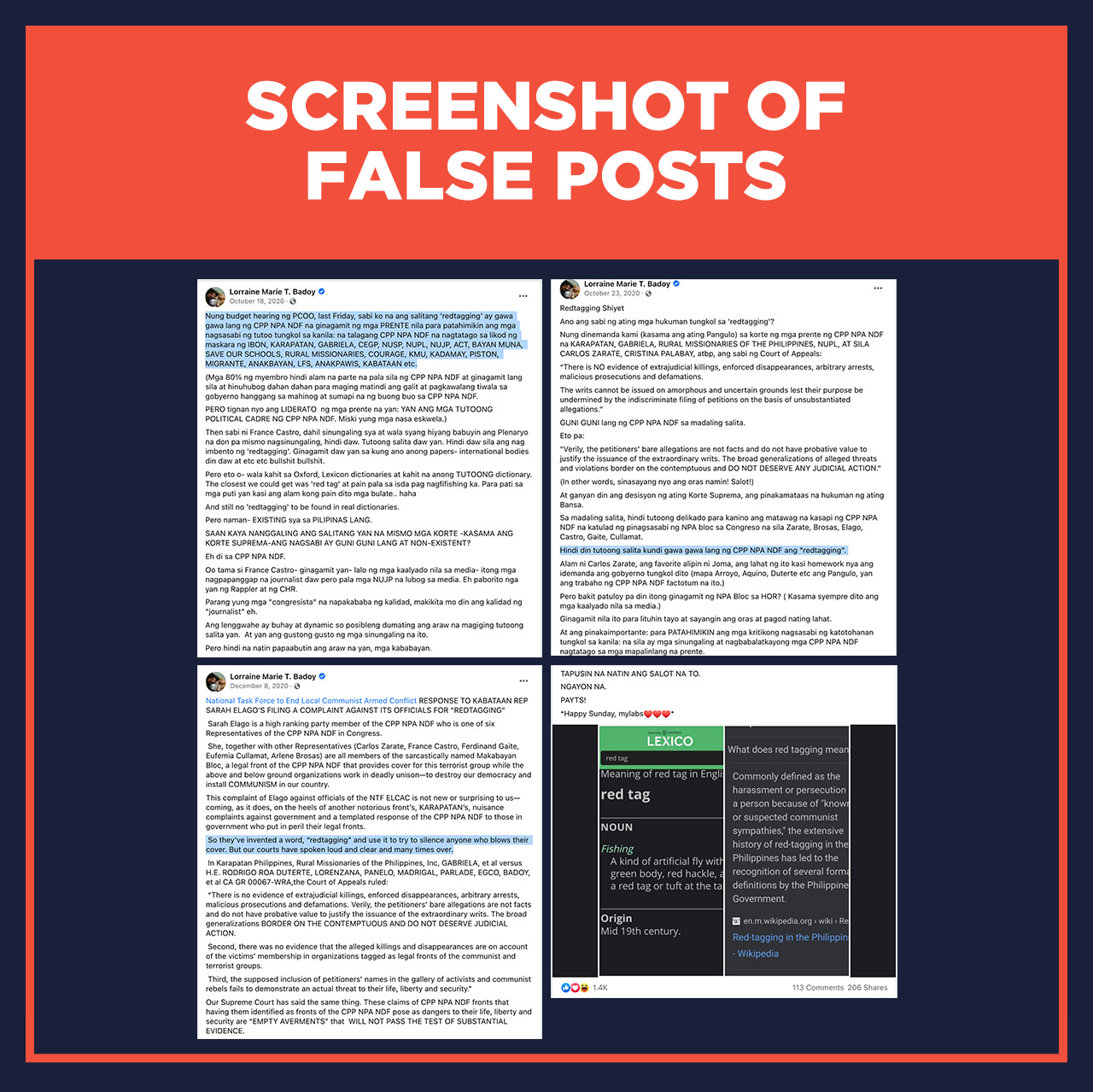 The claim that the term "red-tagging" was invented by the CPP-NPA-NDF is false. This also reasonably applies to the root "red tag," derivative words like "red-tagged," or its alternate spellings.
Academic publisher IGI Global defines red-tagging or red-baiting as "a form of harassment or persecution of a person identified or suspected as a communist sympathizer." This is consistent with the definition of red-baiting from Merriam-Webster.
Red-tagging is the term often used in the Philippines in place of red-baiting, which is the term that is more likely used in the West and seen in dictionaries.
The terms "red-tagging," "red tag," or "red-tagged," used in contexts involving communism have already been in use in foreign printed material before 1968 when Sison founded the CPP. The NPA and NDF were established later. This is contrary to Badoy's claim that "red-tagging" only exists in the Philippines.
A document printed in 1947 about US Congress hearings on the supposed communist infiltration in the motion picture industry contained the following passage: "But I believe that when this committee or any other agency undertakes to expose communism it must be scrupulous to avoid tying a red tag on innocent people by indiscriminate labeling."
Some newspaper articles had also used the term "red tag" or "red-tagged" before 1968. An editorial column in the September 2, 1938 issue of American daily Reading Eagle titled "Fair Enough" contained a section title "Fumes at Red Tag," which referred to the denial of a leader of the Congress of Industrial Organizations (CIO) that he was a communist.
Other American newspapers Pittsburgh Press and St Joseph News-Press also published reports in 1955 that contained the words "red tag" and "red-tagged" in separate articles, referring to groups accused of operating Communist-related activities.
The terms could be found in old Canadian newspapers, too. The Montreal Gazette published an article titled "'Red' Tag Defamatory, Court Awards Damages" in 1956. The Windsor Daily Star also used the term "red tag" in an article published in 1946, which talked about labor issues and communism.
Badoy's posts had thousands of engagements combined as of writing. Some of her posts that contained this claim were also written as official statements of the NTF-ELCAC.
It may be recalled that Badoy once apologized in 2018 to Senator Manny Pacquiao for spreading a false claim in 2016 that the house behind a campaign vehicle of Team Pacquiao belonged to Pacquiao's mistress. Badoy also falsely claimed in 2016 that a school project of Jillian Robredo, the daughter of the vice president, was an official publication of the Liberal Party. – Percival Bueser/Rappler.com
This article was written by a volunteer of Rappler's fact-checking mentorship program, a five-week exclusive and hands-on training on detecting, investigating, and verifying online misinformation and disinformation.
Keep us aware of suspicious Facebook pages, groups, accounts, websites, articles, or photos in your network by contacting us at factcheck@rappler.com. Let us battle disinformation one Fact Check at a time.