Senator Risa Hontiveros never became a member of any of the groups mentioned
At a glance:
Claim: Senator Risa Hontiveros was once a member of Anakbayan or Gabriela Women's Party, and she even served as chairwoman. She was also a member of the Communist Party of the Philippines-New People's Army (CPP-NPA).
Rating: FALSE
The facts: Senator Risa Hontiveros was never a member of Anakbayan, Gabriela, or the CPP-NPA. She is the current national chairperson of Akbayan and had been a representative of Akbayan in Congress from 2004 to 2010 as well as a founding member since 1998.
Why we fact-checked this: The claim that Hontiveros was a member of Anakbayan or Gabriela was made in multiple Facebook posts, notably from Facebook user Lovell Paras Canceran whose posts have a combined 1,254 reactions, 361 comments, and 1,235 shares as of writing.
Complete details:
A number of social media posts claim that Senator Risa Hontiveros was the former chairperson of Anakbayan and Gabriela, and that she is a member of the CPP-NPA.
On December 18, Facebook user Lovell Paras Canceran had a post which stated: "Risa Hontiveros Former Chairwoman Anakbayan Party-list and Gabriela." As of writing, the post had 140 reactions, 37 comments, and 41 shares. Canceran also previously mentioned that Hontiveros is a member of Anakbayan or Gabriela in 3 other Facebook posts from October to November.
A Facebook post from the group "Support ntf-elcac" on December 18, 2020, with 154 reactions, 32 comments, and 11 shares as of writing, also claimed that Hontiveros was once Anakbayan chair. 
Another post on November 3 made on the Facebook group "ANAK NG AGILA SARA DU30 PARA 2022" said that Hontiveros is a member of the CPP-NPA. As of writing, the post has 114 reactions, 106 comments, and 14 shares.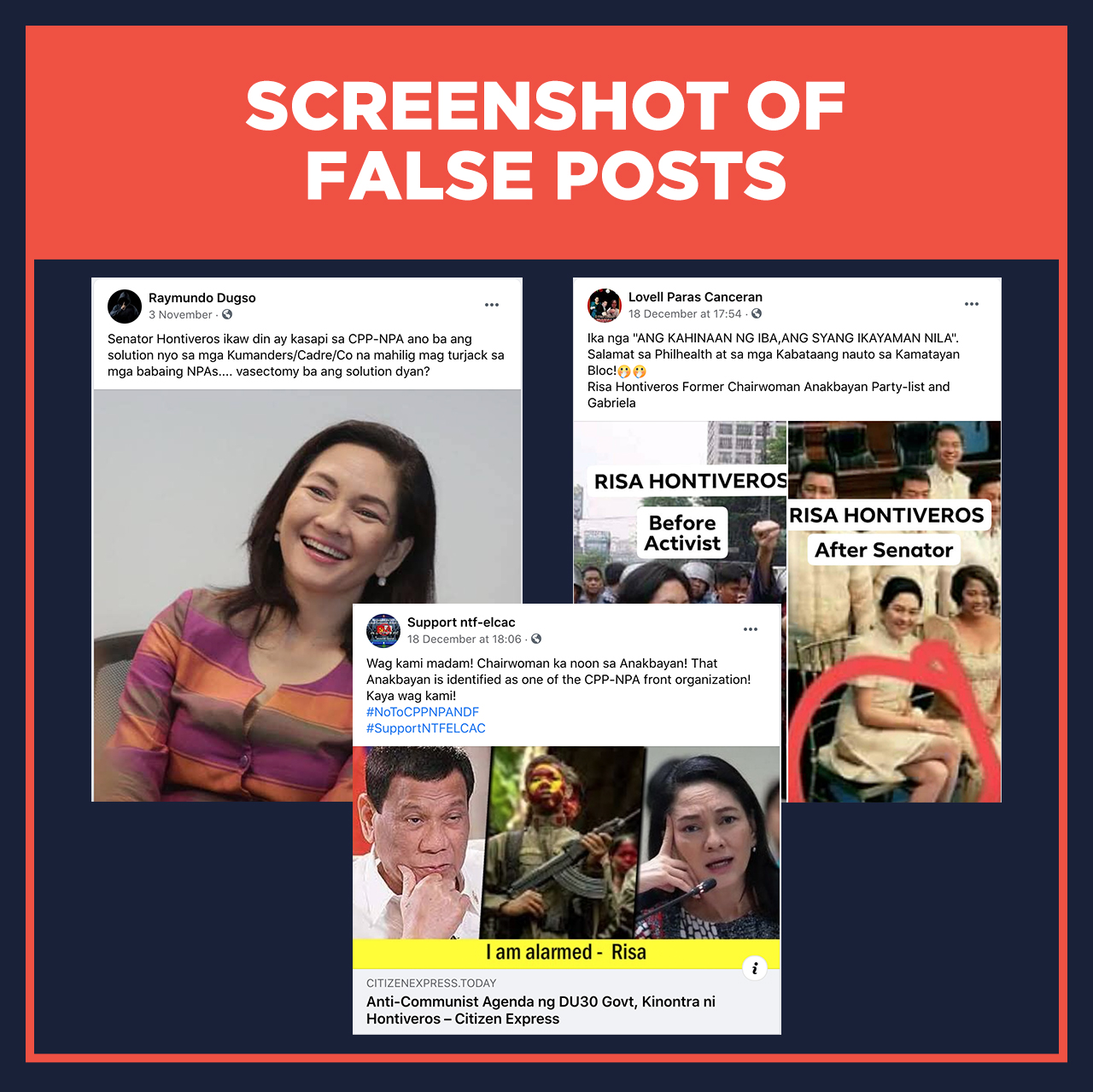 These claims are false.
Through her spokesperson Lui Belmonte, Hontiveros denied having been a member of "the Makabayan bloc, Anakbayan, Gabriela, or CPP-NPA-NDF." Also, there are no reports by legitimate media organizations or information in Hontiveros' Senate biography that confirm she was once a member of those organizations. 
Hontiveros is currently the national chairperson of Akbayan Citizens' Action Party and has been one of its founding members since 1998. She was a two-term representative in Congress for Akbayan from 2004 to 2010 before running for a senatorial post. 
The names of the organizations Akbayan and Anakbayan have been confused at least once before.
In August 2019, Tom Villarin, who is a member of Akbayan, was listed as an Anakbayan member in a Department of Justice summons and in the associated complaint. The article further noted that "Akbayan and Anakbayan come from two factions of the Philippine Left and have had a nasty public feud."
Also, a 2015 article in GMA News Online and a 2012 issue of One Visayas e-newsletter by the Philippine Information Agency mentioned Hontiveros as a member of Anakbayan. 
Akbayan describes itself as a broad-based "democratic socialist political party," while Anakbayan describes itself as a "comprehensive national democratic mass organization of the Filipino youth".
Rappler has fact-checked multiple claims about Hontiveros before as well as claims made by Canceran. – Percival Bueser/Rappler.com
This article was written by a volunteer of Rappler's fact-checking mentorship program, a 5-week exclusive and hands-on training on detecting, investigating, and verifying online misinformation and disinformation.
Keep us aware of suspicious Facebook pages, groups, accounts, websites, articles, or photos in your network by contacting us at factcheck@rappler.com. Let us battle disinformation one Fact Check at a time.